Terrorist Strike Hits Afghan Evacuation
Thirteen Marines and dozens of Afghan civilians are dead in a much-anticipated attack.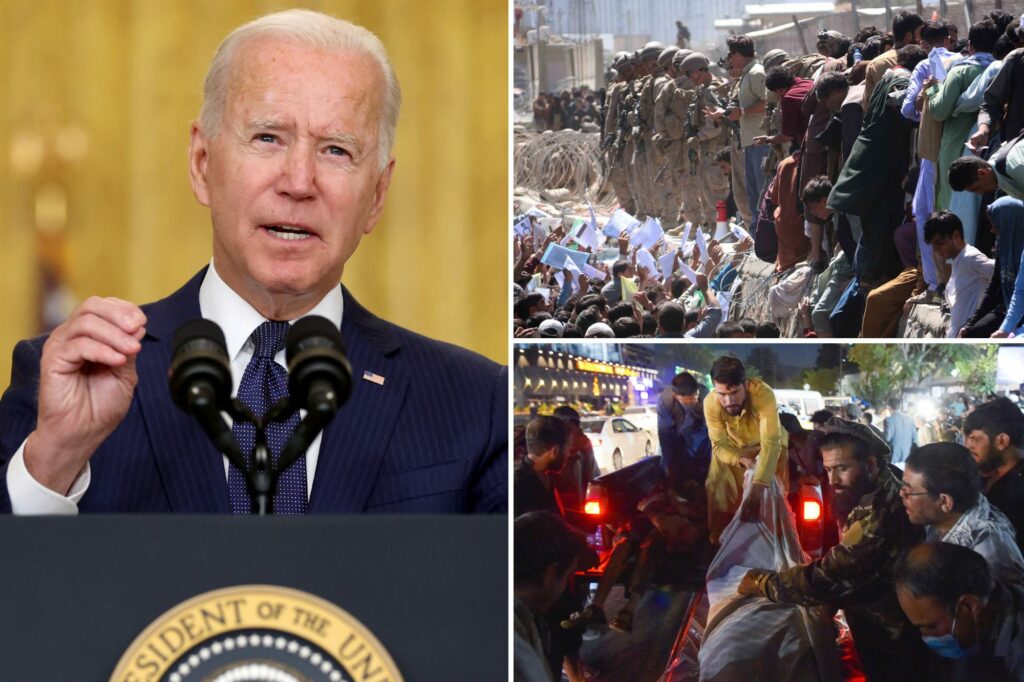 The much-feared possibility became reality yesterday, with a terrorist attack both marring an already-chaotic withdrawal from Afghanistan and threatening to draw us back into a conflict we're so desperately trying to escape after almost two decades.
WSJ ("Kabul Airport Attack Kills 13 U.S. Service Members, at Least 90 Afghans"):
More than 100 people were killed, including at least 13 U.S. service members and 90 Afghans, at the Kabul airport Thursday when two blasts ripped through crowds trying to enter the American-controlled facility, disrupting the final push of the U.S.-led evacuation effort.

A suicide bomb attack at the airport's Abbey Gate was followed by an assault by gunmen, officials said. Another bomb attack took place nearby, at a hotel outside the airport, officials said. Eighteen U.S. service members were injured, the Pentagon said.

The attack marked the deadliest day for the U.S. military in Afghanistan since 2011, and came just five days before the Biden administration's deadline for the complete military withdrawal from the country. The military expects more attacks, Marine Corps Gen. Frank McKenzie told reporters.
The internal politics of this, as a reminder, are rather complicated:
U.S. officials attributed the violence to Islamic State's regional offshoot. Islamic State claimed responsibility in a report posted by its Amaq news agency.

The Taliban are a sworn enemy of Islamic State, and shot dead one of the group's top leaders in Afghanistan hours after taking over the Kabul prison where he was held. The two Islamist groups have fought each other in Afghanistan since 2015, particularly in the eastern part of the country. As recently as Tuesday, a Taliban spokesman told Iranian state media that Islamic State no longer existed in Afghanistan.

"We strongly condemn this gruesome incident and will take every step to bring the culprits to justice," Taliban spokesman Suhail Shaheen said.
The enemy of our enemy, in this case, is very much not our friend. Regardless, the evacuation mission must go on:
In the wake of the violence, Gen. McKenzie, commander of U.S. Central Command, told reporters the U.S. planned to continue with its evacuation of U.S. citizens and allied Afghans.

Since Aug. 14, the day before the Taliban took Kabul and effectively solidified their control of Afghanistan, the U.S. has evacuated about 100,000 people, the White House said Thursday. Gen. McKenzie said the U.S. estimates that around 1,000 Americans remain in Afghanistan.

Gen. McKenzie said the U.S. would continue to coordinate with the Taliban on security outside the airport gates, sometimes sharing information with the militant group. He said the group's fighters had been searching individuals en route the airport, and that he didn't know how a suicide bomber was able to get through Taliban checkpoints, acknowledging a "failure" somewhere.

"If we can find who is associated with this, we will go after them," Gen. McKenzie said.
This was the inevitable reaction of his commander-in-chief as well. WaPo ("Biden struggles to address the most volatile crisis of his presidency"):
President Biden on Thursday confronted the most volatile crisis of his young presidency, the deaths of at least 13 Americans in Afghanistan that threatened to undermine his credentials as a seasoned global leader and a steady hand.

In emotional comments at the White House, Biden made clear that the attack would not cause him to rethink his strategy. Rather, he said, it reinforced his belief that the war must end and that the evacuation must proceed. He framed the deaths as the sacrifice of heroes performing a noble mission, and he suggested that any move to cut short the evacuation of Americans and their Afghan supporters would amount to caving to the terrorists.

"I bear responsibility for, fundamentally, all that has happened," Biden said, addressing the nation hours after the deadly attack. His voice broke as he invoked Scripture, history and personal loss to decry the double suicide bombing at the entrance to the Kabul airport, which stands as the last small acreage controlled by the United States in Afghanistan nearly 20 years after the war began.

Biden promised to track down the killers responsible for the massacre, who he suggested were members of the terrorist group ISIS-K. "To those who carried out this attack: We will not forgive," he said. "We will not forget. We will hunt you down and make you pay."
This promise was not only expected but obligatory. Any US President would do the same and any who didn't would be immediately condemned by public opinion. Indeed, even some Democrats are criticizing him for getting us to this point. But vowing to hunt down terrorists and make them pay is what got us here to begin with.
The President, rightly I think, has signaled that the response will come at a time of our choosing rather than being rushed to give the appearance of toughness. But he faces a public both impatient to get out of the conflict and angry at this attack.
His team is reportedly quite shaken that this attack took place despite significant advance warning that it was coming. They should certainly work to figure out what went wrong. But, as I was discussing with students—themselves mostly mid-grade military officers—this morning, the goals of rapidly evacuating as many Afghan civilians as possible, ensuring that no terrorists infiltrate the group (only to be evacuated on US military aircraft to a US military base), and security at the airport are mutually incompatible.
The President called those Marines who died in the attack "heroes.' While that label is applied so liberally as to be hackneyed, I think it appropriate in this case. They willingly put their lives at risk—fully cognizant that this very attack was a distinct possibility—in order to help evacuate noncombatants to safety. That's the highest calling of a Marine and the very definition of heroism.