Biden Is Old and Feeble, Says Old, Feeble Man
Trump is making verbal gaffes while making fun of Biden's verbal gaffes.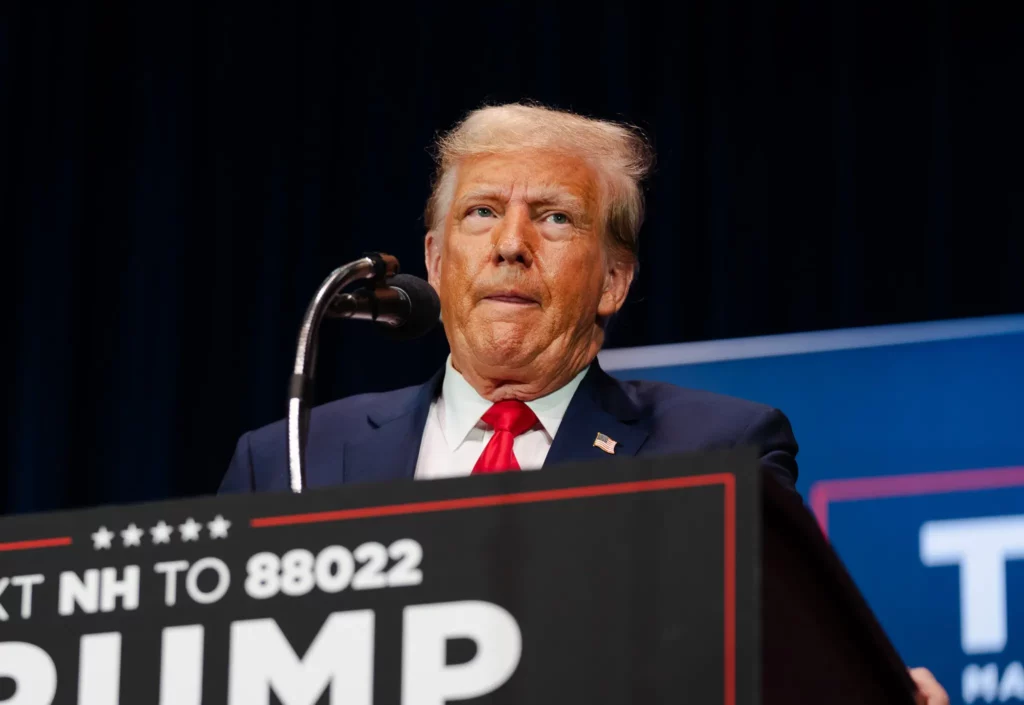 NYT correspondents Michael C. Bender and Michael Gold combine reporting, analysis, and perhaps a bit of wishful thinking in their report "How Trump's Verbal Slips Could Weaken His Attacks on Biden's Age."
One of Donald J. Trump's new comedic bits at his rallies features him impersonating the current commander in chief with an over-the-top caricature mocking President Biden's age.

With droopy eyelids and mouth agape, Mr. Trump stammers and mumbles. He squints. His arms flap. He shuffles his feet and wanders laggardly across the stage. A burst of laughter and applause erupts from the crowd as he feigns confusion by turning and pointing to invisible supporters, as if he does not realize his back is to them.

But his recent campaign events have also featured less deliberate stumbles. Mr. Trump has had a string of unforced gaffes, garble and general disjointedness that go beyond his usual discursive nature, and that his Republican rivals are pointing to as signs of his declining performance.

On Sunday in Sioux City, Iowa, Mr. Trump wrongfully thanked supporters of Sioux Falls, a South Dakota town about 75 miles away, correcting himself only after being pulled aside onstage and informed of the error.

It was strikingly similar to a fictional scene that Mr. Trump acted out earlier this month, pretending to be Mr. Biden mistaking Iowa for Idaho and needing an aide to straighten him out.

In recent weeks, Mr. Trump has also told supporters not to vote, and claimed to have defeated President Barack Obama in an election. He has praised the collective intellect of an Iranian-backed militant group that has long been an enemy of both Israel and the United States, and repeatedly mispronounced the name of the armed group that rules Gaza.
While I hope this is indeed how most Americans will view Trump's stumbles, I'm not sure. It's been obvious to me for years that he's not as mentally sharp as he was decades ago. I never watched "The Apprentice" and the like but I've seen clips of interviews from the 1990s and Trump was just a completely different communicator.
Regardless, it just hasn't seemed to matter. Biden is visibly frail and his verbal decline has been more rapid and public. We don't have to compare him to old video clips from decades past but from his Vice Presidency.
To be clear: Biden strikes me as obviously more lucid and fit to serve as commander-in-chief than Trump. I'm just skeptical that that's how folks who aren't already dug in for one camp or the other see it.
This is one hopeful sign:
"This is a different Donald Trump than 2015 and '16 — lost the zip on his fastball," Gov. Ron DeSantis of Florida told reporters last week while campaigning in New Hampshire.

"In 2016, he was freewheeling, he's out there barnstorming the country," Mr. DeSantis added. "Now, it's just a different guy. And it's sad to see."
I think it's too little, too late. But it would be helpful if Republican candidates other than Chris Christie were hammering Trump's obvious flaws. Not that it's going to deny him the nomination—that seems baked in at this point—but it could spill over into the general election narrative.
It is unclear if Mr. Trump's recent slips are connected to his age. He has long relied on an unorthodox speaking style that has served as one of his chief political assets, establishing him, improbably, among the most effective communicators in American politics.

But as the 2024 race for the White House heats up, Mr. Trump's increased verbal blunders threaten to undermine one of Republicans' most potent avenues of attack, and the entire point of his onstage pantomime: the argument that Mr. Biden is too old to be president.
Again, though, I'm skeptical of this. Fears that Biden was too old dogged him in 2019. The fact that he has turned 80—we fixate on milestones like that—and would be 82 at a second inauguration and 86 before his second term ends are simply daunting. That Trump is a mere three years younger should, reasonably, offset that but that hasn't happened to date.
Even though only a few years separate the two men in their golden years, voters view their vigor differently. Recent polls have found that roughly two out of three voters say Mr. Biden is too old to serve another four-year term, while only about half say the same about Mr. Trump.

If that gap starts to narrow, it's Mr. Trump who has far more to lose in a general-election matchup.
Sure. But that's just pure speculation, not reporting or analysis.
This, however, is more interesting:
According to a previously unreported finding in an August survey from The Associated Press-NORC Center for Public Affairs Research, 43 percent of U.S. voters said both men were "too old to effectively serve another four-year term as president." Among those voters, 61 percent said they planned to vote for Mr. Biden, compared with 13 percent who said the same about Mr. Trump.

Last week, similar findings emerged in a Franklin & Marshall College poll of registered voters in Pennsylvania, one of the most closely watched 2024 battlegrounds.

According to the poll, 43 percent of Pennsylvanians said both men were "too old to serve another term." An analysis of that data for The New York Times showed that Mr. Biden led Mr. Trump among those voters by 66 percent to 11 percent. Among all voters in the state, the two men were in a statistical tie.

Berwood Yost, the director of the Franklin & Marshall poll, said that Mr. Biden's wide lead among voters who were worried about both candidates' ages could be explained partly by the fact that Democrats are much more likely than Republicans to identify age as a problem for their party's leader.

"The age issue is one that if Trump gets tarred with the same brush as Biden, it really hurts him," Mr. Yost said.
One would think that, given a binary choice between two candidates that most people think are too old, age would be a wash. Thus far, though, it hasn't been.
Mr. Trump's rhetorical skills have long relied on a mix of brute force and a seemingly preternatural instinct for the imprecise. That beguiling combination — honed from a lifetime of real estate negotiations, New York tabloid backbiting and prime-time reality TV stardom — often means that voters hear what they want to hear from him.

Trump supporters leave his speeches energized. Undecided voters who are open to his message can find what they're looking for in his pitch. Opponents are riled, and when they furiously accuse him of something they heard but that he didn't quite precisely say, Mr. Trump turns the criticism into a data point that he's unfairly persecuted — and the entire cycle begins anew.
This may be the equivalent of reading tea leaves and have little real-world impact. People who go to Trump rallies are Trump acolytes. Riled opponents are, well, opponents. Neither group are persuadable voters.