Biden Often Rejects Unanimous NSC Advice
An interesting statement from his National Security Advisor.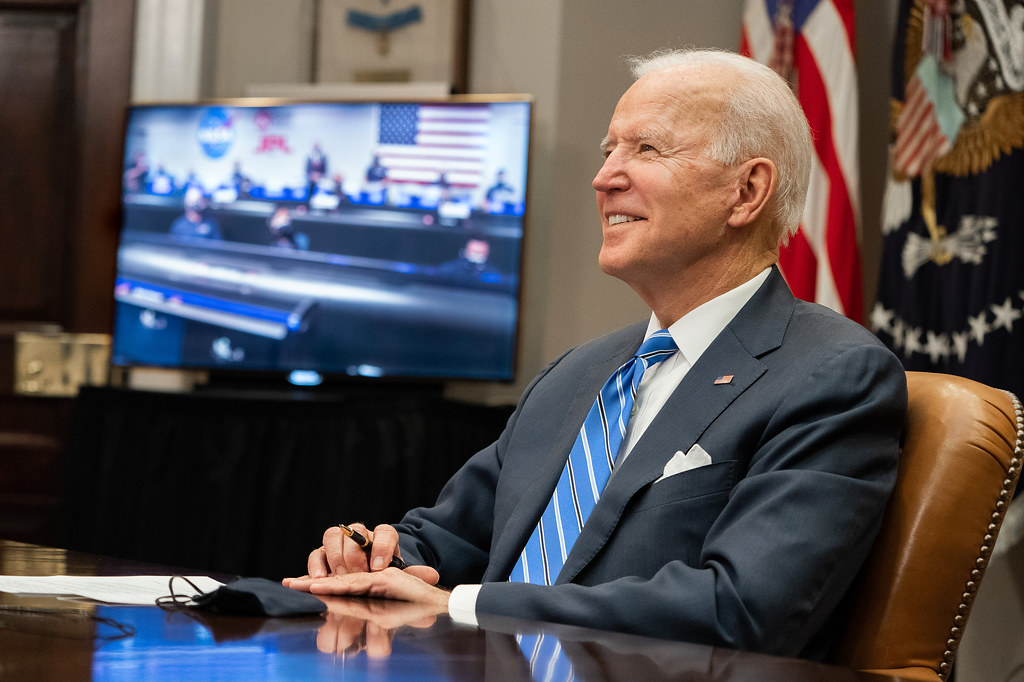 Defense One ("Biden Rejects Unanimous NSC 'More Often Than You Might Think'"):
President Joe Biden regularly deviates from the recommendations made by his national security team, one of his top advisors revealed Thursday. 

National Security Advisor Jake Sullivan said Biden overruling decisions from top national security officials, including when there's agreement between Sullivan, Defense Secretary Lloyd Austin, and Secretary of State Antony Blinken, is not uncommon and is "one of the humbling things" about his job. Sullivan argued the president's questioning of his aides improves the overall decision-making process. 

"We can run a whole process that involves multiple layers of review and decision and a lot of people who are pretty smart and very knowledgeable on the subject all coming together collectively around a consensus recommendation," Sullivan said at an event hosted by the Economic Club of Washington, D.C. "We can take it to the president, who will have spent that day focused on domestic policy or something totally different, and he will look at it and then he will ask a question that makes you think, 'Oh wow, we didn't even really get to that.'"

"He'll get to the heart of the matter, and say, 'I question this underlying premise of the decision you just came out with.'" Sullivan continued. "That happens more often than you might think."
Leaving aside the idea that Biden often instantly comes up with objections that eluded the entire staff, which I find incredibly implausible, it's obviously his right to overrule them. He, not they, answers to the voters and the judgment of history. He is, as a predecessor infamously dubbed himself, The Decider.
The most public example is Biden rejecting top generals' advice not to withdraw all U.S. troops from Afghanistan, which led to the rapid Taliban takeover of the country, an Afghan international refugee crisis, and the deaths of 13 troops during a dangerous evacuation mission. Biden pursued his plan to remove all American troops from the country by September 2021, regardless of conditions on the ground, despite advice from current and former military leaders, diplomats, and outside experts that America should maintain a small counterterrorism force in Afghanistan or at least withdraw more gradually.
The withdrawal process was initially a debacle, although it was righted pretty quickly. We left Afghanistan in shambles, with nearly two decades of nation-building essentially for naught. But it's not clear that keeping a partial force there would have prevented that or that that outcome wasn't inevitable no matter when the withdrawal came.
Regardless, the ascribed reason for Biden's boldness here is what one would have expected:
Biden may feel confident in his own decisions in part because of his extensive foreign policy leadership experience. In the Senate, he was a leading lawmaker voice during the Balkan wars of the 1990s, and later served for more than a decade as either chairman or ranking member of the Senate Foreign Relations Committee, even counseling then-Senator Obama on nuclear policy. Biden grew a reputation for offering bold if unpopular solutions to international crises, such as proposing to divide Iraq into three semi-autonomous regions. Obama later assigned Biden an active role in foreign policy while serving as his vice president, including overseeing the drawdown of American troops from Iraq. Biden continued to give his unfiltered and countervailing advice to Obama, including opposing large U.S. troops surges into Afghanistan and disagreeing with Obama's decision to proceed with the Osama bin Laden raid. 

"There is something about having a chief executive who has perspective, experience, the ability to kind of see things from multiple different angles who just brings a different level of capacity to decision making," Sullivan said. "It does mean that we will prepare consensus recommendations and he'll say, 'I don't buy that. You need to improve that,' Or, 'I'm on the other side of that,' and then obviously he's the boss. But I think it makes for a more effective decision-making process."
Despite former CIA Director and Defense Secretary Bob Gate's assessment that Biden has "been wrong on nearly every major foreign policy and national security issue over the past four decades," he's bound to be confident in his own judgment. And, at 79 years of age, a determination to do things his own way.
But here's the thing: He assembled this team. Sullivan was his advisor as VP and was therefore hand-picked to run the staff. Austin, who was on nobody else's radar for SECDEF, was chosen because Biden had a working relationship with him and trusted his judgment. Presumably, that's true of all the senior NSC officials.
If they're unanimous about something and he disagrees, it should be a giant red flag. That doesn't mean he should go along. Saying, "I don't buy that. You need to improve that." is sound executive management. Simply say, "I'm on the other side of that" and pressing on is impetuous. At very least, it's a sign that you need to make changes to the advisory team.