Biden Settling for Smaller Spending Package
The President seems to have persuaded the progressives in his party to settle for half a loaf.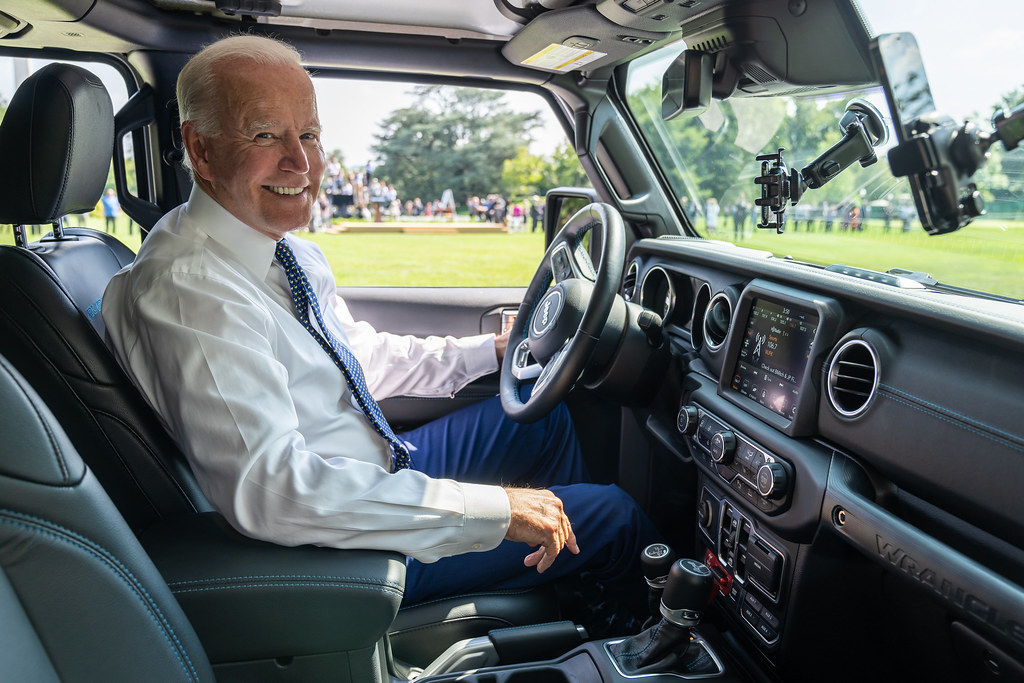 After months of refusing to see that they don't have enough votes within their own caucus to pass a massive expansion of the welfare state, President Biden is working to persuade the Sanders-Jayapal wing to settle for less.
WaPo ("Biden tells Democrats that package of up to $1.9 trillion should be new target of talks"):
President Biden told Democrats during a private meeting Tuesday that he believed they could secure a deal on a new tax-and-spending proposal between $1.75 trillion and $1.9 trillion, far less than some in the party initially sought, even as some lawmakers later maintained it still would allow them to accomplish broad swaths of their vast economic agenda.

The early outline — shared at least with liberal lawmakers in the House — appeared to offer one potential avenue for the White House to broker a truce among Democrats' warring left-leaning and moderate factions. Four people familiar with Biden's comments confirmed the early details, requesting anonymity to describe the negotiations.

The potential new price range marks a significant reduction from the $3.5 trillion that some Democrats initially pursued under a budget agreement chiefly brokered by Sen. Bernie Sanders (I-Vt.) earlier this year. But it is closer to the number that centrists, especially Sen. Joe Manchin III (D-W.Va.), had outlined in recent months as they sought steep cuts to Democrats' spending plans. Manchin and Sanders met Tuesday for the second time in two days after the two sparred with each other over the weekend.

By the White House's calculations, a package up to $1.9 trillion would allow them to accomplish some of their most significant priorities. That includes at least some expansion of Medicare to offer new benefits to seniors, the introduction of universal prekindergarten, and billions of dollars to address climate change, the sources said, cautioning that many of the details must still be worked out.

But slimming down the package also is sure to force Democrats to make some sacrifices. The path put forward by the White House could extend new, expanded child tax credit payments recently adopted by Congress, but perhaps for only one additional year, three of the sources said. It would offer new money to make housing more affordable, yet far less than Democrats once envisioned. And it would provide paid leave, except only four weeks of benefits, rather than the 12 weeks some had once proposed, according to one of the people in the room.

Some congressional sources cautioned that many of the ideas aired by the White House remain in flux, reflecting considerable work still on the horizon to craft a deal and sell such a scaled-back package to an increasingly fractious Democratic caucus. Biden also did not broach the issue of how to finance the new spending, leaving unresolved the fight over his proposal to raise taxes on wealthy Americans and corporations. He previously pledged it would be paid for in full.
CNN ("Biden discusses $1.9 trillion top line for economic package and tells Democrats free community college is out") adds:
President Joe Biden informed House progressives Tuesday afternoon that the final bill to expand the social safety net is expected to drop tuition-free community college, a major White House priority, according to multiple sources familiar with the matter.

[…]

Moreover, he indicated that the child tax credit — a key Democratic priority — would likely be extended for one additional year, much shorter than what many in their party wanted, one of the sources said. The child tax credit will also likely be means tested, keeping with what Manchin had wanted.
Biden also indicated to the group that they would reduce the proposed funding for so-called homecare for the elderly and disabled — down to less than $250 billion, sources said. Democrats had wanted to keep the funding at $400 billion.

[…]

The President said they plan to keep an expansion of Medicare, which includes hearing, dental and vision — in line with what the progressives want.
Most of the internecine fight seems to be over the size of the package and the symbolism surrounding that rather than over the actual policies. Manchin is skeptical of some of the environmental programs and, especially, universal free community college. The latter, especially, has always seemed an odd hill to die on. It makes little sense to subsidize community colleges from the federal coffers, let alone for those of us who can afford to send our kids to school. Still, it was a program Biden campaigned on pretty heavily.
The compromise solution seems odd from a policy standpoint but makes some sense from a political view. Rather than prioritize the most popular initiatives, the plan seems to be to do partial funding for all of them but community college. Presumably, that allows progressives to claim that they delivered on these programs, even though funding them for a single year is enormously wasteful given start-up costs. Still, there may be a "camel's nose" philosophy at work here, with a hope that the programs will prove sufficiently popular to make not funding them in the next cycle difficult. That's unlikely to be true, though, given the likelihood of a Republican Congress in 2023.
Regardless, it's baffling that it has taken this long to acknowledge what has been obvious from the start: there simply aren't the votes for the $3.5 billion package.
POLITICO ("Biden bets his agenda on the inside game") notes that the President is purposefully working behind the scenes rather than taking to the bully pulpit.
As Democrats on Capitol Hill brace in anticipation of a brutal midterm, Biden is spending an extraordinary amount of time and political capital behind the scenes to convince them to rally around a common framework for social and climate spending. His congressional huddles have accelerated, from phone calls on the White House veranda to one-on-one and group meetings — including two high-stakes Tuesday sit downs with moderates and progressives. He's dialing up old friends to take their temperature about how his presidency is really fairing far beyond the Beltway.

[…]

As Biden has worked on lawmakers in private — sometimes not putting a hard stop on his schedule so as not to stifle progress — he's largely, though not entirely, resisted riskier public pressure campaigns that could backfire and are viewed as against his nature.

Often, Biden has had just a single public event each day. Occasionally, there's been no public interfacing at all. Eight times since Labor Day, the daily guidance issued by the White House has included only private meetings with Biden.

A planned barnstorming of the country to sell the Build Back Better platform this summer was overshadowed by the chaotic U.S. withdrawal from Afghanistan. And congressional uncertainty amid infighting among Democrats on opposite poles of the party has overshadowed continuing trips by Cabinet officials and commandeered the media narrative in Washington.

While Biden has held public events around the agenda, he has not done a formal press interview on it since Labor Day. On Wednesday, he will take a trip to his hometown of Scranton, Pa., to discuss the benefits of the legislative proposals, and on Thursday he will participate in a town hall broadcast on CNN.

"The President won the most votes in history running on his Build Back Better agenda, unveiled the formal proposal in his first address to a joint session of Congress, and has made his case across the country ever since – along with his cabinet – which is deeply resonating with the American middle class," White House spokesman Andrew Bates said.

[…]

Still, inside the White House, the lower-key strategy has been seen as a necessity: Democrats have such slim congressional majorities that Biden, Senate Majority Leader Chuck Schumer and Speaker Nancy Pelosi have essentially no margin for error. That has put far more of the president's focus on convincing a relatively small number of lawmakers to agree to details of the package, rather than using his time to sell policies that the general public supports.

Chief among that small number of lawmakers are Manchin and Sinema, who remain resistant to the range of $1.9 trillion to $2.2 trillion that Biden and progressive lawmakers have discussed as a compromise top line for the social spending bill.

"I'm told that they've given signs on the parking spaces for these two senators at the White House, that they're there so often," Senate Majority Whip Dick Durbin (D-Ill.) said of Manchin and Sinema. "This president has been engaged from the start, in working with all the leaders, and particularly with those two senators."

[…]

Another explanation for the approach was baked in long ago. Biden is a 36-year veteran of the Senate with a heightened sense of his own negotiating instincts and abilities to move major legislation through the chamber. A self-admitted schmoozer, he has avoided doing much to shame Manchin and Sinema, preventing many details from their conversations and about his own preferences from spilling into public view.

"There's a lot of complaining about what the message has been on this package, but when you're trying to fight for every vote, the coverage inevitably becomes about the process and numbers," said John Podesta, a top aide to former Presidents Barack Obama and Bill Clinton and a major climate activist. "When you are inside talking one-on-one to members trying to convince people to stay with you or come on board it's very hard to create a press environment which is different from what they've got."
As messy and slow-going as this all has been, the approach seems to be working. While it remains to be seen whether Biden can get Manchin and Sinema on board with this compromise package, just about everyone else is saying the right thing in public. Back to WaPo:
Liberal-leaning Democrats, meanwhile, offered some early praise for what they heard Tuesday. They acknowledged some of the cuts while stressing that many of their policy priorities in health care, education and social spending appear to remain intact.

"All our priorities are there in some way, shape or form," said Rep. Pramila Jayapal (D-Wash.), the leader of the Congressional Progressive Caucus.

The early outlines of a deal came on a day when Democrats pledged to muscle past the political sniping and policy feuds that have ensnared Biden's economic agenda for months.

"There was universal, universal agreement in that room, that we have to come to an agreement, and we got to get it done and want to get it done this week," Senate Majority Leader Charles E. Schumer (D-N.Y.) said earlier in the day, a lengthy party lunch he later described as "spirited."

"The pace has picked up," Schumer said. "The desire to get it done is strong."

Seeking to bridge the gap, Biden began Tuesday by meeting with Jayapal and other lawmakers. Exiting the discussion at the White House, Jayapal said she felt "very good" that the "majority" of the programs backed by the left-leaning bloc would be in the final deal.

"The president is the inspirer, he is the closer, he is the convincer, he is the mediator-in-chief. He really is doing a phenomenal job," she said.

Jayapal and other members of her bloc said that there is still hope for a final package to include an expansion to Medicare to cover dental, vision and hearing benefits as well as a new program that provides universal prekindergarten for children. Other sources later said that Biden had signaled other critical health care programs, including some money for elder care, extended insurance tax credits and fixes to Medicaid also remain in the mix.
Given how much schmoozing of Manchin and Sinema the President has done, one presumes he's confident that they'll sign off on this. We shall soon see.