Biden Too Old! Trump Pretty Old Too!
Another poll showing the same thing as the other polls.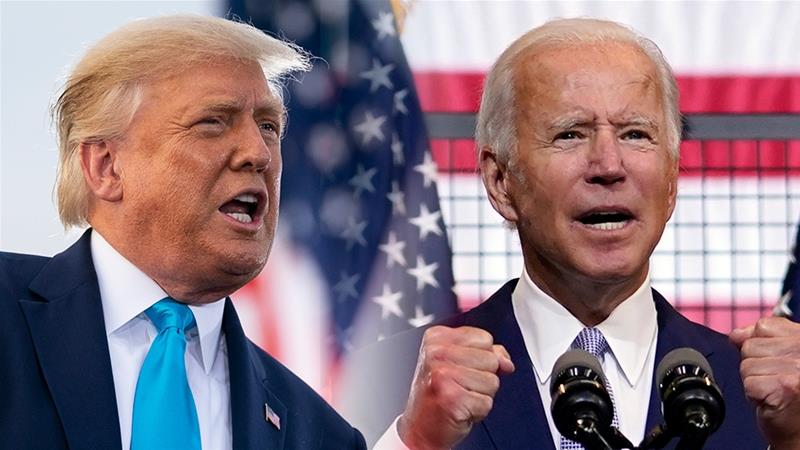 YahooNews ("Poll: 68% of voters say Biden is 'too old for another term' — and more Democrats agree than disagree"):
Nearly 7 in 10 registered voters (68%) now say President Biden is "too old for another term," according to a new Yahoo News/YouGov poll — and more Democrats agree (48%) than disagree (34%) with that assessment.

The survey of 1,516 U.S. adults, which was conducted from Feb. 23 to 27, underscores the central challenge facing the oldest president in American history as he gears up for a likely reelection bid — and the difficult position his age is putting his party in.

For Democrats, the problem is not Biden's performance in office; they overwhelmingly approve (77%) rather than disapprove (20%) of how the 80-year-old is handling the job.

Registered voters who are Democrats or Democratic-leaning independents also say they would prefer to renominate Biden for president (47%) rather than "someone else" (34%) — a reversal from the latter part of last year, when a plurality of Democratsrepeatedlysaid they would prefer someone else. The 47% who now say they would rather nominate Biden is the highest number since November 2021.
That Biden is simultaneously a pretty good President and too goddamned old to be President is one of life's great mysteries. Indeed, he was too old to be President in 2020 and yet, here we are with him being a pretty good President in 2023.
Yet despite viewing Biden favorably, many Democrats seem wary of what comes next. Asked in June 2020 "how concerned" they were "about Joe Biden's health and mental acuity," just 28% of Democrats said they were either somewhat (10%) or very concerned (18%); the other 72% said they were either slightly (28%) or not at all concerned (44%).

Today, more than two and a half years later, the combined number of somewhat or very concerned Democrats has risen 12 points to about 40%, while the combined number who are slightly or not at all concerned has fallen by the same amount, to about 60%.

This shift likely reflects Biden's increasing age and related fears about how it might affect his chances in 2024.
Age may be "just a number" but 80 is unequivocally older than 77. It's math! Plus, the odometer moving in the decades place is obviously more significant than when it moves in the years place. He was in his 70s then. He's in his 80s now!
The Yahoo News/YouGov poll suggests that Democrats have reason to worry. A majority of registered voters (56%) now agree that "there is an age at which somebody is too old to be president" (up from 50% in June 2020), and 45% choose 80 or younger as the age they consider too old for the job.

Among independents — the key voting group that often decides elections — 60% say someone can be too old for the presidency, and a majority (54%) set that threshold at 80 or younger.
Honestly, I'd set it at 70 were I rating a theoretical candidate. The ideal theoretical President should be somewhere in the 53 to 63 range when taking office. But here we have actual candidates to assess.
After being informed that "Joe Biden would be 82 at the start of his second term and 86 at the end of it" — a fact that Republicans are sure to bring up frequently in 2024 — a full 68% of registered voters and 71% of independents say the president is too old for another term.

Just 46% of independents (and 45% of all registered voters) say the same when told Trump would be "78 at the start of his second term and 82 at the end of it."

Likewise, only 39% of independents (and 46% of all registered voters) say they're either somewhat or very concerned about Trump's "health and mental acuity." In contrast, 68% of independents (and 65% of all registered voters) say they're either somewhat or very concerned about Biden's physical and mental condition. This is despite the fact that Biden was recently deemed quite healthy by the White House physician.
Here's what it looks like graphically: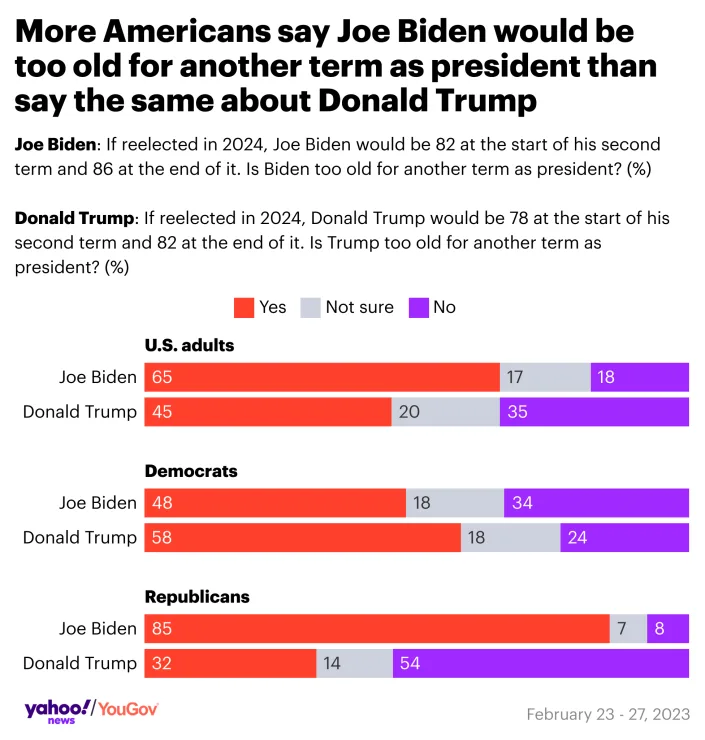 That Republicans overwhelmingly think Biden is too old is hardly shocking. Ditto that Democrats mostly think Trump too old.
What's amusing is that more Democrats think Trump too old than think Biden too old even though they've been read their actual ages and Trump is four years younger. It's simply not mathematically possible for Trump to be too old and not Biden!
Mental competence, of course, is a different issue.
Possibly as a result, more Americans (42%) now say Trump "has the competence to carry out the job of president" than say the same about Biden (35%). The last time Yahoo News and YouGov asked this question, in August 2021, the share who said Biden had the "competence" to serve as president was 11 points higher than it is today (46%).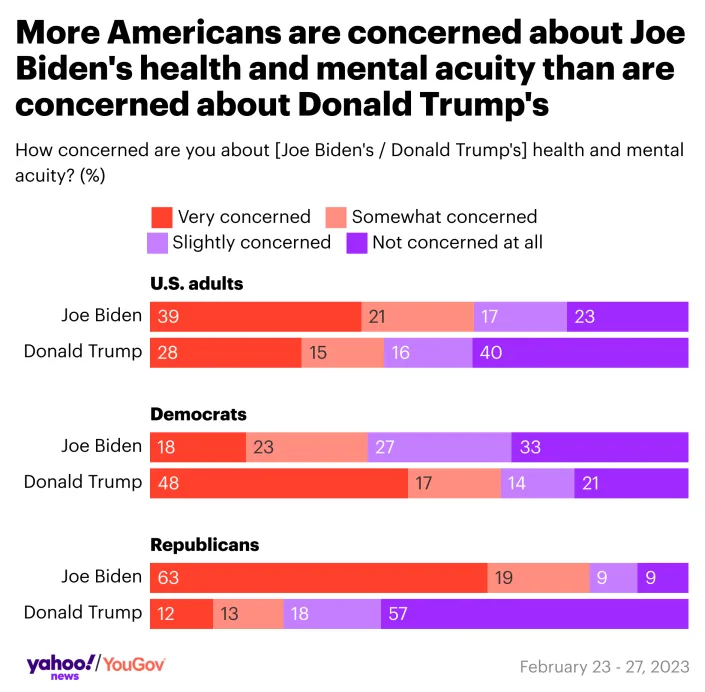 Again, this result is just weird. The partisan skew is, again, not surprising and, indeed, explains most of the topline result. But across the board we find that fewer people question Biden or Trump's mental acuity—presumably the thing that we're trying to get at with the age question—than think they're "too old."
Regardless, a funny thing happens:
Regardless of how much they favor the president's policies or personality, Democrats seem keenly aware of this conundrum — which likely explains why just 41% of Democratic and Democratic-leaning voters say that Biden would be "the Democratic Party's strongest nominee for president in 2024."

The catch is that when asked specifically about "other possible candidates" — none of whom will run if Biden opts in — Democrats don't actually see any of the alternatives as stronger than the president.

If forced to choose between Biden and Vice President Kamala Harris for the nomination, more than twice as many Democrats and Democratic leaners say they would pick Biden (53%) over Harris (24%). And "if Joe Biden does not run for reelection," nearly half say they would rather see "someone else" as the nominee (49%) than Harris (36%).
Biden is too old! We should get someone better to run!
Who?
I dunno. Not that person.
When it comes to electability, these Democratic voters may have a point. Simply swapping Harris's name for Biden's as the Democratic nominee does not improve the party's standing in various general-election matchups.

While 45% of registered voters say they might or would definitely support Biden if he were the Democratic nominee, slightly fewer (43%) say they might or would definitely support Harris. The number who say they would definitely support Biden (31%) is significantly larger than the number who say they would definitely support Harris (25%).

Pitted against Trump, Harris (42%) performs slightly worse than Biden (43%), and she garners even less support (40% to Biden's 42%) against Republican Florida Gov. Ron DeSantis. Biden currently trails both potential Republican nominees by 2 percentage points; Harris trails Trump by 3 and DeSantis by 5.

The vice president is nonetheless the most popular answer (25%) among Democratic and Democratic-leaning voters when asked which of seven high-profile candidates they would "rather see as the Democratic nominee" if "Joe Biden does not run for reelection." Transportation Secretary Pete Buttigieg, California Gov. Gavin Newsom and Vermont Sen. Bernie Sanders all register at 12%; Massachusetts Sen. Elizabeth Warren (8%), Minnesota Sen. Amy Klobuchar (5%) and Michigan Gov. Gretchen Whitmer (5%) are stuck in single digits.
Look, I'm a pretty rational person, sometimes to a fault. I'm in the same boat as the folks I'm poking fun at here. I, too, think 82 is too damn old to be working, let alone running the goddamn country. And I think Biden has clearly lost a couple of steps since his days as Vice President.
But, honestly, there's nobody on that list that I'd prefer as President over a somewhat diminished Biden. And I think Biden is the Democratic candidate most likely to beat Trump or any other plausible Republican nominee in 2024.