Biden Urges Others to Impose Vaccine Mandates
The President is looking for any leverage he can to get refuseniks vaccinated.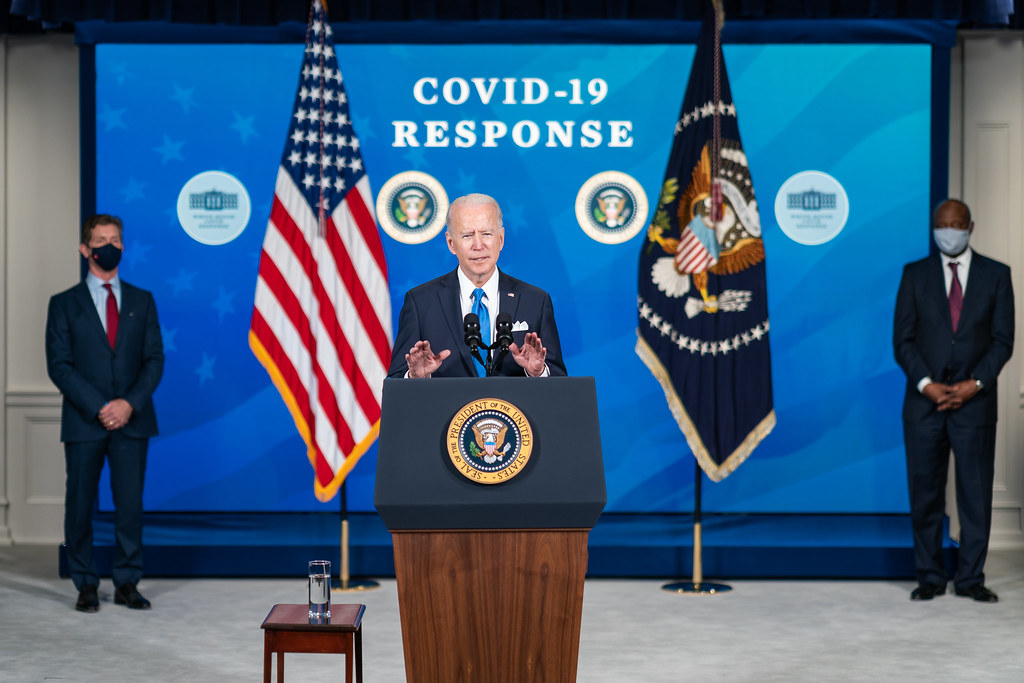 The most powerful man on the planet wants Americans to get vaccinated against COVID-19 and hopes somebody will make them. POLITICO:
President Joe Biden on Monday pressed businesses and public leaders to implement vaccine mandates after the federal government issued its first full approval of a Covid-19 vaccine.

The Food and Drug Administration early Monday approved Pfizer's two-dose vaccine for people 16 and older, a step beyond the emergency-use authorization under which the shot has been available since late 2020.

"I'm calling on more companies in the private sector to step up with vaccine requirements that will reach millions more people," Biden said in remarks at the White House. "If you're a business leader, a nonprofit leader, a state or local leader, who has been waiting for full FDA approval to require vaccinations, I call on you now to do that — require it. It only makes sense to require a vaccine to stop the spread of Covid-19."
A huge number of businesses have already done this, of course. And many states have required schoolteachers and the faculty, staff, and students at state universities get vaccinated as a condition of being on campus. (The University of Virginia just expelled a couple of hundred student holdouts.) There's simply no question that they have the right to do this.
For his part, Biden has already ordered that civilian employees of the federal government who aren't vaccinated would be required to mask and get regular testing and his Secretary of Defense followed up a few days later issuing the same requirement for the uniformed military.
But the huge obstacle is that some of our most unvaccinated states, including behemoths Texas and Florida, are led by morons who are not only refusing to issue vaccine requirements they've made countermeasures like mask requirements and vaccine passports illegal.
Whether the President can do anything about this is simply uncharted territory. A recent Congressional Research Service report tells us,
Certain existing authorities, however, could potentially form the basis of executive action in the context of the COVID-19 pandemic. One such law could be Section 361 of the PHSA. Subsection (a) of this provision, which one court has characterized as "broad [and] flexible,"grants the Secretary of HHS the authority—delegated in part to the Centers for Disease Control and Prevention (CDC)—to make and enforce regulations necessary "to prevent the introduction, transmission, or spread of communicable diseases from foreign countries into the States or possessions, or from one State or possession into any other State or possession." A broad construction of this authority may permit CDC to issue regulations requiring vaccination in circumstances that would prevent the foreign or interstate transmission of COVID-19. The Constitution and other generally applicable statutory requirements, such as the Administrative Procedure Act and the Religious Freedom Restoration Act of 1993 (RFRA), would nevertheless constrain CDC's exercise of this authority.
They go on to note, though, that a narrower reading is also arguable. They're more bullish on the power of Congress to act:
Applying its authority in the context of a vaccination mandate, Congress could encourage states to enact a vaccination mandate meeting certain federal requirements by imposing it as a condition of receiving certain federal funds. This use of the Spending Clause authority, assuming it falls within the broad parameters of being for the "general welfare," would be permissible so long as (1) Congress provides clear notice of the vaccination mandate that states must enact; (2) the mandate is related to the purpose of the federal funds; (3) this conditional grant of funds is not otherwise barred by the Constitution; and (4) the amount of federal funds offered is not "so coercive as to pass the point at which pressure turns into compulsion."
They cite other avenues as well, but this strikes me as the simplest. Alas, there's no chance in hell that Senate Republicans go along with this, so it's only a theoretical power.
It may well be time for Biden to simply act and make Republican governors sue him to find out whether he has the power to make it stick.