Biden Warns Democracy at Stake
Is the President governing like he means it?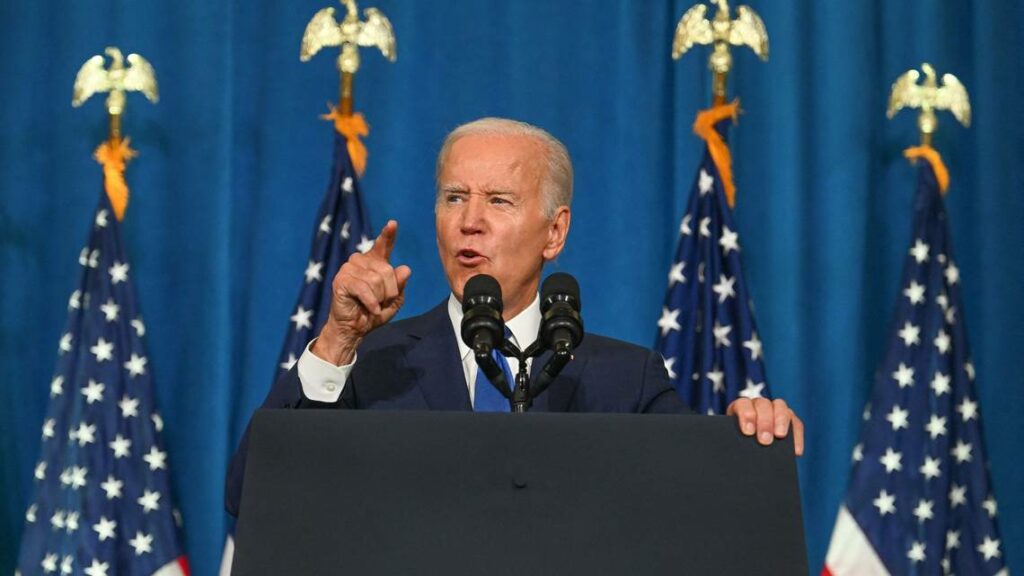 WaPo ("Biden warns GOP could set nation on 'path to chaos' as democratic system faces strain"):
Signs of strain in the nation's democratic system mounted Wednesday with less than a week left before the midterm elections, as President Biden warned that candidates who refuse to accept Tuesday's results could set the nation on a "path to chaos."

Biden's grim assessment in a speech Wednesday evening came as the FBI and other agencies have forecast that threats of violence from domestic extremists are likely to be on the rise after the election. In Arizona, voters have complained of intimidation by self-appointed drop-box monitors — some of them armed — prompting a federal judge to set strict new limits. And the GOP has stepped up litigation in multiple states in an effort to toss out some ballots and to expand access for partisan poll watchers.

Speaking at Washington's Union Station — steps from the U.S. Capitol, which was attacked by a pro-Trump mob in the wake of the nation's last major election — Biden warned of an ongoing assault on American democracy. The president spoke as a growing number of major Republican candidates have said they may follow in former president Donald Trump's footsteps and refuse to concede should they lose.

"It's unprecedented. It's unlawful. And it is un-American," Biden said. "As I've said before, you can't love your country only when you win."

The virtually unprecedented presidential message — a plea to Americans to accept the basic tenets of their democracy — came as millions of voters have already cast their ballots or are planning to go to the polls on Election Day, and as some election officials expressed confidence that the system would hold.

[…]

Last week, multiple government agencies, including the FBI and Department of Homeland Security, issued a memo warning that threats posed by domestic violent extremists would probably increase in the 90-day post election period, according to a copy of the document obtained by The Washington Post.

The memo listed possible scenarios that could trigger more violence, including "actual or perceived efforts to suppress voting access."

"Following the 2022 midterm election, perceptions of election-related fraud and dissatisfaction with electoral outcomes likely will result in heightened threats of violence against a broad range of targets — such as ideological opponents and election workers," the memo read.

Election officials have said they don't quite know what to expect, given promises from various Trump-supporting organizations to flood polls and counting stations with partisan observers. Trump allies have urged his backers to lodge frequent challenges, action that officials say could disrupt the process.
Josh Barro identifies "The Problem With 'Pro-Democracy' Rhetoric." Or, actually, two problems. The first summarizes my reaction to the speech:
First of all, as a political matter, Republican pollster Patrick Ruffini is right: This is a message of primary interest to the most core voters in the Democratic Party coalition. They are sure to vote for Democrats already — in fact, many of them have already voted. The idea that telling voters about January 6 one more time would help anything is just crazy.
Now, that doesn't mean it's not worth saying. Indeed, I would argue that it's the President's duty to say it. But, as electioneering, it's not going to move the needle.
But the other problem is that the message makes no sense on its face.
When Democrats talk about "democracy," they're talking about the importance of institutions that ensure the voters get a say among multiple choices and the one they most prefer gets to rule. But they are also saying voters do not get to do that in this election. The message is that there is only one party contesting this election that is committed to democracy — the Democrats — and therefore only one real choice available. If voters reject Democrats' agenda or their record on issues including inflation, crime, and immigration (or abortion, for that matter), they have no recourse at the ballot box — they simply must vote for Democrats anyway, at least until such time as the Republican Party is run by the likes of Liz Cheney and Adam Kinzinger.

This amounts to telling voters that they have already lost their democracy.
I simply disagree with that. In a two-party system, democracy is about choosing between those two parties. And Biden is arguing—correctly in my view—that one of the parties has resorted to violence and intimidation to influence elections and to contest results they don't like. He's saying that, therefore, choosing his party is the best choice for those who value free and fair elections and the rule of law.
Here, though, Barro is more convincing:
In countries where there is a real cross-ideological coalition to protect democracy, this is not how it works. In Israel and Hungary, coalitions of ideologically diverse parties have set aside their differences to run on very narrow governing agendas that are essentially about keeping the other side out. This approach has worked in some elections but not in others, but it hasn't involved the Labor Party in Israel telling various right-wing anti-Netanyahu parties they must sign onto a full spectrum of left-of-center issue positions to share a coalition. This is how such coalitions engage in democratic accountability — if you're going to tell people they must vote for your side to keep a dangerous authoritarian out, you also do what you can to make them feel ideologically comfortable within the coalition on issues besides elections themselves.

We have seen in recent years how no-choice politics works out. If your message to voters is that they have no choice but you, you had better make yourself a palatable choice — otherwise, they are liable to defy you and choose what you claimed was unthinkable. But Democrats have not governed like they had better win the widest swathe of voters possible, as they would if they really believed our democracy is at grave risk if the other side wins.
I think that's right. They're governing as though they won a normal election, by enacting as much of their long-standing agenda as possible so as to please their core voters.
Biden ran for the Democratic nomination as a centrist, arguing that the number one priority was defeating Donald Trump. He was successful in both campaigns. But he has tried to govern as an FDR, making sweeping changes, despite a mandate to simply restore normalcy. He's done that despite narrow control of the House and a 50-50 split in the Senate that allows him to pass only measures that Joe Manchin and Kyrsten Sinema sign onto and that the parliamentarian rules can bypass the filibuster. That's not going to win over a lot of moderate Republicans.
I'm less persuaded by this:
First of all, they have been insufficiently attentive to economic factors they now acknowledge are likely to drive this and future elections. Joe Biden knew that world events beyond his control could spike gasoline prices, yet his fear that voters might punish him for this did not give him pause when he pursued an agenda from day one that discouraged North American production of oil and gas, including pausing drilling leases and canceling the Keystone XL pipeline. He was blasé about the risk that the American Rescue Plan would overstimulate the economy and spur inflation, ignoring the warnings of mainstream Democratic economists like Larry Summers. He spent much of 2021 trying to get Congress to approve a multi-trillion dollar package of new social spending that would have been even more inflationary.
A lot of this is simply hindsight being 20-20. There's no way he could have known in January 2021 that oil prices would skyrocket or that supply chain problems that manifested during COVID would continue indefinitely; it's absurd to expect him to have altered his agenda based on those eventualities.
The American Rescue Plan is another matter. It was the fulfillment of a campaign promise made under different circumstances than he faced once he took office. We simply didn't need another giant stimulus package. Even there, though, that it would be inflationary was by no means a certainty. Summers was in the minority among prominent Democratic economists; Paul Krugman and others dismissed the suggestion. Even now, the consensus seems to be that the spike in prices has many causes, with the stimulus being a rather negligible contributor.
He approved an extra-legal cancellation of hundreds of billions of dollars of student loan debt in a manner never contemplated by Congress (so much for democracy!). His party has coalesced around increasingly rigidly progressive positions and rhetoric on issues including abortion, sex and gender, and immigration, and Biden himself moved in a more extreme direction on abortion by rejecting the Hyde Amendment, which he had long supported — hardly an effort to broaden the coalition.
Again, this is simply Biden governing as the head of the Democratic Party and needing to keep his own faction happy. But Barro is right that this doesn't seem like the way a man who thinks the survival of American Democracy is at stake.
Barro saves his best argument for last:
And — most demonstrative of all of the fact that the "threats to democracy" rhetoric is not serious — Democratic campaign committees have spent millions of dollars trying to elevate Republican candidates who are objectively more threatening to democracy than their primary opponents were, on the theory that those candidates were less likely to win general elections. That theory is correct, but the odds of those candidates winning is still not zero. The necessary implication is that the risk of those candidates winning is an acceptable one, part of the ordinary course of two-party democracy, rather than an existential threat to the institutions we hold most dear.
We've discussed this issue before. This is Democrats exploiting the extremism within the Republican nominating electorate for their own electoral advantage. It's hardball politics but not inherently wrong. It might even allow them to keep control of the Senate. But it could also backfire, putting extremists into office.
There is nothing inherently wrong with pressing your advantage in an election you won narrowly to achieve as much of your agenda as you can. The idea is that you might lose the next election, but at least you'll leave behind some durable achievements. The Affordable Care Act was worth losing the 2010 election over. But that's the implication — that this is a normal election, you win some and you lose some, and life goes on in a democracy.

If Democrats truly believed differently, they would have governed differently. You can see from their actions that they are not actually serious about the arguments they're making now, and I for one am sick of the disingenuous speechifying.
Again, he's not wrong.
And yet Biden and company aren't just spouting empty rhetoric. The last President brought an angry mob to the Capitol on the day Congress was to count the Electoral College votes and incited them to storm the building as the count was to start, delaying it for hours. His co-partisans continue to claim that the election was stolen, despite there being no evidence of that. And the notion that the FBI and the rest of the federal intelligence and law enforcement community are somehow agents of the Democratic Party, making false findings to help them win the midterms, is laughable.