Biden's Plunging Job Approval!
Democrats and Independents are losing their enthusiasm. But some perspective is needed.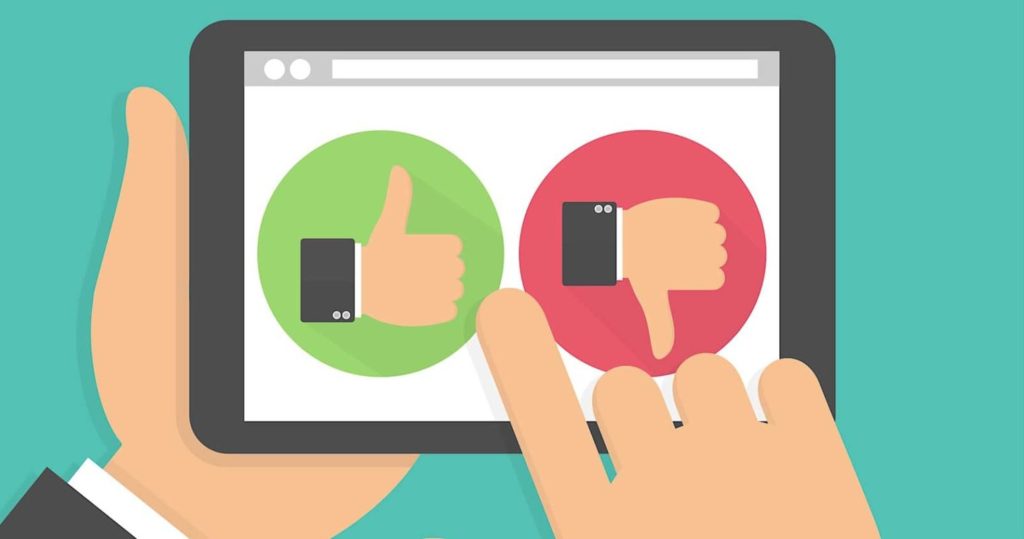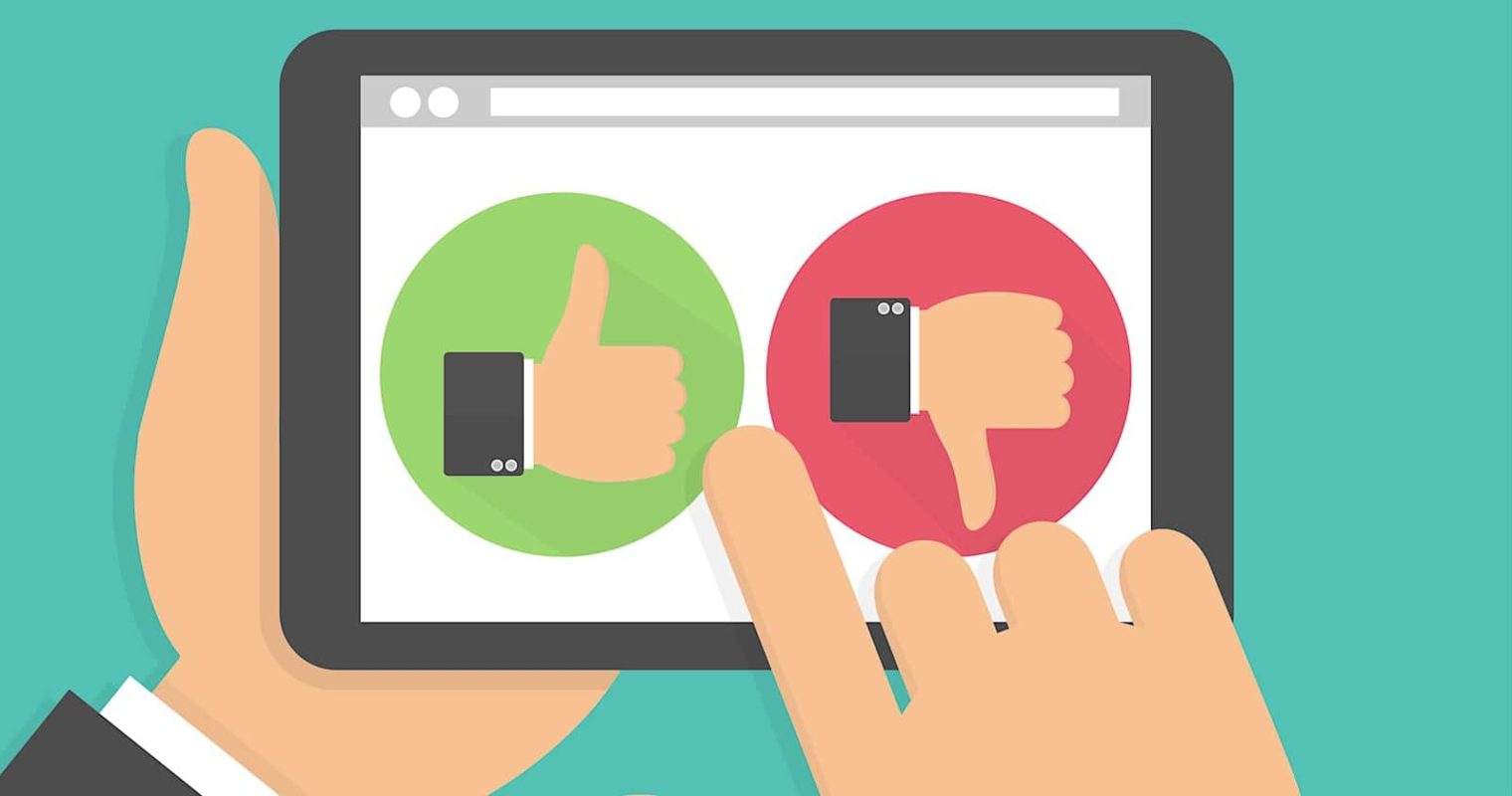 The headline from yesterday's Rasmussen poll release blares, "Biden Not More Popular Than Trump, And Most Voters Like Obama Better."
The intro:
There's good news and bad news for President Joe Biden. The good news is that most voters have a favorable opinion of him. The bad news is that his numbers aren't better than former President Donald Trump's, and are worse than former President Barack Obama's.

A new national telephone and online survey by Rasmussen Reports finds that 51% of Likely U.S. Voters have at least a somewhat favorable opinion of Biden, including 33% whose opinion is Very Favorable. Forty-eight percent (48%) view Biden unfavorably, including 39% who have a Very Unfavorable opinion of him.
Wow! Biden is no more popular than the twice-impeached man he defeated by 7 million votes last November?! That's crazy. I know that Trump was never at 51% approval during his entire Presidency in the various polling aggregates but can't see what exact comparison they're making because the rest of the report is paywalled.
Regardless, Rasmussen is known to have a Republican bias in its sampling. Let's turn to the old, reliable Gallup poll. It, too, had a release yesterday. Its headline? "Biden Approval Drops to 50%, Lowest for Him to Date."
President Joe Biden's latest job approval rating of 50% is down from 56% in June. Before this month, his ratings had not shown meaningful variation during his time in office, and the current figure marks the lowest measured for him to date.

The new rating is from a July 6-21 Gallup poll, which also finds that 45% of U.S. adults disapprove of Biden's performance and 5% do not have an opinion. It comes at a time when U.S. progress in fighting the coronavirus has stalled, with vaccination rates slowing and case levels now rising. The economic recovery continues, with unemployment declining and stock market values near record highs. But consumers are paying higher prices for gas and other goods. Biden has also struggled to deliver on his promise of greater bipartisanship, although negotiations on an infrastructure bill continue in the Senate.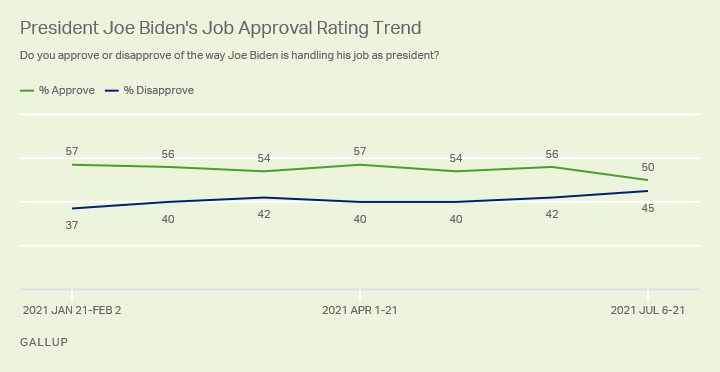 That Biden is being blamed for things completely out of his control, like the virus and gas prices, is both unfair and par for the course. That he's being blamed for things caused in large part by the opposition party—the reluctance to get vaccinated against said virus among the masses and an unwillingness to cooperate on the part of the elected elites—is somewhat weird but, again, goes with the territory.
Biden's approval ratings are marked by extreme party polarization, which has become the norm for presidential approval in recent years. Currently, 90% of Democrats, 12% of Republicans and 48% of independents approve of the job Biden is doing. His ratings among Democrats and independents are the lowest to date among those groups. The new poll marks the first time he has less-than majority approval among independents.
Here's the graphic: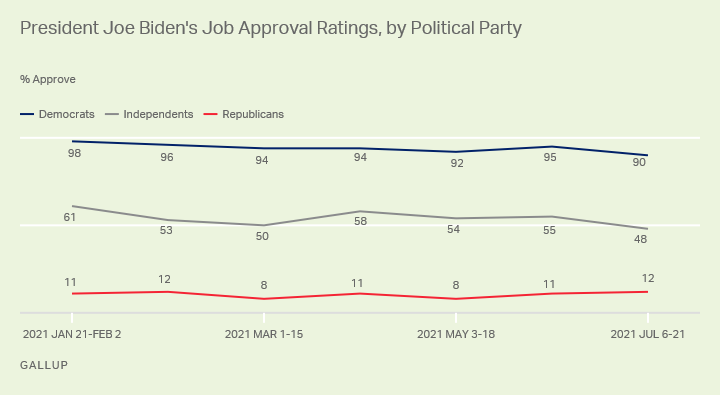 It's not surprising the Democrats are frustrated by the fact that six months into a Democratic administration with Democratic majorities in the House and Senate, Biden has yet to deliver on all of his hefty promises. And, to the extent this stems from his unlikely-to-succeed gambit of seeking bipartisan cooperation rather than trying to blow up the filibuster, it's understandable. What, precisely, Independents are upset about is harder to fathom since, by definition, they're an amorphous group without a coherent agenda.*
Because Gallup has been around for so long, they have the ability to provide insights like this:
Biden's second-quarter average compares favorably with those of presidents from the past three decades. It is significantly better than the second-quarter averages for Bill Clinton (44.0%) and Donald Trump (38.8%) and slightly lower than George W. Bush's 55.8% average. Barack Obama, at 62.0%, is the only other president during this period to have a significantly higher second-quarter average than Biden.

Presidents who served in the 1950s through the 1980s — when party ratings of presidents were far less polarized — had higher averages, with none below 61%. This includes Dwight Eisenhower and John Kennedy, who averaged better than 70% job approval during their second quarters.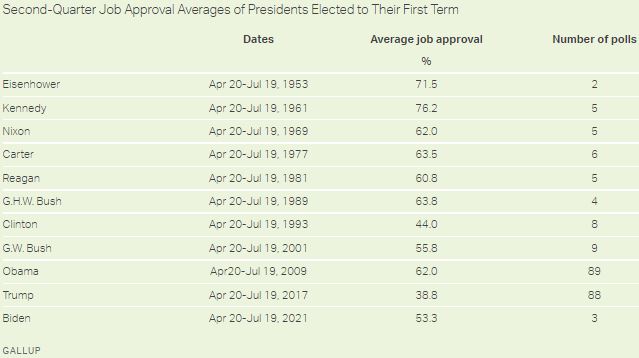 As to the future:
Looking ahead, presidential approval ratings have been more likely to decline rather than increase during presidents' third quarters in office. Obama had the largest drop, of nearly 10 points, as unemployment climbed and his push for healthcare reform proved controversial. Other presidents had drops of two to four points, including Eisenhower, Nixon, Carter, Reagan and Trump.

There have been exceptions, though, as George H.W. Bush (+5 points) and George W. Bush (+16 points) saw their ratings rise amid rallies related to the easing of the Cold War and the 9/11 terrorist attacks, respectively. Clinton's approval rating started to show improvement (nearly four points higher) after his unusually low second-quarter average, while Kennedy's was largely unchanged.

Biden's approval rating is showing the first signs of meaningful decline. If the lower ratings persist, it could indicate his "honeymoon" period is over. Because Republicans have been unlikely to support him from the beginning of his presidency, changes in his approval are likely to come from Democrats' and independents' evaluations of him. That is what has occurred now, with both groups slightly less positive toward Biden than they have been to this point. Still, he maintains very high approval among Democrats, and his rating among independents remains higher than his immediate predecessor Trump ever received from that group.
It's also worth adding another perspective here. The RealClearPolitics average, which includes both Gallup and Rasmussen along with several other polls, shows us this:
While Biden's disapproval is up considerably since he took the oath six months ago, his approval numbers have been remarkably steady. And, again, here's Trump's entire four-year administration: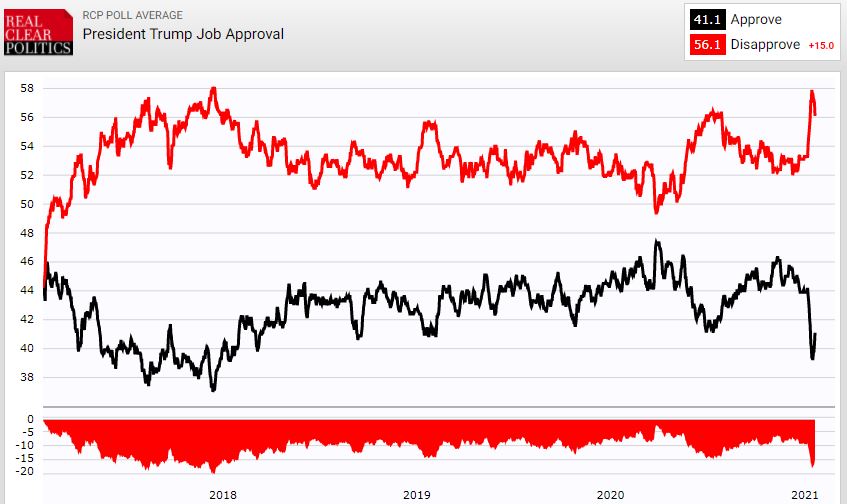 Aside from his first couple of days in office, Trump was underwater—with more people disapproving than approving. There was never an instant where he was above 50 percent approval. Thus far, Biden is the reverse of Trump: the black line is on top and the red line on the bottom. So long as that continues, I'm not going to get too concerned about his polls.
______________
*This isn't intended as an insult. Many if not most self-identified Independents are effectively Democratic or Republican voters and most of the remainder are non-voters.