Bill Clinton Stars In New Ad For Obama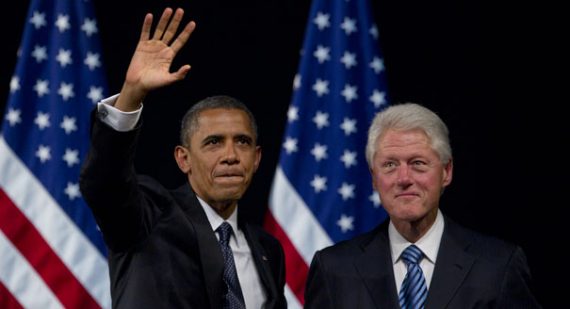 Bill Clinton is starring in a new ad for the Obama campaign just in time for the Republican Convention:
(CNN) – Former President Bill Clinton takes center stage in a new ad released by President Barack Obama's re-election campaign on Thursday.

The former president, who's been a top surrogate for Obama this year, largely praises Obama in the spot and attempted to draw a contrast between Republicans and Democrats this election year

"This is a clear choice. The Republican plan is to cut more taxes on upper income people and go back to deregulation. That's what got us in trouble in the first place," Clinton says in the ad. "President Obama has a plan to rebuild America from the ground up, investing in innovation, education, and job training. It only works if there is a strong middle class."

He later adds: "That's what happened when I was President. We need to keep going with his plan."

The 30-second ad, "Clear Choice," will air in the battleground states of New Hampshire, Virginia, North Carolina, Florida, Ohio, Iowa, Colorado and Nevada.
Here's the ad:
This is a very good ad and, given the former President's popularity, it's likely to play well for the Obama campaign in the swing states, as well Clinton's speech at the convention. There is, of course, always a risk when one puts Bill Clinton out there that he'll steal the spotlight, and there continue to be stories about continuing bad blood between the two men over the absurd accusations of racism that dogged Clinton while he campaigned for his wife during the South Carolina Primary in 2000, but this strikes me as a smart move on the Obama camp's part.
Maybe Romney can have Bush and Cheney do an ad for him. Oh, wait.