Bill Maher's Mea Culpa
With Donald Trump on the ballot, Bill Maher regrets some past words. He shouldn't be the only one.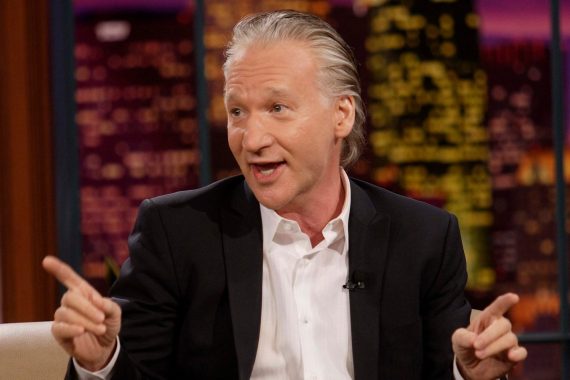 On his show Friday night, Bill Maher had some extraordinary words for Republicans and Democrats as we head to the polls, and it relates quite well to the vitriol that has filled not only this campaign but American politics in general going back at least as far as the Clinton Administration:
Liberal comedian Bill Maher on Friday night said it was wrong for Democrats to have portrayed former Republicans as villains, explaining that they "cried wolf" when it wasn't necessary.

The "Real Time" host contended Donald Trump, the current Republican presidential nominee, was truly dangerous for America, on the other hand. He lamented that liberals had previously described other Republicans in similar terms, a move he said weakened their ability to get individuals to heed their warnings this time around.

"I know liberals made a big mistake because we attacked your boy [President George W. Bush] like he was the end of the world," Maher told panelist David Frum, a former speechwriter for Bush. "He wasn't."

Maher continued: "And Mitt Romney, we attacked that way. I gave Obama a million dollars, I was so afraid of Mitt Romney. Mitt Romney wouldn't have changed my life that much, or yours. Or John McCain."

"They were honorable men who we disagreed with. And we should have kept it that way. So we cried wolf. And that was wrong," Maher said.
Here's the video (be warned that it is  possibly Not Safe For Work due to inappropriate language):
Maher's comments are ones that we've heard several times during the course of this election. Despite the fact that several well-meaning people have earnestly tried to tell Republicans that Donald Trump is a uniquely dangerous, and uniquely unprepared and unqualified, candidate for President of the United States, to a large degree those words have fallen on deaf ears. Even Republican leaders who ought to know better, such as Reince Preibus, Paul Ryan, and the countless number of political leaders, elected officials, and individuals ended up lining behind Trump notwithstanding his well-documented rhetoric and his well-documented views. In some cases, of course, this was done because they actually agreed with him, or because of pure political expediency and fear of ending up on the wrong side of a political battle. Along with them, there are countless numbers of Republican and independent voters who will vote for Donald Trump tomorrow notwithstanding the fact that there are many voices of authority out there talking about the unique threat that he and his supporters represent to American politics. As a result we stand on the brink of an election where this man has at least a small chance of becoming the next President of the United States.
Maher remarks put a finger on one of the reasons why this is the case. For several elections now, pundits and politicians on both sides of the political aisle have been trying to convince us that the candidate on the other side of the aisle was evil incarnate. Even if it meant making up obviously false stories, a practice that admittedly goes far back in American history but which gets far more mileage in an era of cable news, social media, and the Internet, the 'winner take all' attitude of most politicos leads them to view people on the other side of the aisle as not just wrong on a policy level but truly evil and capable of everything from suspending the Constitution to stay in power to locking up political opponents. The days when there were hard fought battles over policy, but at least some level of mutual respect, are long gone for the most part and we're now in an era of politics as blood sport where the opposing candidate must not only be beaten but utterly destroyed. In most cases, it's been a matter of political pundits crying wolf over a politician who was not nearly as bad as the rhetoric. This is exactly what Maher is talking about above, and he deserves credit for his honesty here. Perhaps if pundits like him had been more circumspect about Republican candidates in the past, the words of warning about Trump would not have fallen on deaf ears. In any case, this should stand as a warning for the future. Treating every election as if the opponent is not just wrong but evil means that your words will mean a lot less when a real threat comes along and you try to warn people. That's a warning that people on both sides of the aisle need to learn.