Black Friday Now An International Phenomenon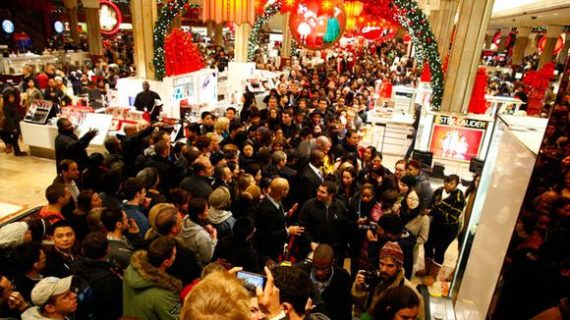 The United Kingdom may not have Thanksgiving Day, but they are apparently starting to copy the idea of Black Friday:
A flurry of promotions tied to Black Friday have caused a frenzy for some UK retailers, with a fight breaking out in one Asda shop apparently over discounted televisions.

Asda, owned by the US consumer giant Wal-Mart, said it sold 10,000 televisions in one hour of trading.

John Lewis also reported a spike in sales, especially online.

US shops traditionally offer big discounts on the Friday after the US Thanksgiving holiday.

Andrew Moore, Asda's chief merchandising officer said that the reaction to the promotion had been "phenomenal".

Other best sellers for the company were tablets, with 11,000 sold in one hour.

The rush to secure the best deal, however, led to one women ending up in hospital. The ambulance service confirmed that it was called to an incident at a west Belfast shopping centre, where a fight had broken out at an Asda branch.

The woman was taken to hospital with a suspected broken wrist after a scene that was described by one onlooker as "bedlam".

Several hundred people had queued outside the shop from 5am for the promotion which started three hours later.

There were also reports of scuffles inside the Asda Superstore at Cribbs Causeway near Bristol, leading to the arrest of a 35 year old man.

Another shopper in Birkenhead spoke of "absolute chaos" as people pushed and jostled to get to the discounted goods.
The concept has apparently, although not entirely surprisingly, made its way to Canada, where many Canadian retailers seem to have adopted the idea as a way of keeping Christmas shoppers in the country instead of slipping across the border into the United States:
Black Friday looks to be bigger in Canada this year as more retailers try to keep consumers closer to home on the most important shopping day of the year in the United States.

One of the country's largest shopping mall operators, Cadillac Fairview, has responded to retailer requests by opening 21 properties early on Friday so it can lure customers who might be tempted to cross the border in search of deep discounts on the day after U.S. Thanksgiving.

"It's a fun way for us to kick off the holiday shopping season," marketing director Wendy Greenwood said of the company's decision to open properties early for the second year in a row.

"Consumers can shop locally and still get great deals without having to go south of the border."

She said consumers can expect to see door crashers and discounts of up to 50 per cent at its stores. Last year, when the company tested the early hours for the first time, it resulted in a 22 per cent spike in traffic.

This year, Cadillac Fairview's landmark mall, Toronto's Eaton Centre, will open at 6 a.m. on Nov. 29, while other properties across the country will welcome customers through the doors at either 7 a.m. or 8 a.m.

In the U.S., Black Friday marks the start of the crucial holiday shopping season — an opportunity for retailers to push merchandise out the door and begin to turn a profit, or head into the black.

Although there likely won't be the same number of overnight lineups or customers stampeding into stores for midnight madness deals in Canada as in the U.S., the popularity of Black Friday is growing as retailers continue to feel the squeeze on their bottom line from American competitors.

Retailers like Amazon.ca and Sears Canada have responded with deals that include sales of up to 70 per cent off on everything from television sets, cameras and clothing to kitchen appliances.

And a recent poll released by the Bank of Montreal found that Canadian shoppers are hungry to shop on Black Friday.

Forty-seven per cent of Canadians it surveyed planned on shopping this year — up from 41 per cent last year — with each shopper expecting to spend an average of $292.

Another poll from UPS Canada also found that the number of Canadians who plan on crossing the border for Black Friday has also increased, up from six per cent in 2011 to 14 per cent this year.
Meanwhile, at a mall outside Philadelphia:
A fight broke out early Friday morning in Franklin Mills Mall and it involved at least four people.

Two men fought merely used their fists, but one of the two women fighting actually used a stun gun and it all happened in front of a child.

An eyewitness cell phone video shows there are two women in the foreground and the video follows them as they tussle on the floor.

The stun gun flashes three times before they break apart.

Mike Napolitano shot the cell phone video as he was shopping around 2:30 a.m.

He says the group started fighting inside a store before the manager kicked them out and the brawl continued.

"Everybody is focused on the girls but these guys are going at it in the back too.
Ah, America at its finest.