Bloomberg Big Soda Ban Dumber Than We Thought
The Big Gulp ban won't ban Big Gulps. But it'll ban 2-liter Cokes with your pizza and pitchers at Chuck E. Cheese.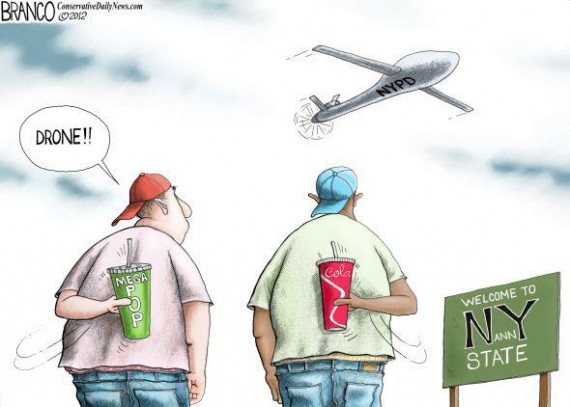 When New York City mayor Michael Bloomberg announced a ban on soft drinks larger than 16 ounces, the hubbub was over the Big Gulp sales to individuals. It turns out that it extends even to sales of 2-liter bottles and pitchers to groups and families.
New York Post ("Bloomberg's ban prohibits 2-liter soda with your pizza and some nightclub mixers"):
Say goodbye to that 2-liter bottle of Coke with your pizza delivery, pitchers of soft drinks at your kid's birthday party and some bottle-service mixers at your favorite nightclub.

They'd violate Mayor Bloomberg's new rules, which prohibit eateries from serving or selling sugary drinks in containers larger than 16 ounces.

[…]

The city Health Department last week began sending brochures to businesses that would be affected by the latest ban, including restaurants, bars and any "food service" establishment subject to letter grades.

And merchants were shocked to see the broad sweep of the new rules.

[…]

And consumers, especially families, will soon see how the rules will affect their wallets — forcing them to pay higher unit prices for smaller bottles.

Typically, a pizzeria charges $3 for a 2-liter bottle of Coke. But under the ban, customers would have to buy six 12-ounce cans at a total cost of $7.50 to get an equivalent amount of soda.

"I really feel bad for the customers," said Lupe Balbuena of World Pie in Carroll Gardens, Brooklyn.

Domino's on First Avenue and 74th Street on the Upper East Side is doing away with its most popular drink sizes: the 20-ounce and 2-liter bottles.

"We're getting in 16-ounce bottles — and that's all we're going to sell," a worker said.

He said the smaller bottles will generate more revenue for the restaurant but cost consumers more.

It will also trash more plastic into the environment.

[…]

Families will get pinched at kid-friendly party places, which will have to chuck their plastic pitchers because most hold 60 ounces — even though such containers are clearly intended for more than one person.

[…]

And if you're looking for a night of bottle service at a Manhattan hot spot, be warned: Spending $300 on a bottle of vodka no longer entitles you to a full complement of mixers.

The carafes in which mixers are typically served hold 32 ounces, and the most common mixers — sodas, cranberry juice and tonic water — will be limited. Only water and 100 percent juice will be unlimited.
I can't find the referenced brochure anywhere. It's not among the publications listed on the NYC Department of Health and Mental Hygiene page; the only thing remotely related is a "Retail Audit of Sugary Drinks in Six New York City Neighborhoods" from last September. But it strikes me as the type of thing a health bureaucracy would come up with given vague guidelines from public officials.
While I disapprove of Bloomberg's policy—indeed, find it an outrageous infringement of individual freedom—I at least sympathize with its goals. Obesity is an epidemic and arguably our number one preventable cause of a variety of expensive and crippling diseases. Rather clearly, given that the intent of the policy was to address the obesity epidemic by nudging individuals to make healthier choices, the intended target was not bottles and pitchers sold to groups.
Ironically, considering that the Big Gulp was the poster boy for the ban when it was first announced—consumers were buying massively more high calorie soda because 7/11 was nudging them to do so by charging just a few pennies more than the price of a reasonably sized beverage—it's not effected by the ban. AP reports, "The rule applies to restaurants, fast-food chains, theaters, delis and office cafeterias, but not convenience stores or supermarkets [emphasis mine]."
So, to recap, the ban won't impact the most obvious example of the problem but will effect several examples of non-problems.