New York City Drink Ban Won't Ban Big Gulps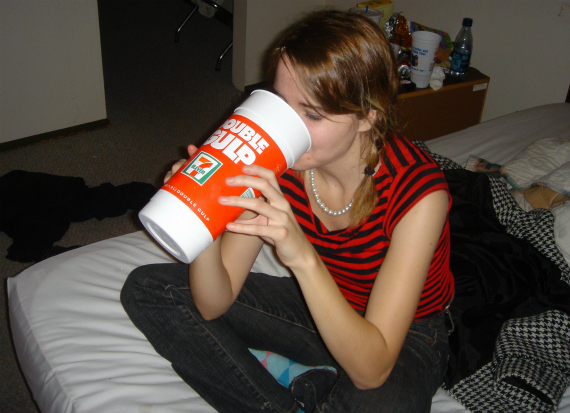 The ban on large-sized sugary drinks proposed last week by New York Mayor Mike Bloomberg, wouldn't ban the most famous of all the large-sized drinks:
On her way out of a 7-Eleven convenience store in Midtown Manhattan, Cynthia Pendleton-Bailey stopped her husband from grabbing his usual 20-ounce bottle of soda.

"You might as well just get a Big Gulp," Ms. Bailey said to him, pointing to a row of fountain drink dispensers flanked with cups, all intended to hold nothing less than the largest possible portion of a customer's (usually sugary) beverage of choice.

"He's going on an 11-hour trip to North Carolina, so it'll be easier if he gets it."

That's a main selling point for the Big Gulp, the much-loved drink sold at 7-Elevens across the country: bigger is always better. The drink also happens to be an important exception to Mayor Michael R. Bloomberg's proposed ban on the sale of large sizes of sugary drinks in a variety of places in New York City.

The ban, which the mayor is proposing as a way to combat rising obesity rates, affects sales of large sugary drinks in delis, fast-food restaurants, movie theaters and the like, but exempts the sale of drinks in groceries or convenience stores.

The Big Gulp holds institutional importance to 7-Eleven, not only as a large source of revenue, but as a mainstay on those green-and-orange pit stops that have become a staple of American and international culture. (There are 46,000 7-Eleven stores worldwide, according to the company's Web site.)

As 7-Eleven says, Gulps (20 ounces) Big Gulps (30 ounces), Super Big Gulps (40 ounces) and Double Gulps (50 ounces) are "genetically engineered to quench even the most diabolical thirst."

But dieters might want to steer clear. A Double Gulp filled with Coca-Cola, for instance, has about 600 calories — almost 25 percent of the recommended caloric intake for a 30-year-old, 160-pound man who exercises regularly.

The Gulps, which have more or less defined American "supersize me" beverage culture since the 1970s, cost from $1.23 to $1.84.

7-Eleven was one of the first major retailers in the country to offer self-serve drinks, initially offering 12- and 20-ounce options.

The company introduced the line of Big Gulp products in 1976. The Big Gulp nearly doubled the fountain drink profits of 7-Eleven, a privately held company, though it does not release details on the sales of its individual products.

In 1988, the company came out with the 64-ounce Double Gulp, which, in its sugary guise, had more than 750 calories.

(…)

Some of the managers of the 92 7-Eleven franchises in New York City estimated that almost 10 percent of their overall store income comes from the sale of Big Gulps.

Dilip Chaudhari, 37, the manager of a 7-Eleven on 42nd Street near Ninth Avenue in Manhattan, said the shared sentiment among customers was that even if the ban were eventually extended to the Big Gulp — which the mayor's office has shown little indication of trying to do — people would still drink the same amount. "They're going to just buy two or three cups instead," Mr. Chaudhari said. "Who's going to stop them? If anything, pollution will go up with all the extra cups people might buy."
Indeed, it most likely will.
Photo via Wikipedia