Blue States Threatening To Sue Trump Over DACA Decision, But Their Case Seems Weak
Several Democratic Attorneys General are threatening to sue the Trump Administration over the decision to end DACA, but their legal arguments appear to be especially weak.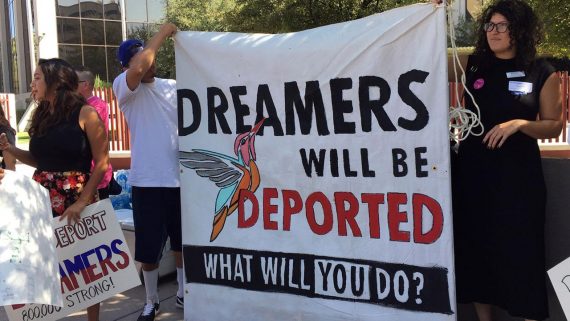 As I have noted, before the Trump Administration announced the end of the Deferred Action For Childhood Arrivals (DACA) program, several states led by Texas had threatened to file suit against the Administration against the program. In fact, it's clear that at least part of the reason for the President's decision is that he was being advised by Attorney General Jeff Sessions and White House Counsel Don McGhan were advising him that the legal basis for the program was weak and that it probably could not be successfully defended in Court. While that argument is far from settled, it appears for the moment that the group of states led by Texas will not be filing their threatened lawsuit. Instead, Attorneys General representing Democratic-dominated states are threatening to sue the President for his decision to end the program, although the legal basis for this kind of lawsuit appears flimsy at best:
Conservative states may have boxed President Donald Trump into announcing an end for the Deferred Action for Childhood Arrivals program — but Democratic state attorneys general are already fighting back.

New York Attorney General Eric Schneiderman and Washington state Attorney General Bob Ferguson will announce multi-state legal action on Wednesday, according to separate releases from their offices. On Tuesday, California Attorney General Xavier Becerra also announced he was prepared to sue the Trump administration over DACA.

In July, all three officials were part of a 20-state coalition of Democratic or non-affiliated attorneys general that wrote to Trump urging him to preserve DACA, outlining why they believed the program was constitutional and saying they stood ready to defend the program.

The states were responding to an opposite letter from 10 states led by Texas Attorney General Ken Paxton sent in late June, threatening Trump that they'd sue in an unfriendly court if the President didn't sunset the program by September 5. Tennessee announced last week that it would no longer pursue the lawsuit, but the other nine states remained committed.

Trump met their demand on Tuesday, announcing that his administration would not accept any new DACA applications from Tuesday on and that any two-year DACA permits expiring after March 5, 2018, would not be renewed. The Obama-era program protected young undocumented immigrants brought to the US as children from being deported and allowed them the ability to work and study. Texas later filed in court that it would no longer pursue a challenge to DACA.

Now, those state officials' Democratic counterparts are hoping they can have the opposite effect, succeeding in the courts to reinstate the program that has protected nearly 800,000 young people in its time and currently has nearly 700,000 people enrolled.

"President Trump has turned his back on hundreds of thousands of children and young Americans who came forward and put their trust in our government. But in terminating DACA, the Trump administration has also violated the Constitution and federal law," Becerra said in a statement on Tuesday.

"President Trump's decision to end the DACA program is cruel, gratuitous and devastating to tens of thousands of New Yorkers — and I will sue to protect them," Schneiderman said in a statement Tuesday. "My job is to protect all the residents of New York — no matter where they come from … and I will use every legal tool I have available to make sure they get the opportunity to live the American dream, just like millions of New York immigrants before them."

It's unclear whether the litigation will be successful. Trump is not prematurely revoking any permits, choosing instead to let them expire on their normal two-year cycle but not offer any renewals. That may help the administration skirt a challenge based on the revocation of permits, as expirations were allowed for in the original implementation.
If these Attorneys General follow through on their threatened lawsuits, they'll be joining one already filed by a DACA beneficiary before the President had even announced his decision:
An undocumented immigrant from New York rushed to federal court Tuesday to challenge the termination of DACA — a program protecting young undocumented immigrants brought to the US as children from deportation — hours after the Trump administration announced its termination.

Martin Batalla Vidal, a current participant in the Obama-era programmed called Deferred Action for Childhood Arrivals, said that "everything has stopped" after the Trump administration's action. He lamented the fact that a program that "changed his life" is now being wiped from the books.
"Dreamers left everything behind, and DACA allowed me to work. Now that's being taken away," he said in a conference call.

He is looking to amend a case was originally filed last year concerning an expansion of DACA that had been struck down. Lawyers say President Donald Trump's actions violate federal law and the equal protection guarantee of the Constitution.

In a letter to US Judge Nicholas G. Garaufis of the US Court for the Eastern District of New York, lawyers for the National Immigration Law Center argue that the termination violated federal law that forbids "arbitrary and capricious" agency action.

"In today's abrupt policy shift, the government has failed to provide a reasoned explanation for disregarding the findings and conclusions that underlay" the 2012 DACA policy," the lawyers write.

They also argued that under the equal protection component of the Due Process Clause of the Fifth Amendment, the withdrawal of the original 2012 memo "constitutes impermissible discrimination based on race."

"The termination of DACA violates equal protection because it was substantially motivated by the animus of the President and administration toward Latinos and Mexicans, the two groups who will overwhelmingly bear the brunt of President Trump's decision to re-impose the threat of deportation on hundreds of thousands of young people who present no threat to national security or public policy," they wrote.

Other lawsuits are expected from immigrant rights groups, and several state attorneys general have threatened to sue.
While I support DACA as a policy, and am not at all certain that the legal arguments made by Texas and the other states against it were threatening to make prior to Tuesday are as clear cut as DACA opponents claim them to be, the legal basis for a lawsuit against President Trump regarding his decision to rescind the program seems to be especially weak. Essentially the people advancing these arguments appear to be arguing that once a benefit of any kind is extended via a Presidential Executive Order or agency regulation, it can never be repealed. To my knowledge, this argument has never before been raised in regard to an Executive Action of any kind, or if it has it has never been successful. Notwithstanding the fact that the policy arguments in favor of DACA are strong, the fact remains that it does not appears that there is a legal basis for challenging the decision of one President to rescind via Executive Order a policy enacted via Executive Order by one of his predecessors. In fact, it's quite common for a President to sign Executive Orders that do just that almost immediately upon taking office, especially when the preceding General Election resulted in a change of which party controls the White House. Furthermore, since the Administration has announced that DACA is being rescinded in six months absent Congressional action, I suspect that any of these lawsuits against Trump's decision to end it would end up being dismissed either because they are moot or because they fail to state a claim upon which relief can be granted. For better or worse, and it's most assuredly worse, Donald Trump is the President, and the authority granted to him because of that role includes the power to issue his own Executive Order, so long as they properly fall within the law, the Constitution, and the discretion legally granted to a President. This includes the power to revoke Executive Orders signed by previous Presidents.
This is why President Obama said when he signed the DACA E.O. in 2012 that it was meant as merely a "stopgap" measure and that Congress would have to act to make the program permanent because there was always a chance that his decision could be revoked by one of his predecessors. Hillary Clinton made the same argument during the course of last year's campaign with regard to both the DACA Executive Order and other actions that the former President took while in office. Despite this, the voters chose to hand the White House to Donald Trump, who was clearly and openly promising the bring DACA to an end. Now, President Trump is choosing to end the program just as he promised. The idea that the Courts can or will step in to stop the President from doing something that is clearly within the bounds of his authority seems, at best, fanciful. There's always a possibility that I'm wrong, of course, and that these Attorneys General will find a Federal Judge who will agree with them, but that seems unlikely. Donald Trump is President, and the power given to him includes the power to reverse decisions made by previous Presidents. It isn't the job of courts to get involved in political matters. Even if a Court were to rule that DACA was a legal use of Presidential power, that would not preclude a President from revoking such a program at any time. This is why the only way to make the program permanent is via Congressional action.
Update (9/7/2017): A group of fifteen states led by New York has filed a lawsuit against Trump and other Defendants in the United States District Court for the Eastern District of New York.
Here's the Complaint filed by Martin Batalla Vidal:
Batalla-Vidal v. Baran Et Al Complaint by Doug Mataconis on Scribd
And the letter they sent to the presiding Judge in the wake of the Administration's announcement:
Batalla Vidaal Et v. Baran Et Al Memorandum by Doug Mataconis on Scribd