Bobby Jindal To Enter Presidential Race June 24th
Once seen as a rising Republican star, Bobby Jindal's impending Presidential bid now looks like it's over before it begins.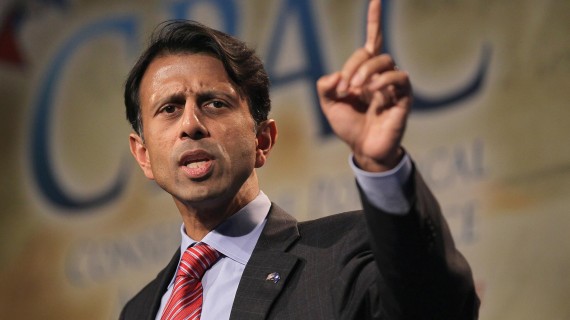 Bobby Jindal will apparently be entering the Presidential race at the end of the month:
Louisiana Gov. Bobby Jindal, who has been preparing a longshot bid for the Republican presidential nomination, has scheduled a major announcement about his likely 2016 candidacy for later this month.

Jindal plans to declare his presidential intentions on June 24 with an event in New Orleans, an aide to the governor said late Tuesday. He is poised to enter a crowded Republican presidential field that already features nine announced candidates and likely will add a half dozen more in the coming weeks.

Jindal currently is in his second term as governor of Louisiana. He previously served in Congress, and ran his state's Department of Health and Hospitals and the University of Louisiana system.

Jindal, 43, a Rhodes Scholar and son of Indian immigrants, has long been hailed as a rising star in the Republican Party and one of its sharpest policy minds.
No doubt, Jindal will base much of his campaign around his appeal to social and evangelical conservatives, something that we already got a taste of last month when he used his authority as Governor to implement portions of a "religious liberty" bill that even the state's Republican legislature had refused to pass. The problem for Jindal is that there are a whole host of candidates that are appealing to this very same group, and there's really no reason to believe that he can differentiate himself from them in a positive way that would cause those voters to rally behind him. Additionally, his record as Governor of Louisiana leaves much to be desired, especially on fiscal issues which have been a particularly big problem during this year's legislative session. Factor into that the issues he's had with public perception stretching back to when he gave the response to President Obama's first address to Congress, and Jindal doesn't come across as a very impressive candidate at all.
As I noted when it was announced that Jindal had formed a Presidential Exploratory Committee, it's quite hard to see how Jindal becomes a credible candidate. Nationally, he is essentially a non-entity in the polls of the Republican field and he doesn't fare much better on the state level. Even in Iowa, where one would think that his appeal to social conservatives would have the most impact, Jindal finds himself at the very bottom of the pack. If the first Republican debate were being held today, he would not qualify for since he doesn't fall in the top ten in any polling, and it seems unlikely that he's going to rise to that level between now and early August. Unless he somehow manages to take off and does better in Iowa than expected, I wouldn't expect Jindal to last very long after the Iowa Straw Poll in mid-August.