Bobby Jindal: Hating President Obama Is Foolish
Louisiana's Bobby Jindal sent a warning to his fellow Republicans. Too bad they probably won't listen.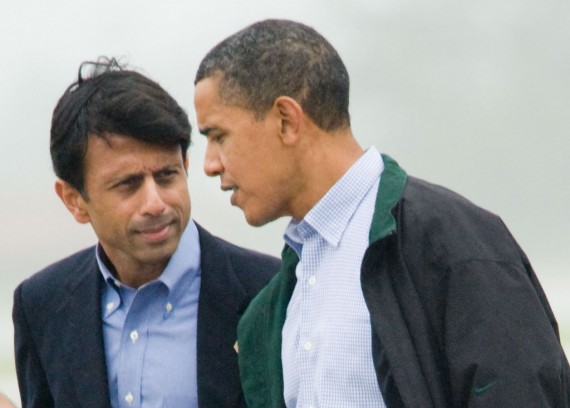 In his speech yesterday at the Republican Leadership Conference, Louisiana Governor Bobby Jindal veered sharply from the red meat that had been coming from the podium all weekend:
NEW ORLEANS — Louisiana Gov. Bobby Jindal diverged from the red meat attacks on President Obama that have characterized the Republican Leadership Conference to caution conservative activists that they ought not demonize the president in the fashion some liberals did President Bush.

Jindal recalled what he said were the "shrill, absurd and negative rhetoric" employed by the left during the eight years Bush was in office.

"We must not mimic their shallow approach," he said to modest applause in a Friday afternoon speech here.

Jindal, who just turned 40, is up for re-election this fall and is widely assumed by the state's political class to have national ambitions.

So even while tut-tutting the more sharp-edged attacks on Obama, he mixed in reassurance that he wasn't sympathizing with the president's policies.

Invoking the debunked notion that president wasn't born in America, the governor said: "I don't question where's he from, I question where President Obama is going."

He also urged conservatives to channel their disdain for the incumbent.

"Hating President Obama is foolish, but defeating President Obama is absolutely crucial," said Jindal

And even as he acknowledged that the president is a patriot, the governor criticized Obama's leadership.

"I've got no doubt that President Obama loves this country," Jindal said, before adding that what the incumbent "thinks is best for this country is in reality a complete disaster."

(…)

"We as Republicans are Americans first – we have to have respect for the office of the president," said Jindal. "We need to be serious about this debate, it's an important debate about the future of our country. We can't be distracted by ad hominem attacks."

He added: "I think It's hypocritical to say, well, it's not patriotic when they do that to President Bush but it's ok for our side to it to President Obama."
Jindal is, of course, absolutely right. It is possible to disagree with the President, vehemently even, without calling in to question his patriotism or his integrity. Yet, as I've noted before there is a strain of Obama Derangement Syndrome that exists inside the conservative movement. Some of it, like birtherism, exists only on the fringe. Other elements, though, like the discredited idea that the President spent the first two years of his Presidency touring the world apologizing for America, are memes that get repeated on a daily basis by the likes of Sean Hannity and Rush Limbaugh. Untruths about the President have been repeated so much within some conservative circles that debunking them is next to impossible, and opposing them is politically risky. Which is why Jindal deserves some credit and speaking sanity.
Of course, Barack Obama isn't the first President to have a political opposition that holds irrational beliefs about him. Obama Derangement Syndrome is just the successor to Bush Derangement Syndrome, which was the Democratic response to Clinton Derangement Syndrome. During the Bush 41 and Reagan years, there was that small subset of the left who believed that they had stolen the 1980 election and were involved in drug running. And, of course, you can name numerous Presidents further back in history who had opponents who believed insane things about them. Most of the time, though, that kind of attitude coincided with a time of intense political conflict (i.e. 1800 and Thomas Jefferson, the 1820s and Andrew Jackson, Abraham Lincoln).
It seems different now, though. To a large degree that's a reflection of our 24/7 news culture, talk radio, and the fact that so much political discussion now takes place in mediums like Twitter where instantaneous responses and outrageous comments are what gets attention. It's the nature of the beast that the crazies get the most attention, because they're the ones speaking the loudest. What's unfortunate is that people start to take what the crazies are saying as truth just because it appears on the internet.
Governor Jindal was right to speak out against the insanity infecting his party. Sadly, though, I don't think anyone will listen.