Obama Derangement Syndrome And The American Right
The American right has become infected with the notion that Barack Obama isn't just wrong, but evil. That won't be healthy in the long run.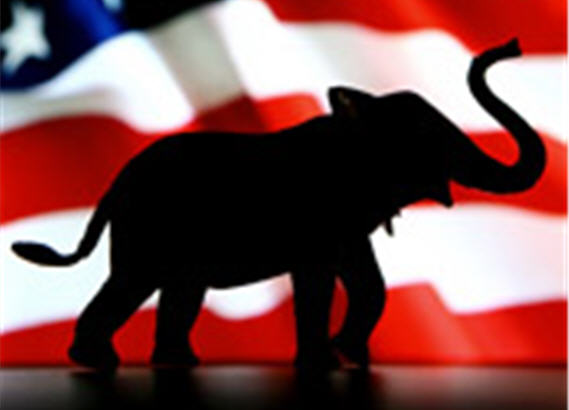 Pajamas Media's Rick Moran wrote recently about the extent to which many on the right have let themselves be taken by paranoid fantasies about President Obama:
One of the most confounding critiques of President Obama from the right has been the expressed belief that the president of the United States has deliberately initiated policies that he knew would injure the economy and the country. In short, Barack Obama wants to destroy America.

Several different motivations are given for this traitorous behavior. Rush Limbaugh thinks it's because Obama wants as much of the population as possible to fall into dependency on government, thus giving Democrats a permanent majority because everyone knows poor people vote Democratic. Others believe it's because the president is a socialist/Communist and in order to remake America, it must first be destroyed.

Darker conspiracies that combine the most paranoid parts of the birther narrative with Cold War revanchist nightmares involving a plot line ripped from the film The Manchurian Candidate (the sublime Frank Sinatra version, not the Denzel Washington turkey) provide a little comic relief to the dourness of the subject matter. Obama as the unholy offspring of Frank Davis or Malcolm X, groomed from birth by the international Communist conspiracy to become leader of the free world, programmed to remake America into a Marxist dictatorship, gives the entire proposition of Obama as Destroyer of America a slightly hysterical tinge.

Thankfully, most on the right don't go quite that far over the cliff in positing the notion that President Obama has deliberately set out to bring America down. Still, there is a desperate paranoia at work among some conservatives if one were to take the notion seriously that this president — any president — would purposefully set the nation on a course where America's destruction would be the end result. In order to believe that proposition, you have to also believe that the president is not just an incompetent, indecisive, empty suit in way over his head as chief executive, but that he is the personification of evil.
As Moran points out in a follow-up post at his personal blog, the paranoids on the right are able to believe this largely because they have already concluded that President Obama is evil, meaning that they're able to classify everything he does as part of a vast conspiracy:
The problem for the paranoids is that they start, not with a supposition, but an assumption. By assuming evil intent, the only possible supposition is that Obama is trying to destroy us. But what is easier to believe? Occam's razor would teach us that beginning with the supposition that Obama is incompetent would lead to the exact same results that the paranoids believe proves Obama is evil! Is it easier, more rational, more reasonable to believe that Obama is a horrible chief executive or a Machiavellian president who has been able to hide the proof of his intent to destroy us – except from the eyes of those chosen few who claim special knowledge not in evidence of the president's intent?

When looking at Obama through this kind of paranoid prism, all manner of evils can be attributed to him. He doesn't "love" America. He wants to weaken us so that the Mooooslims can establish Sharia law in America. He is conniving to turn our capitalist economy (such as it is) into a socialist, or even a Marxist one.
Michael Medved made a similar point in his Wall Street Journal column earlier this week, and concluded by noting that the GOP risks political ruin if it allows the paranoid style to become part of its rhetoric in the coming year:
Regardless of the questionable pop psychology of this analysis, as a political strategy it qualifies as almost perfectly imbecilic. Republicans already face a formidable challenge in convincing a closely divided electorate that the president pursues wrong-headed policies. They will never succeed in arguing that those initiatives have been cunningly and purposefully designed to wound the republic. In Mr. Obama's case, it's particularly unhelpful to focus on alleged bad intentions and rotten character when every survey shows more favorable views of his personality than his policies.

Moreover, the current insistence in seeing every misstep or setback by the Obama administration as part of a diabolical master plan for national destruction disregards the powerful reverence for the White House that's been part of our national character for two centuries.

Even in times of panic and distress, we hope the Almighty has answered John Adams's prayer. Americans may not see a given president as their advocate, but they're hardly disposed to view him as their enemy—and a furtive, determined enemy at that. For 2012, Republicans face a daunting challenge in running against the president. That challenge becomes impossible if they're also perceived as running against the presidency.
Indeed.
This is something that goes back to the early days of the Obama Administration when Rush Limbaugh said that he hoped the President failed and set off a firestorm of criticism, along with a little reflection from some on the right who argued that wishing for a failed Presidency essentially meant wishing for a failed country:
A failed Presidency is Herbert Hoover's lack of faith in the ability of the market to right itself and fiscal and economic policies that led to the Great Depression, it's Woodrow Wilson's single-minded obsession with "making the world safe for democracy" that results in creating the seeds for the worst war in human history, it's Lyndon Johnson and the disaster of Vietnam, it's Jimmy Carter, and, it's George W. Bush.

The United States usually doesn't do so well when we're forced to live with a President who's a failure.
Things actually seem to have gotten worse since those early days. The Birthers have gone from a minor nuisance filing frivolous lawsuits to. according to some polls, a substantial part of the Republican base. The "Obama is a secret Muslim" canard is still alive and well (I heard it more than once at CPAC from people attending). Limbaugh, Hannity. Palin, and Beck are more powerful than ever. And anyone who dares to criticize any of this is denounced as a RINO, or worse (for an example of that, just check out the comment thread to Moran's Pajama's Media column). The inmates have taken over the asylum, and they don't look eager to give up the control any time soon.