Boom
North Korea has conducted its third test of a nuclear weapon.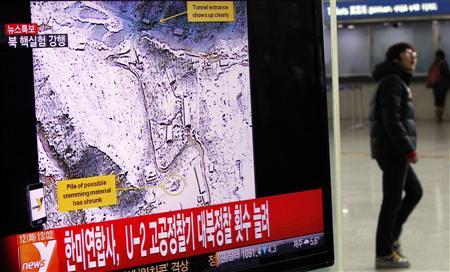 North Korea conducted its third test of a nuclear weapon today. The act was condemned by China, Japan, Russia, and the United States:
(Reuters) – North Korea conducted its third nuclear test on Tuesday in defiance of existing U.N. resolutions, drawing condemnation from around the world, including from its only major ally, China, which summoned the North Korean ambassador to protest.

The reclusive North said the test was an act of self-defense against "U.S. hostility" and threatened further, stronger steps if necessary.

It said the test had "greater explosive force" than the 2006 and 2009 tests. Its KCNA news agency said it had used a "miniaturized" and lighter nuclear device, indicating that it had again used plutonium which is more suitable for use as a missile warhead.

North Korean leader Kim Jong-un, the third of his line to rule the country, has presided over two long-range rocket launches and a nuclear test during his first year in power, pursuing policies that have propelled his impoverished and malnourished country closer to becoming a nuclear weapons power.
The young Kim is undoubtedly signaling continuity with the policies of the previous two generations of his family. The test is an embarrassment to China, illustrating how little influence they actually have over what should effectively be a vassal state.
The United Nations Security Council will meet today to determine what its response will be. My guess is not much. Sanctions against the Kim regime are already about as severe as will be accepted by Security Council permanent member China. The test also exacerbates the already tense situation in East Asia.
President Obama has termed the North Korean nuclear program "a threat to U. S. national security". There are only a handful of responses at hand. We could knuckle under to what the Kim regime wants, something unlikely to induce it to abandon its nuclear program. We could remove the Kim regime, something unlikely to be acceptable to just about anybody, especially China which could expect a flood of refugees across its border, something it very much wants to avoid. Or we could issue some outraged statements and otherwise ignore North Korea, hoping the situation will just go away.
The third is probably the best of the available alternatives. Unfortunately, as I've said before North Korea remains the Alex Forrest of nations.