Bootless Homeless Guy Not Really Homeless, Still Apparently Bootless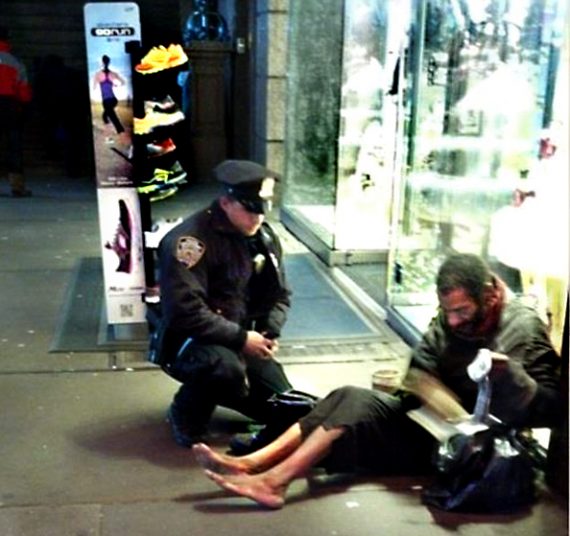 The homeless man given boots purchased by an NYPD patrol officer, who apparently stopped wearing the boots shortly after receiving them, isn't actually homeless:
NEW YORK (CBSNewYork) — The homeless man seen getting boots from a New York City police officer — in a photo that went viral  - is not actually homeless.

On Tuesday, CBS News reported that Jeffrey Hillman, the man captured in the photo with DePrimo, has been living rent-free in an apartment since late last year.

Homeless Services Commissioner Seth Diamond told CBS News that Hillman has been on the city agency's radar for a while. "We're sure because we've had such a sustained engagement with him for so many years," Diamond said.

Hillman receives benefits because he is a veteran, Diamond said, and is enrolled in a veteran-focused part Section 8.

Hillman also receives benefits from the federal Department of Veterans Affairs, Diamond said, adding the apartment comes with case management services, which Hillman doesn't use.

Hillman is also a recipient of disability benefits through Social Security, a Homeless Services official told CBS News.
Other news reports have stated that his family is aware of his situation but seems unable to do anything (involuntary commitment is nearly impossible under New York law unless someone is violent or suicidal), with his brother saying that this is the way he chooses to live his life. One assumes that there's some mental illness here as well. The fact that the guys a veteran just makes it all sadder.