Borders Files For Bankruptcy Protection, Will Close Up To 200 Stores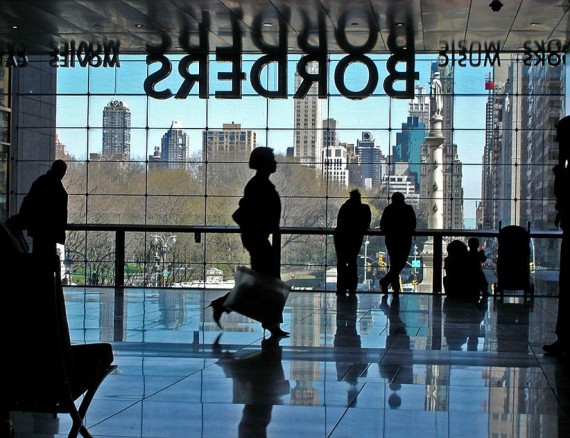 The signs have been there for weeks, and today, the beginning of the end of  Borders:
Borders Group, the beleaguered bookseller, filed for bankruptcy protection on Wednesday after failing to secure agreements with publishers and other vendors about reorganizing its debt.

The bookseller listed $1.29 billion in debt and $1.27 billion in assets in a filing in federal bankruptcy court in Manhattan.

"It has become increasingly clear that in light of the environment of curtailed customer spending, our ongoing discussions with publishers and other vendor related parties, and the company's lack of liquidity, Borders Group does not have the capital resources it needs to be a viable competitor and which are essential for it to move forward with its business strategy to reposition itself successfully for the long term," Mike Edwards, Borders' president, said in a statement.

Publishers saw the filing as an inevitable move after years of declining profits and management turnover for Borders. In a desperate effort to preserve cash, Borders abruptly stopped paying publishers at the end of December. In late January, the company said it would miss another scheduled payment to publishers and landlords, sending the company into a deeper tailspin.

(…)

Borders said that it plans to close about 30 percent of its stores — about 193 locations — over the next several weeks. The Chapter 11 court process affords debtors like Borders greater freedom to close down store locations and reject certain contracts with vendors.

Its five largest unsecured creditors were all major publishers, according to the filing, starting with Penguin Putnam, which is owed $41.1 million. Other publishers whom Borders owes payments are Hachette, Simon & Schuster, Random House, Harper Collins and Macmillan.
Whatever company emerges from bankruptcy is likely to be much different, and much smaller, than the Borders that we've come to know. In the long run, in fact, I don't see how the company can survive without eventually merging with Barnes & Noble and making one last, albeit doomed, stand against the likes of Amazon and the rise of the e-book.