Bradley Manning To Be Parole Eligible In 7 Years, Will Ask For Pardon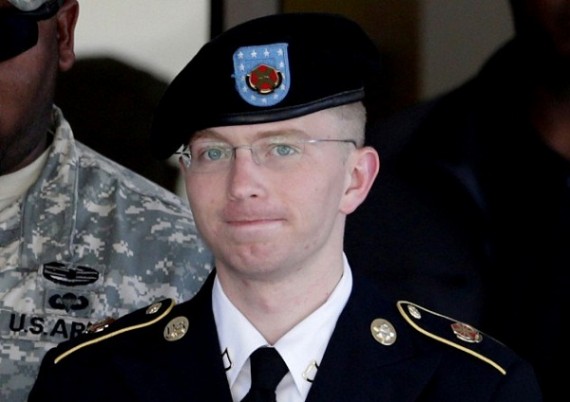 Bradley Manning may have been sentenced to 35 years in prison yesterday, but his attorneys seem to think there's a chance he'll be getting out sooner:
FORT MEADE, Md., Aug. 21 (UPI) — Army Pfc. Bradley Manning will be eligible for parole in seven years, despite being sentenced to 35 years, his lawyer said Wednesday.

Manning was sentenced Wednesday to 3 1/2 decades behind bars for giving more than 700,000 secret U.S. files to WikiLeaks.

The sentence was considerably less than the 60 years sought by prosecutors, but more than the 25-year sentence sought by defense lawyers.

Defense attorney David Coombs, speaking to reporters after the sentence, said in "any sentence of more than 30 years, the individual will be eligible for parole after 10." With credit for time served, parole could come in seven years, he said.

Sometimes calling his client "Brad," Coombs said, "I do believe he's the type of person who couldn't live with himself if he didn't do something" about the confidential files that sometimes embarrassed the United States and its allies, and revealed secret military information.

Coombs said statements by President Obama were not grounds for an appeal, but, "I do think those statements had an impact." The lawyer said he would ask Obama for a presidential pardon next week.

Earlier in the case, Obama said, "We are a nation of laws. We don't let individuals make decisions about how the law operates. He [Manning] broke the law."

Coombs also objected to Manning's dishonorable discharge. "I can see a bad conduct discharge, but not a dishonorable," he said. "Bradley Manning is a man of honor.
At the same time, Manning will allegedly request a Presidential pardon, although it seems highly unlikely that that will ever be granted. As for future parole requests, I don't have a sufficient basis upon which to base a guess about how likely it is that he'd be successful in such a petition in seven or ten years time. Normally, though such requests are based on a combination of the severity of the petitioner's rime and his behavioral record while in custody. Under the right circumstances, it's not at all inconceivable that Manning will be a free man well before the end of the 35 year period of his sentence.