Brian Sandoval Takes Name Out Of Contention For Supreme Court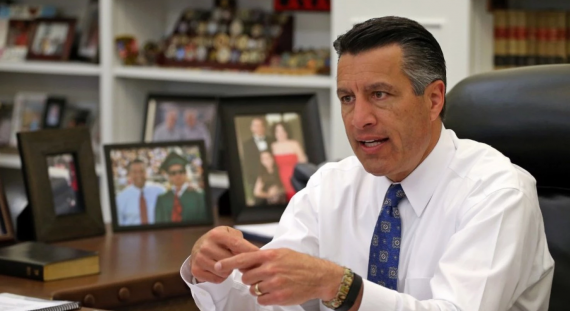 Less than a day after his name was leaked as a possible Supreme Court nominee, and an intriguing one at that, Nevada Governor Brian Sandoval has asked that his name be taken out of consideration for the vacancy on the Supreme Court created by the death of Antonin Scalia:
Nevada Gov. Brian Sandoval (R) announced Thursday he was withdrawing his name from consideration as a possible Supreme Court nominee, just one day after it became public the White House was weighing whether to select him.

"Earlier today, I notified the White House that I do not wish to be considered at this time for possible nomination to the Supreme Court of the United States," Sandoval said in a brief statement."

On Monday, Senate Minority Leader Harry Reid (D-Nev.) met with Sandoval, a moderate who expanded Medicaid in his state and raised taxes to fund education efforts, to discuss whether he would be interested in filling the vacancy left by the sudden death of Justice Antonin Scalia. While the White House had considered the prospect of naming Sandoval, Senate Republicans declared Wednesday they would not hold a hearing even if he was nominated because they believe the next president should have the right to fill the seat on the Court.

Sandoval added he had spoken to Senate Majority Leader Mitch McConnell (R-Ky.D) as well as Reid and Sen. Dean Heller (R-Nev.), whom the governor initially appointed to the Senate, before making his announcement.

"I have also spoken to Senators Reid, Heller and McConnell and expressed the same desire to them," Sandoval said. "The notion of being considered for a seat on the highest court in the land is beyond humbling and I am incredibly grateful to have been mentioned."

Asked about the governor's decision Thursday afternoon, White House press secretary Josh Earnest declined to comment about the ongoing selection process.
As I noted yesterday, selecting Sandoval would have placed Senate Republicans in a particularly interesting political position vis a vis their "No Hearings, No Votes" strategy regarding the current Supreme Court vacancy, so for that reason alone it's unfortunate that we'll miss out on that particular bit of political theater. More likely than not, though, Sandoval's phone was ringing off the hook after yesterday's reports and he's had conversations with top Republicans both inside and outside the Senate about all of this, and they convinced him not to put the party in the position of having to put him at the center of what is likely to be the biggest showdown between the Legislative and Executive Branches of the Federal Government in quite some time.