Nevada's Republican Governor Reportedly Being Vetted For Supreme Court
Is President Obama planning a Checkmate move in the SCOTUS nomination fight?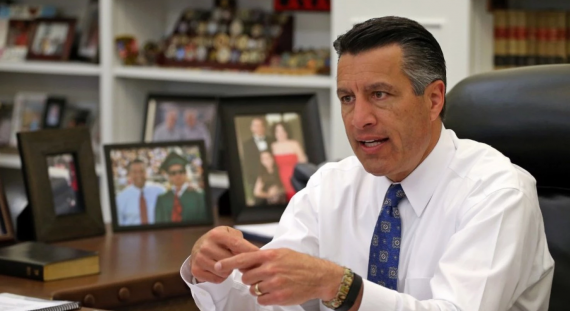 The Washington Post is reporting that the White House is reportedly vetting Nevada Governor Brian Sandoval, a Republican who many in the GOP have seen as part of the party's future, for nomination to fill the Supreme Court seat vacated by the death of Antonin Scalia:
Brian Sandoval, the centrist Republican governor of Nevada, is being vetted by the White House for a possible nomination to the Supreme Court, according to two people familiar with the process.

Sandoval is increasingly viewed by some key Democrats as perhaps the only nominee President Obama could select who would be able to break a Republican blockade in the Senate.

Senate Majority Leader Mitch McConnell (R-Ky.) on Tuesday pledged "no action" on any Supreme Court nomination before November's election, saying the decision ought to be left to the next president.

The White House declined to comment Wednesday for this story. White House press secretary Josh Earnest has emphasized in recent days that the president has not arrived at a short list of potential nominees.

The nomination of a GOP governor — albeit one with a bipartisan record — could break that resolve.

Sandoval met Monday with Senate Minority Leader Harry M. Reid, a fellow Nevadan with whom he enjoys cordial relations. 

A person familiar with the conversation said that while Sandoval told Reid he had not made a final decision on whether he would accept a Supreme Court nomination, he would allow the vetting process to move forward. Another person in Nevada familiar with the process confirmed that the process is underway.

Sandoval could not immediately be reached for comment.

It is unclear how many potential nominees are undergoing White House vetting for the high court vacancy left by Justice Antonin Scalia's death. Obama was seen last week carrying a thick binder of materials on potential picks to review.

(…)

Some Democrats believe that nominating Sandoval could fracture the front of Republican opposition and force McConnell to take up the nomination in this contentious election year. It would also put on the spot a handful of Senate Republicans who are up for reelection in blue states in November.

The Senate unanimously confirmed Sandoval as a district court judge in 2005 after he was nominated by President George W. Bush. The Nevada Republican stepped down from the bench in 2009 to run for governor and is now counted among the most popular governors in the nation. He also represents a swing state with a heavy concentration of Latinos who will be important in the presidential race.

One Republican who is considered likely to support Sandoval if nominated is Nevada's junior senator, Dean Heller.

Heller suggested in a statement last week that the "chances of approving a new nominee are slim" but he did not discourage Obama from putting forth a nominee.

"[W]ho knows, maybe it'll be a Nevadan," he said — a comment widely interpreted as signaling his support for Sandoval.

But nominating Sandoval would carry risks for Obama. Sandoval is aligned with Democrats on some key issues, including abortion rights and the environment. As governor, he has moved to implement the Affordable Care Act, and has said he considers same-sex marriage to be a settled issue.

But Sandoval is not seen as labor-friendly — potentially alienating a swath of the Democratic base. His legal credentials are also lacking compared to some of the other names  under consideration who are mainly sitting federal judges.

A Senate confirmation of Sandoval through this year could deny a Democratic successor to Obama, whether Hillary Clinton or Bernie Sanders, the opportunity to nominate a more orthodox liberal to the court and cement an ideological shift in its jurisprudence.
As a preliminary matter, it's important to note that even if it is true that Sandoval is being vetted by the White House for possible nomination to the Court, that doesn't necessarily mean that Sandoval is the person that will ultimately be nominated. It's not at all unusual for a President to have any number of potential candidates who are willing to be considered for a position such as this investigated for the purpose of determining if they could pass muster in the Judiciary Committee and the Senate. In some cases in the past, that vetting has been applied to a half dozen or more potential nominees before a choice is ultimately made. The one thing that's significant here is that, typically, this vetting takes place behind the scenes and, unless someone who is questioned as part of the process talks to the media, we never really find out about it or about who the other potential nominees a President was considering might have been. In this case, it seems fairly clear that the leaking of Sandoval's name is a deliberate move by the White House and Senate Democrats to counter the political moves by Senate Republicans, most recently with their essentially unified vow yesterday to not take any action at all on a Supreme Court nomination submitted by President Obama.
Even as a matter of testing the waters, putting Sandoval's name out there could put Republicans in a difficult position and make it harder for them to hold the line on the "No Hearings, No Votes" position held by the Republicans. For one thing, Sandoval is one of a handful of Latino Republicans in office today, with a family of Mexican ancestry that has long-established roots in the Silver State. His political and legal career began in the early 90s when he served in the Nevada General Assembly. After that, he was a member of the powerful Nevada Gaming Commission, to which he was appointed by Republican Governor Kenny Guinn in 1998. Within a year, Sandoval had become Chairman of the Gaming Commission, and he served in that position until 2003 when he was elected Attorney General of Nevada. Two years after that, Sandoval was appointed to be a United States District Court Judge and confirmed unanimously by the Senate. In 2009, with state politics in a mess thanks to scandal, Republicans approached Judge Sandoval about running for Governor in 2010, an election Sandoval won easily in what was admittedly a good year for Republicans. In 2014, he was re-elected with more than 70% of the vote in a state that Barack Obama won in both 2008 and 2012. Sandoval was also briefly approached about running against Harry Reid for the Senate and then approached again when Reid announced that he would not run for re-election, but Sandoval demurred. Sandoval's name has also been mentioned as a potential Vice-Presidential running mate for whomever ends up being the Republican nominee for President. He has been, in other words, a Republican rising star with a seemingly impeccable resume, albeit not one that has been typical for Supreme Court nominees in recent decades.
The idea of Sandoval as President Obama's Supreme Court pick is, to say the least, quite intriguing for the political machinations it would likely set off in the Senate. The fact that he has a long history as a Republican politician, one extensive enough that he has been specifically recruited to run for higher office on more than one occasion, could place Senate Republicans in the difficult position of refusing to even talk to someone who, only a year ago, was recruited by state and national Republicans to run for Governor and, more recently, to potentially run for Senate this very year. Add into this the fact that he had been approved unanimously when named to the District Court by President George W. Bush. Add into this the fact that Sandoval is of Latino American heritage and it's not hard to see how a Sandoval appointment would present Republicans with a difficult puzzle that could make the choice between listening to the American people and listening to their base even harder.
There would arguably be some downsides to Sandoval's record that Republicans could point to in opposing Sandoval, including the fact that he only served as a District Court Judge for roughly five years before becoming Governor and the fact that it's been rather historically rare for someone whose only judicial experience is at the District Court level to be elevated to the Supreme Court. Countering that caveat, of course, is the fact that Justice Elana Kagan was confirmed to the Court despite the fact that she had never served as a Judge before, and the fact that there are any number of Supreme Court Justices who lacked Judicial experience before coming to the Court, including Chief Justices John Marshall (yes, that C.J. Marshall), Salmon Chase, Earl Warren and William Rehnquist, Robert Jackson, Felix Frankfurter, Louis Brandeis, Charles Evans Hughes, and Joseph Story, who is perhaps the most important and least known of the early 19th Century Supreme Court Justices. It's only been recently that the Supreme Court has come to be dominated by the alumni of the Circuit Courts of Appeal, and even many members of the Court, including the late Justice Scalia, have commented publicly that the Court could benefit from the different perspective that would come from someone with a different professional background.
The biggest impact of a Sandoval appointment, of course, would be political in that it would be a direct shot across the bow of Senate Republicans who have vowed never to consider any appointee submitted by President Obama. If the President goes ahead and appoints someone with an essentially Democratic background, it would arguably be easy for McConnell and the rest of the Senate leadership to keep the caucus united in the face of whatever public pressure they might face to go forward with the nomination. That job would likely be much harder if the President were to put Sandoval's name on the table, especially since it seems clear that he would likely be a Justice more in the model of Anthony Kennedy than Ruth Bader Ginsburg. On the whole, that probably isn't the kind of Justice Democrats are hoping for, but even under the best of circumstances getting a nominee to replace Scalia through the Court that was somewhere near the opposite of his judicial philosophy would likely be impossible. In addition to being what I can only describe as a brilliant political move, appointing Sandoval would seem to at least come close to matching the criteria President Obama says he is looking for in a Justice in a piece posted today at SCOTUSBlog:
First and foremost, the person I appoint will be eminently qualified.  He or she will have an independent mind, rigorous intellect, impeccable credentials, and a record of excellence and integrity.  I'm looking for a mastery of the law, with an ability to hone in on the key issues before the Court, and provide clear answers to complex legal questions.

Second, the person I appoint will be someone who recognizes the limits of the judiciary's role; who understands that a judge's job is to interpret the law, not make the law.  I seek judges who approach decisions without any particular ideology or agenda, but rather a commitment to impartial justice, a respect for precedent, and a determination to faithfully apply the law to the facts at hand.

But I'm also mindful that there will be cases that reach the Supreme Court in which the law is not clear.  There will be cases in which a judge's analysis necessarily will be shaped by his or her own perspective, ethics, and judgment.  That's why the third quality I seek in a judge is a keen understanding that justice is not about abstract legal theory, nor some footnote in a dusty casebook.  It's the kind of life experience earned outside the classroom and the courtroom; experience that suggests he or she views the law not only as an intellectual exercise, but also grasps the way it affects the daily reality of people's lives in a big, complicated democracy, and in rapidly changing times.  That, I believe, is an essential element for arriving at just decisions and fair outcomes.

A sterling record.  A deep respect for the judiciary's role.  An understanding of the way the world really works.  That's what I'm considering as I fulfill my constitutional duty to appoint a judge to our highest court.
I don't know nearly enough about Brian Sandoval to speak to his qualifications, but if he meets these criteria and President Obama does indeed select him for the nation's highest Court, then the political calculus of "No Hearings, No Votes" could change significantly. Otherwise, Republicans could find themselves in a very uncomfortable position.
Update: Sandoval has asked that his name be taken out of consideration for the Supreme Court vacancy.