Romney's Running Mate Could Make Difference (But Probably Won't)
Rob Portman, Bob McDonnell, and Brian Sandoval yield the biggest Electoral College advantage.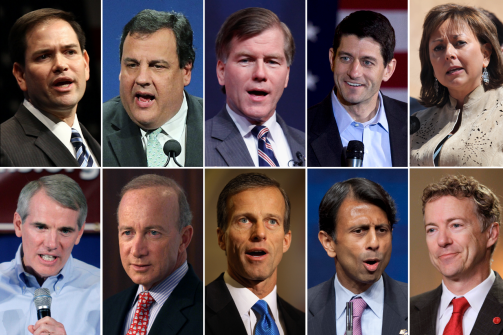 Nate Silver does some rather exhaustive analysis on the impact that several potential Romney vice presidential choices might have in November. Rob Portman, Bob McDonnell, and Brian Sandoval all give him a very slight edge–with an emphasis on slight.
The key fact about running mates leading in to the analysis: "Historically, they have gained their ticket a net of two percentage points, give or take, in their home states." Given that the election could indeed come down to who wins one key state, that might actually be enough to decide the election.
From that premise, Silver calculates the home-state favorables for 14 plausible candidates: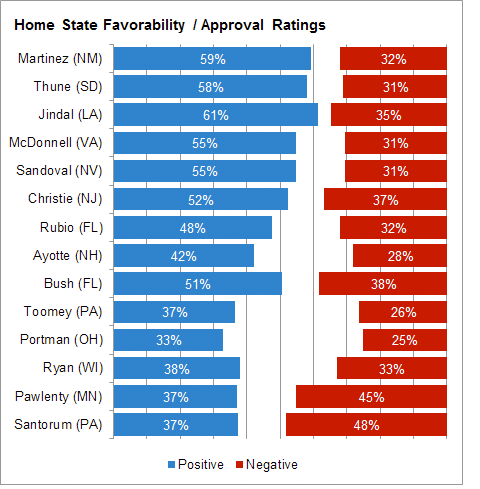 Silver's analysis:
Five candidates stood out as having especially strong positive ratings with their home-state voters. These were Mr. McDonnell of Virginia, along with Govs. Susana Martinez of New Mexico, Bobby Jindal of Louisiana and Brian Sandoval of Nevada, and Senator John Thune of South Dakota. The ratings for Mr. Christie and Mr. Rubio were also fairly strong.

Another of Mr. Romney's potential choices, Representative Paul Ryan of Wisconsin, drew more mixed reactions. Although Mr. Ryan should win his home district, pollsters who tested his numbers throughout Wisconsin found more tenuous results, with 38 percent of voters giving him a positive rating and 33 percent a negative one.

Some candidates are relatively anonymous, even in their home states. Senator Rob Portman of Ohio did all right with voters who expressed an opinion about him, with 33 percent giving him a positive rating and 25 percent a negative one. But a plurality of voters in Ohio, 42 percent, either did not know Mr. Portman's name or felt so indifferently about him that they did not express an opinion.

Finally, there were two potential running mates who actually had net-negative ratings in their home states. These were Mr. Santorum, along with former Gov. Tim Pawlenty of Minnesota, who ended his second term in 2010 being somewhat unpopular in his home state. Whatever other virtues these candidates have, helping Mr. Romney to carry their home states is unlikely to be one of them.
From this, Silver guestimates the impact each of those candidates would have in their home state: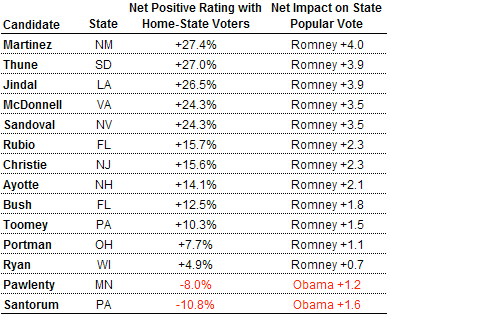 That Santorum doesn't help Romney carry Pennsylvania and might actually hurt there is unsurprising. That Pawlenty is a net drain in Minnesota, however, is.
Regardless, Silver then ran 50,000 simulations through his model to see how many Electoral College votes each candidate would yield on average–again, just based on the additional likelihood of winning their home state.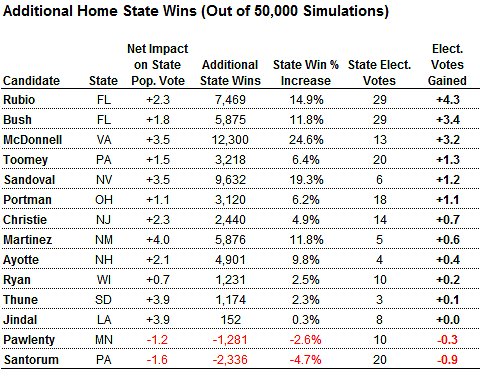 So, perhaps not shockingly, popular guys from swing states with large numbers of Electors yield the greatest advantage:  Marco Rubio and  Jeb Bush of Florida and Virginia's Bob McDonnell.
Next, though, he looked at the chances that a candidate's swinging his home state would swing the election to Romney. It turns out, there's almost zero percent chance of that happening. Only four candidates yielded at least a 1 percent gain; three essentially tied at just under a 2 percent gain.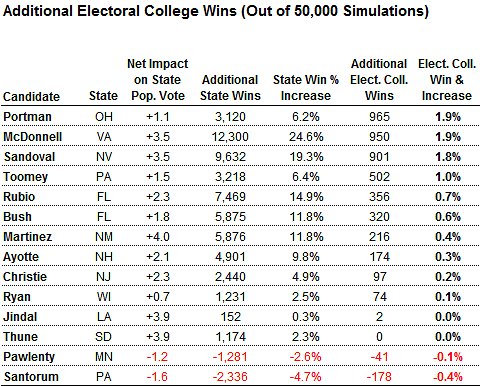 Silver's analysis here is intriguing:
Even though Mr. Portman is not all that well-known and not all that popular with voters back at home — we assume that he'd improve Mr. Romney's position in Ohio by about 1 percentage point — that single point could matter since Ohio is such a disproportionately important state. That extra point in Ohio changed the outcome of the Electoral College in 965 of the 50,000 simulations, or just less than 2 percent of the time.

Mr. McDonnell and Mr. Sandoval had a similar impact. They also improved Mr. Romney's chances of winning the Electoral College by about 2 percent in the program.

It's easy to see why Mr. McDonnell is so influential. Virginia is not quite as important as Ohio, but it's still very critical to the election and Mr. McDonnell is quite popular there.

Mr. Sandoval's potential impact is a bit less obvious. He's very popular too, but Nevada contains only 6 electoral votes.

The reason is that the vice-presidential effect is slightly asymmetrical. Since the running mate should have a positive impact on Mr. Romney's standing in the nominee's home state, what Mr. Romney would ideally want is a candidate from a state that was otherwise just a wee bit Democratic-leaning. In that case, the running made would have the fullest effect, potentially flipping a blue state to a red one.

This describes Nevada to a T. It's become a bit Democratic leaning, based on the polls there so far this year and its recent voting, but not by much. Mr. Sandoval could turn the state from slightly Democratic-leaning to slightly Republican-leaning, which is the optimal case for Mr. Romney.

There would not be quite that sort of impact in Florida. Mr. Romney actually trails there — very slightly — according to the current polls. Nevertheless, Florida is normally a bit Republican-leaning relative to the country as a whole, and Mr. Romney trails by larger margins in a number of other important states. If Mr. Romney can't win Florida on his own — without Mr. Rubio's help — things are probably fairly hopeless for him no matter what.
Missing here, of course, is an analysis of how the various candidates would impact other swing states. For example, while McDonnell is quite popular, indeed, in Virginia and might well excite the Republican base, thus increasing their likelihood of turning out, he's a very extreme social conservative. So, he might push away voters in places like Nevada and Ohio. Then again, he might help carry Florida.
Portman and Sandoval are virtual unknowns nationally. Even as a political junkie, I don't really know much about them. They'd likely double down on Romney's Boring White Guy perception. I don't know that they'd excite anyone. But there's no obvious downside, either.