British Government In Crisis Over Brexit Deal
Theresa May's government is barely hanging on to power thanks to Brexit negotiations that clearly seem to be headed for disaster.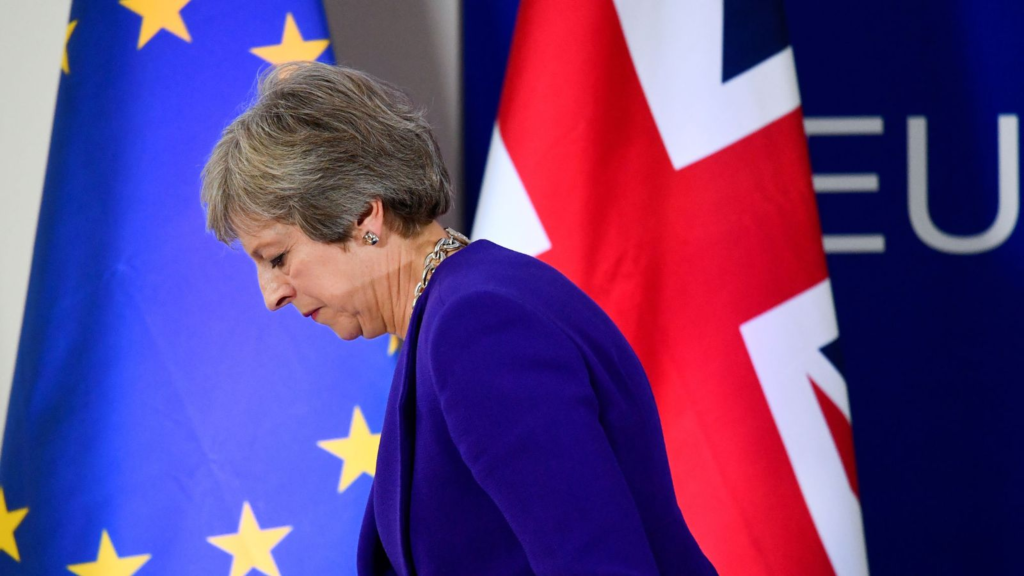 The British government is in crisis over the resignation of key ministers after the submission of the latest Brexit plan from British Prime Minister Theresa May:
LONDON — Prime Minister Theresa May of Britain faced a deep political crisis on Thursday after two cabinet ministers quit her government, including Dominic Raab, her chief negotiator on withdrawal from the European Union — decisions that threaten to wreck not only her plans for the exit but also her leadership.

The surprise resignation of Mr. Raab on Thursday morning followed a tense, five-hour meeting of the cabinet the previous day, during which ministers reluctantly agreed to sign off on Mrs. May's draft plans

for departure from the European Union, a process commonly known as Brexit.

Mr. Raab's departure was not only unexpected but also deeply damaging to Mrs. May's authority, increasing the risk that she might face a leadership challenge from rebel lawmakers inside her own Conservative Party.

Shortly after his announcement, Esther McVey, the work and pensions secretary, resigned, adding to the turmoil.

The crisis is a grave one for Mrs. May, who addressed lawmakers in Parliament on Thursday morning to sell her deal. Even before the resignations, she most likely knew that she would struggle to gain support from lawmakers for her draft agreement.

"What we agreed yesterday was not the final deal," she said. "It is a draft treaty that means that we will leave the E.U. in a smooth and orderly way on the 29th of March, 2019, and which sets the framework for a future relationship that delivers in our national interest."

She added that the deal "delivers in ways that many said could simply not be done." It would put in place a transitional relationship with the European Union through the end of 2020, while a permanent arrangement is negotiated, but the transition period could be extended.

Jeremy Corbyn, the Labour Party leader, called Mrs. May's agreement "a leap in the dark, an ill-defined deal by a never-defined date." The continued uncertainty about Britain's relationship with Europe, lasting at least another two years and possibly much longer, will accelerate the exodus of businesses and investment that is already underway, he said.

"Parliament cannot, and I believe will not," accept the arrangement, he added.

That view was echoed by Ian Blackford, a lawmaker from the Scottish National Party, who said the prime minister was "trying to sell us a deal that is already dead in the water."

Although a hard-line supporter of Brexit, Mr. Raab had been a core member of the cabinet, and his presence had reassured other hard-line lawmakers. He served as Brexit secretary for barely four months, succeeding David Davis, who also resigned, because he felt that Mrs. May was not taking a hard enough line in negotiations.

In his letter of resignation, Mr. Raab said that he could not "reconcile the terms of the proposed deal with the promises we made.

In the hours after his announcement, the pound dropped 1.5 percent against the dollar.

Ms. McVey's departure, though damaging, was less of a surprise.

Another cabinet minister, Penny Mordaunt, the international development secretary, was also reportedly reconsidering her position after a cabinet debate on Wednesday that Mrs. May described, diplomatically, as "impassioned." As many as 10 cabinet ministers were reported to have voiced reservations.

Iain Duncan Smith, a leading Conservative supporter of Brexit and former party leader, told the BBC that the effect of Mr. Raab's resignation would be "devastating," because it suggested that the Brexit secretary's concerns had been ignored, despite his pivotal position in government and in withdrawal negotiations.
More from The Washington Post, which reports that May is contending that her government intends to move forward with her Brexit plan notwithstanding the resignations:
Following a devastating series of resignations from her cabinet over Brexit plans, Prime Minister Theresa May told Parliament on Thursday that Britain will leave the European Union in March, deal or no deal.

May faced a torrent of criticism in the chambers as members of Parliament, including those from her own Conservative Party, stood and denounced her Brexit plans as either a weak capitulation, an act of naive folly or a looming disaster.

Some members pleaded with May to stage another "People's Vote" to give citizens another chance to rethink Brexit. Others decried her proposals as condemning Britain to years of unbreakable alliance with European trading rules and regulations — and failing to make good on the vow to "take back control" as the pro-Brexit campaigns promised two years ago.

Hours before the parliamentary session, May's government was rocked by a series of protest resignations, including that of the minister in charge of helping Britain leave the European Union, Brexit Secretary Dominic Raab.

"I know it's been a frustrating process — it has forced us to confront some very difficult issues," May conceded before Parliament. "But a good Brexit, a Brexit which is in the national interest is possible. We have persevered and have made a decisive breakthrough."

That optimistic optic was not visible in Parliament. Hardly anyone stood to support May.

The prime minister said the draft withdrawal agreement, approved by her cabinet on Wednesday night, will go to vote by leaders of the remaining 27 member states of the European Union later this month. Then, next month, the British Parliament will get a "meaningful vote" on the deal.

Lawmakers warned May that she will not be able to muster enough support for the deal when it comes before Parliament in December.

Mark Francois, a Conservative lawmaker and Brexiteer, said the arithmetic just is not there. He said that by his calculations, 84 Conservatives — "and going up by the hour" — would vote against it. Adding to that, he said, "the Labour Party have made plain today that they will vote against this deal," as will parties from Northern Ireland and Scotland.

"It's therefore mathematically impossible to get this deal through the House of Commons," he said. "It's dead on arrival."

Sarah Wollaston, a Conservative lawmaker and pro-European, said, "It will be blindingly obvious to the entire country that the prime minister's deal cannot pass this house."

(…)

The resignation drew immediate derision from pro-E.U. voices in Brussels who have lamented the Brexit decision. Many Europeans have grown weary of the chaos over Brexit in Britain, where May's own government is in constant crisis over its departure plans.

"Who negotiated those UK terms again…? Surely the #Brexit Minister had nothing to do with it and learned of the terms yesterday…..? Oh wait," Marietje Schaake, a Dutch member of the European Parliament, wrote on Twitter.

E.U. officials involved in the negotiations said they were focused on the current deal and that it was unclear whether they could offer any changes that would satisfy London any more.

"We think this is the best we can do collectively with the constraints we have on both sides," said an E.U. official briefing reporters about the deal under ground rules of anonymity. "I'm not going to speculate about any other scenario."
The key differences that appear to be dividing the government confirm the questions regarding a so-called "hard Brexit," which would basically consist of a complete break between the United Kingdom and the European Union and a "soft Brexit," that would keep some of the elements of the U.K.-E.U. relationship in place, including arrangements regarding border crossing that would essentially keep the open border between Nothern Ireland and the Republic of Ireland, something that has been a key part of keeping the resolution of the religious unrest that once rocked the region, in place. May's plan is, in at least some sense, a variation on the softer Brexit deal that clearly doesn't satisfy the hardline Brexiteers and which they are now seizing on in an effort to undermine her government and force a vote of no confidence that would lead to either a change in the leadership of the Conservative Party, or perhaps even a collapse of May's government itself that would require the calling of new elections for the third time since 2015.
This development also comes at the same time that at least some polling indicates that Britons appear to be regretting the outcome of the Brexit referendum itself. Recent polling has shown that majorities support both the idea of remaining in the European Union and even the idea of a second referendum on Brexit itself before a deal is finalized. In reality, of course, there is no mechanism in the law that would allow for such a referendum, and it's unclear that the Brexit process, which is supposed to be completed by March of next year, can be stopped at this point regardless of what the British public may want. This would seem to be especially true if all of this unfolds while the British government is gripped by a political crisis, the odds of which only seem to be increasing by the hour.
The problem the Brits are facing appear to be two-fold. First, the increasing doubts about the wisdom of Brexit itself appear to be growing at least among members of the public seems to be completely disconnected from the process itself, which appears to be on a course from which there is no turning back regardless of what the public may or may not want. The second problem is that there isn't a credible opposition party out there that stands opposed to Brexit. The Labour Party remains as supportive of Brexit as it has been since the results of the referendum, and there doesn't appear to be any signs of that changing. Additionally, the current Labour leader, Jeremy Corbyn, is hardly a credible leader in any respect and doesn't even seem to have much real support inside his own party. As a result, British voters in a new General Election would be left with not much of a choice at all even as the clock ticks down to the hour at which there will essentially be no turning back.