British Labour Party Takes A Strong Tilt Left In Leadership Election
Britain's Labour Party has taken a hard tilt left with the election of Jeremy Corbyn as leader.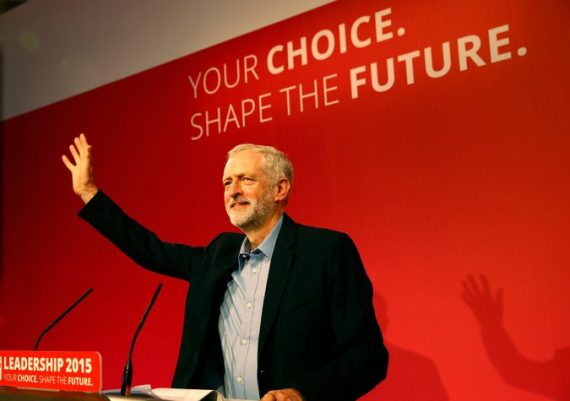 Just over four months after David Cameron's Conservative Party scored a massive victory in the United Kingdom's General Election, the Labour Party has elected a new leader who promises to take the party in a hard-left direction that doesn't seem well-tuned to the message voters sent:
LONDON – Britain's opposition Labour Party on Saturday took a remarkable leftward turn, electing as its leader Jeremy Corbyn, a longtime socialist committed to nationalizing key industries, scrapping Britain's nuclear missile system and reversing the centrist policies of previous leaders such as Tony Blair.

The result of the contest, announced on Saturday morning in London, gave stewardship of the Labour party to the hard left for the first time in more than three decades, a development seen here as one of the most surprising upsets in modern British politics.

As Europe continues to feel the aftershocks of the financial crisis of 2008, voters have been increasingly attracted to the political extremes, with support growing both for socialist parties on the left and nationalist ones on the right. The Labour leadership result could now shift the main opposition party in Britain closer to the types of positions taken by other leftist parties that have become prominent across Europe, including Syriza in Greece and Podemos in Spain.

Mr. Corbyn, 66, has been a lawmaker for more than three decades but never served in government, preferring to campaign, often for unfashionable causes, and frequently rebelling against the party line.

He only made it into the contest at the last minute, gaining the 35 nominations he needed from fellow lawmakers, thanks to the support of some colleagues who did not support him but thought he should take part.

Yet his program, which includes nationalizing energy and rail companies, printing money to boost the economy and scrapping Britain's Trident nuclear missile system, has struck a chord with many activists and new, often young supporters.

Crucially, he took advantage of a rule change that allowed candidates to recruit sympathizers who, for a small fee, could sign up as registered supporters of the Labour Party and gain a vote in the contest.

Much like Senator Bernie Sanders, the Vermont independent who has ignited liberal passions in the race for the Democratic presidential nomination in the United States, Mr. Corbyn is promising radical approaches to longstanding problems.

As Labour leader, Mr. Corbyn will be some way from power, but his views could influence policy, particularly on foreign affairs. Mr. Cameron, for example, wants to know the position of the new Labour leader before asking Parliament to authorize military strikes in Syria. Two years ago, Mr. Cameron lost a vote on the issue, and Mr. Corbyn was a staunch opponent.

Then there is a looming referendum on whether Britain should stay in the European Union, due by the end of 2017, in which Labour's role will be important. Though Mr. Corbyn has not said he wants Britain to leave the bloc, he has said he voted against British membership of the bloc's forerunner in a plebiscite in 1975.

And in Washington there may be unease over the main British opposition party's being led by a fierce critic of American foreign policy — one who, without endorsing their actions, has described Hamas and Hezbollah as "friends."

Hardly anyone contemplated such an outcome after the party's previous leader, Ed Miliband, led Labour to defeat in May's general election, on a platform already seen as being to the left of Mr. Blair. After that electoral rebuff, most expected the right of the party to reclaim the leadership. Instead the Blairites tried frantically to derail Mr. Corbyn, a vegetarian teetotaler based in North London who made a career of rebelling against the party line and until now had little public profile outside of party activists.

Steven Fielding, professor of political history at Nottingham University, said Mr. Corbyn's rise had "taken everyone by surprise," yet even opponents concede that his campaign has energized a cohort of enthusiastic, and often young, supporters.

Such people, Mr. Corbyn said at a rally in London this week, had been "written off as being a nonpolitical generation, when in reality they were a political generation that politics had written off."

Although Britain's economy is growing fast, Mr. Corbyn's message has struck a chord with workers and families still feeling the aftershocks of Europe's financial crisis of 2008.

For many, prospects remain poor, wages low and employment insecure. Soaring housing prices in the south have left many locked out of the real estate market. Bankers remain the target of simmering resentment.
The campaign against Corbyn reached a fever pitch as the leadership election drew closer, with the height perhaps being reached last month when no less than Tony Blair himself penned a column in The Guardian warning his fellow party members that electing Corbyn leader would send the party down the road to electoral ruin. At that point, though, it seems as though the die had already been cast, with polling showing Corbyn headed for a landslide victory as early as a month ago. In the end, it seems that a combination of the economic factors noted above and the more open voting procedures that the party had adopted allowed Corbyn to not only avoid a second ballot but get one of the largest margins of victory Labour has ever seen in a leadership election. On some level, it seems as though the resentments against Blair and his supporters that still exist from the days of the Iraq War and the economic downturn also played a role as their warnings about the direction they believed Corbyn would take the party ended up helping him rather than hurting hum. Corbyn's supporters will also no doubt claim that it was the appeal of his ideas that led to his historic win.
Whatever the explanation for his victory, Corbyn will now be the leader of the main opposition leader in the British Parliament. While that will give him some degree of prominence in British politics it will, of course, give him no real power whatsoever in government. Additionally, absent some kind of political catastrophe that seems unlikely, there will not be another national election in the United Kingdom until 2020, and it's entirely possible that Corbyn may not be Labour leader by then if events between now and then show that the warnings of the Blairites were true. On paper, at least, it appears that they may right. Corbyn represents an effort to pull Labour back to the policies of the 1970s and 1980s that led to nearly twenty years of Conservative Party rule that ended only with the rise of Tony Blair and "New Labour." While the polling heading into the 2015 elections had suggested a close election, the results showed a decidedly strong tilt in favor of the Conservatives, while Labour lost not only in England but was decimated in Scotland in a way that it seems unlikely to recover from any time soon. There's really no indication that British voters are looking for a tilt to the left and return to the days Neil Kinnock. Some have suggested that a Labour tilt to the left would work to the benefit of the Liberal Democrats, who were decimated in the May elections, but that party still has to deal with the legacy of its alliance with the Tories which seems to have turned off many longtime supporters. With the elections five years off, it's much too early to say what impact Corbyn's election will have, of course, but at least on the surface this doesn't seem to be a very wise choice by Labour.