Bruce Jenner Is Now Caitlyn Jenner
The former Olympian has made a transition.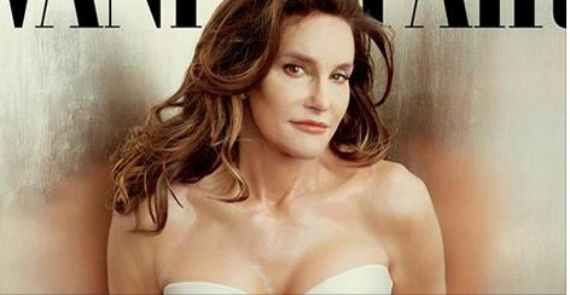 Bruce Jenner, the former Olympian who came out as transgendered in an April interview with Diane Sawyer, is now Caitlyn Jenner and she's on the cover of July's Vanity Fair:
Caitlyn Jenner made her public debut on Monday on the cover of Vanity Fair.

A photograph of Ms. Jenner, shot byAnnie Leibovitz, accompanied an article on her transition to a woman after long identifying as a man named Bruce. It immediately became a sensation on social media when the magazine posted the article online.

Ms. Jenner, who won an Olympic gold medal in the decathlon, has had a long public life — as Bruce Jenner, she had been on the cover of Playgirl, an author, an actor and most recently a part of the Kardashian family's reality television empire. Earlier this year, reports emerged that she was undergoing gender reassignment surgery.

In April, Ms. Jenner spoke to Diane Sawyer about the transition, but did not reveal her new name.

The Vanity Fair article was written by Buzz Bissinger, a Pulitzer Prize-winning reporter and the author of the book "Friday Night Lights," about a high school football team in Texas.

"Bruce always had to tell a lie. He was always living that lie. Every day, he always had a secret," Ms. Jenner said in a video posted to YouTube by Vanity Fair. "Caitlyn doesn't have any secrets."

Ms. Jenner had started to transition in the 1980s, the article reveals, shortly after winning the gold medal at the Montreal Olympics in 1976. Even as she traveled the United States, making speeches and starring in commercials, she wore pantyhose and a bra underneath her suit. She stopped, fearful of the public reaction, but began again recently when her marriage to Kris Jenner, the matriarch of the Kardashians, ended.

"If I was lying on my deathbed and I had kept this secret and never did anything about it, I would be lying there saying 'You just blew your entire life,'" she told Mr. Bissinger. Bruce Jenner was always lying, she said. Caitlyn can be honest.

Mr. Bissinger, who describes himself as "a cross-dresser with a big-time fetish for women's leather," wrote that he had spent hundreds of hours with Ms. Jenner over three months, and that it was an occasionally surreal experience.

In May, the article says, Ms. Jenner began shooting a new reality series for the E! network.

The series, E! said in a statement, will cover Ms. Jenner's "life as a transgender woman."
Jenner tweeted the full cover photo on a new Twitter account:
— Caitlyn Jenner (@Caitlyn_Jenner) June 1, 2015
And Vanity Fair has released a video of the photoshoot:
I will admit that this is something that I don't quite understand on some level. Perhaps that's because this whole idea of not believing yourself to really be the gender you were born with is something that you can really only understand if you've lived through it yourself. Additionally, the manner in which this whole thing is being rolled out in the media — from the interview, to this cover shoot, and then the upcoming television show — leads one to the conclusion that at least some part of this is all part of the same "Reality TV" empire that the Kardashian family has created over the years. On some level, I have to wonder how healthy it really is for someone going through this process to expose that process and all of the emotions it must undoubtedly raise both for the person involved and those close to them. At the same time, though, if this is what makes Jenner happy, for lack of a better word, then it's a good thing that she is living the life she apparently always felt was denied her. Ideally, something like this would lead to a discussion about these issues in the public, but given the way the media treats these celebrity issues, it's more likely just going to be sensationalized. That's unfortunate.