Bureaucracy Standing In The Way Of Oil Spill Clean Up Efforts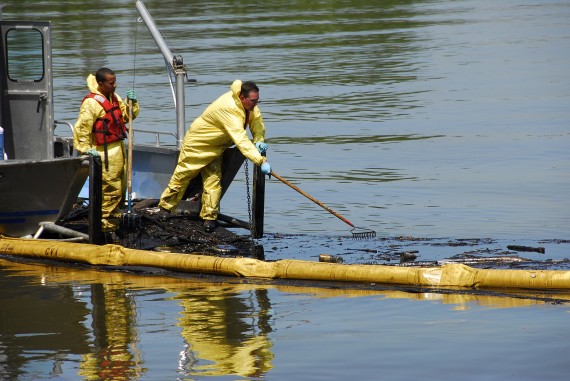 One of the most frequently heard stories coming out of the Gulf Region over the past two months is the extent to which bureaucracy is standing in the way of efforts to cleanup the oil spill and prevent it from causing further damage to coast areas. The most recent example of that can be seen in the Coast Guard's order barring ships designed to suck the oil off the water from sailing:
Eight days ago, Louisiana Gov. Bobby Jindal ordered barges to begin vacuuming crude oil out of his state's oil-soaked waters. Today, against the governor's wishes, those barges sat idle, even as more oil flowed toward the Louisiana shore.

"It's the most frustrating thing," the Republican governor said today in Buras, La. "Literally, yesterday morning we found out that they were halting all of these barges."

Sixteen barges sat stationary today, although they were sucking up thousands of gallons of BP's oil as recently as Tuesday. Workers in hazmat suits and gas masks pumped the oil out of the Louisiana waters and into steel tanks. It was a homegrown idea that seemed to be effective at collecting the thick gunk.

"These barges work. You've seen them work. You've seen them suck oil out of the water," said Jindal.

So why stop now?

"The Coast Guard came and shut them down," Jindal said. "You got men on the barges in the oil, and they have been told by the Coast Guard, 'Cease and desist. Stop sucking up that oil.'"

A Coast Guard representative told ABC News today that it shares the same goal as the governor.

"We are all in this together. The enemy is the oil," said Coast Guard Lt. Cmdr. Dan Lauer.

But the Coast Guard ordered the stoppage because of reasons that Jindal found frustrating. The Coast Guard needed to confirm that there were fire extinguishers and life vests on board, and then it had trouble contacting the people who built the barges.
I'm not against martime safety, of course, but it strikes me as more than a little absurd that the Coast Guard it worry about life vests and fire extinguishers while the Governor of Louisiana is worrying about stopping the oil from entering the Louisiana marshes. At the very least, it would seem reasonable that, in an emergency situation such as the one the Gulf Coast has been in since April 20th, the enforcement of rules like these could be modified so that they don't interfere with actual productive work.
If there is a reason to fault the Federal response to the oil spill, I think it can be found in actions like this where the blind adherence to rules stands in the way of reasonable efforts to get the job done.