Buttigieg and Critical Road Theory
Mayor Pete is being mocked for telling obvious truths.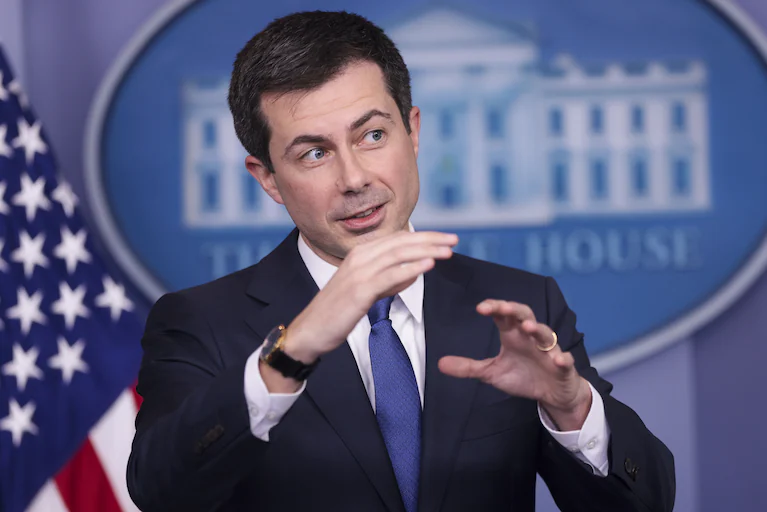 President Biden's Secretary of Transportation is getting mocked by prominent voices on the right for suggesting that roads, bridges, and other infrastructure can reflect racial bias. But he's right.
YahooNews ("Buttigieg responds to Ted Cruz on racism in highway design"):
Secretary of Transportation Pete Buttigieg told Yahoo News that systemic racism in the design and location of highways in American cities and suburbs continues to adversely affect low-income neighborhoods and communities of color. Responding to criticism from conservatives, including Sen. Ted Cruz, R-Texas, regarding comments he made on Monday, Buttigieg said in a Tuesday interview that racism and segregation in road building are not ancient history or a figment of liberals' imagination, as some on the right contend.

"There are many well-documented examples of this happening, from the '20s and '30s, '40s, '50s, '60s, '70s, and sometimes we have to be on the lookout for issues that are happening in our time," he said. "But for me, the issue is not: In what year did somebody create this problem? The issue is: Is that problem affecting people today in 2021?"

The back-and-forth with conservatives started Monday afternoon when Buttigieg said during a White House press briefing, "If a highway was built for the purpose of dividing a white and a Black neighborhood, or if an underpass was constructed such that a bus carrying mostly Black and Puerto Rican kids to a beach — or it would have been — in New York, was designed too low for it to pass by, that obviously reflects racism that went into those design choices."

The tendency to build highways in neighborhoods with lower incomes or higher proportions of people of color, sometimes acting as de facto racial boundaries, is well established and it is one reason that pollution and illnesses such as asthma are more prevalent in those areas.

The specific example Buttigieg referred to, about underpasses that were too low for buses, comes from the parkways in the Long Island suburbs of New York City. The low underpass design was ordered by government official Robert Moses with the specific intent of keeping out buses bringing low-income city residents to Jones Beach, according to "The Power Broker," Robert Caro's legendary biography of Moses.

Some conservative pundits and politicians, including former Arkansas Gov. Mike Huckabee, reacted with incredulity to Buttigieg's comments. "Is this guy serious? This is what happens when ignorance of facts joins with phony enthusiasm," Huckabee tweeted. "The roads are racist. We must get rid of roads," Cruz jabbed at Buttigieg in his own tweet.

At first glance, it appeared that Buttigieg's critics were either ignorant of the relevant history or pretending to be. However, when it was pointed out to them online that Buttigieg wasn't imagining a bizarre hypothetical but telling a true story, some responded that it was irrelevant because the underpasses were built in 92 years ago, in 1929.

After arriving in Glasgow on Tuesday for the U.N. Climate Change Conference, Buttigieg was interviewed by Yahoo News and asked about that critique.

"If people in 2021 are suffering from a discriminatory policy funded by the federal government, then we have a responsibility to fix it," he said. "And I remain kind of surprised that this is controversial. I don't know who it hurts to acknowledge that harm was done and to propose doing something to fix it."
Whether it's always worthwhile public policy to reverse long-ago decisions is debatable. It may cost more to undo the harm than it's worth. Still, the above-linked interactive CityLab feature "What It Looks Like to Reconnect Black Communities Torn Apart by Highways" shows that it's often possible to rectify the situation with a relatively simple, cost-effective solution.
What's not debatable, though, is that race was often a central consideration in making decisions about where to place critical infrastructure, with the burdens usually disproportionately impacting Black neighborhoods. Further, even in instances where no overt racial bias was in play, the simple fact that the decisionmakers were White meant that the interests of Black citizens weren't represented, leading to inadvertent harm.
Which, Phillip Bump explains, "[T]his is why it's useful to talk about historical examples of institutionalized racism."
The idea that American cities made decisions about transportation that indirectly affected non-White residents negatively is not particularly controversial — nor is the idea that some decisions directly and intentionally targeted them.

Historian Kevin Kruse wrote about the history of using infrastructure as a tool to bolster racist policies for the New York Times in 2019. He described specific decisions to route highways through poor (and heavily non-White) neighborhoods, razing them to the ground. But it didn't end there.

"While Interstates were regularly used to destroy black neighborhoods, they were also used to keep black and white neighborhoods apart," Kruse wrote. "Today, major roads and highways serve as stark dividing lines between black and white sections in cities like Buffalo, Hartford, Kansas City, Milwaukee, Pittsburgh and St. Louis."

His article was focused on Atlanta but, as above, it is peppered with other examples from other places. In Detroit, for example, a wall built to keep Black and White residents apart nearly a century ago is still standing.

Kruse's article was part of the Times's "1619 Project," an effort to elevate examples of structural racism that led to a massive backlash on the right and seeded the current effort to demand a teaching of American history that avoids close examination of issues of race. The furor over critical race theory, an intellectual movement whose name has been appropriated to refer to a broad, nebulous pool of educational discussion of issues of race, can be traced back to the political fight over the "1619 Project" that former president Donald Trump amplified in 2020. Trump's goal was obvious: use the reexamination of American history as a way to stoke the insecurities of White voters who saw questions about historical racism as somehow destabilizing. Now, the fight involves states passing laws preventing educators from teaching critical race theory, and it involves parents attending school board meetings to express anger about what they believe their kids are being taught.

The renewed Buttigieg kerfuffle should serve as a counterweight to that effort. It is not only obviously true that American governmental bodies used infrastructure spending as a way to bolster both directly and indirectly racist policies, but it is an equally obvious truth that such systemic decisions have often been ignored in the teaching of the country's history. The "1619 Project" was meant to help elevate some of that history and, in doing so, it elevated the debate over its teaching.

That proved irresistible to the political right. But as the example of Moses and Buttigieg demonstrates, opponents of teaching this history keep showing why it needs to be.
Look, there's a tendency by some on the Left to read race into everything. It can be exhausting and, frankly, counterproductive. But the insistence by most of the Right that racism is a thing that went away half a century ago is more pernicious. We can't solve problems by pretending they don't exist.