Feds May Allow More Tolls On Interstate Highways
Toll plazas coming to an Interstate near you?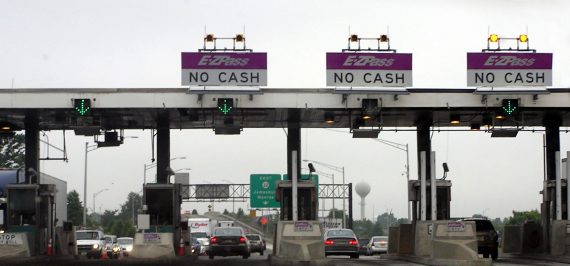 The Federal Government may be on the verge of lifting a long-standing ban on the ability of states to charge tolls on Interstate Highways:
WASHINGTON — Drivers on the nation's Interstates could soon be paying more to travel.

A transportation proposal sent to Congress by the Obama administration on Tuesday would remove a prohibition on tolls for existing Interstate highways, clearing the way for states to raise revenue on roads that drivers currently use at no cost. Congress banned tolls on Interstates in 1956 when it created the national highway system under President Dwight D. Eisenhower.

The administration said lifting the toll ban would help address a shortfall in funding to pay for highway repairs. The tolls, along with other changes, could provide an additional $87 billion for aging roadways, tunnels and bridges, the administration said.

The International Bridge, Tunnel and Turnpike Association, which represents toll companies and their vendors, applauded the administration's decision.

"Tolling is a proven and effective tool to fund and finance more than 5,000 miles of roads, bridges and tunnels in 35 states," said Patrick Jones, the group's executive director. "To ensure our roads and bridges remain safe and reliable requires a variety of solutions. All options should be on the table so that states can choose the funding methods that work best for them."

But the Alliance for Toll-Free Interstates, which includes American Trucking Associations, UPS, FedEx, McDonald's and Dunkin' Donuts, said it was disappointed.

"Tolling has proven to be an inefficient mechanism for collecting transportation revenue, consuming up to 20 percent of revenue generated, and those paying the toll may not even see that road improved because the president's plan would allow toll revenue to go to other projects in the state," said Miles Morin, spokesman for the alliance.
As anyone who travels the I-95 corridor between Washington and New York knows, there are already tolls along highways that are designated part of the Interstate Highway System. In most cases, those tolls exist thanks to waivers granted by the Federal Government for roads that were not originally part of the system or for other reasons. In some cases, roads that most people assume are part of the system actually aren't The most prominent examples of that that come to mind are the New Jersey Turnpike and the Pennsylvania Turnpike. For the most part, though, you aren't going to find a toll booth on an Interstate highway, and the money to keep those highways maintained is supposed to come principally from the Federal Government via the 18.4 cent per gallon Federal gasoline tax. In recent years, though, it's become apparent that these funds aren't sufficient to cover the expansion and maintenance costs that the roads are incurring. One growing reason for that, somewhat ironically, is the growing availability of more fuel efficient cars, which lead to less gasoline being purchased and, hence, lower tax revenues.  Outside of allocating money from general revenues for highway repair and construction, which already occurs in any case, many transportation analysts seem to believe that increased tolling may be the only way to generate the revenue that the Interstate Highway System needs.
Toll roads seem to be one of those subjects on which everyone has an opinion. Back in my home state of New Jersey and the rest of the Tri-State area, toll amounts on roads like the Turnpike, the Garden State Parkway, and on the bridges and tunnels leading into New York City have been a subject of political controversy for decades. More than one candidate has run for Governor of New Jersey, for example, promising to get rid of the rolls on the Parkway, which is the primary road that people living in the northern and central parts of the state use to access the Jersey Shore. In addition to strong lobbying efforts by the union that represents the toll workers, those promises have usually fallen apart once legislators couldn't figure out how to replace all that missing revenue.
Additionally, in recent years, states have begun using tolling for purposes not necessarily related to revenue generation .For example tolls on the bridges and tunnels into Manhattan have been used as much to discourage vehicles from entering New York as anything else. Hear in the D.C. area, Virginia has been working on a project that adds additional lanes to the Beltway and to I-95 and I-395 leading into Washington, D.C. The caveat is that these lanes are/will be restricted to high occupancy vehicles or drivers willing to pay a little bit to avoid sitting in traffic, with the toll fluctuating during the day based upon traffic volume. So far at least, the lanes seem to be quite popular. Indeed, I've used them myself during the trips I've had to make up to New Jersey over the past several months.
Interestingly, though, the New York area and the Northeast aren't the only areas with a lot of toll roads:
Texas is one of 29 states that charges drivers money to travel on certain roads. Texans pay for the right to drive on 503 miles of roads, both interstate and non-interstate. Florida drivers pay tolls on 719 miles of roads, while New Yorkers, Pennsylvanians and Oklahomans all fork over money to travel more than 550 miles of roads.
Here's a map: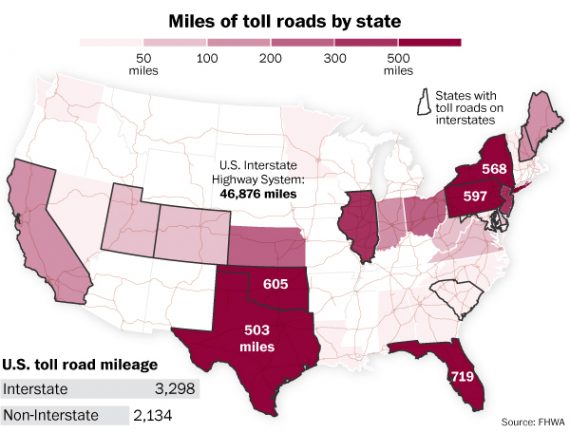 So, toll roads aren't necessarily all that unusual, and are already quite prevalent in high population areas of the country. Allowing more states to make use of them wouldn't necessarily be all that much of a shock to travelers who are likely already used to paying tolls.
If the Federal Government is going to allow this, though, it strikes me that there are several requirements that we should try to meet. First of all, obviously, the funds collected by these tolls should be limited strictly to highway maintenance and construction. Allowing this money to get put into a pot with all the other revenue the states or Federal Government generate would just defeat the entire purpose of the tolls. Second, the tolls themselves should be as reasonable as possible, not only because of the costs that ordinary citizens would incur if they had to start paying them, but because of the costs it would impose on the trucking and transportation industry. Finally, all future tolling should be electronic and the systems used should be interchangeable so that someone who travels through multiple states doesn't have to purchase multiple transponders. More importantly, though, tolling should avoid as much as possible the old fashioned toll booth system, which just serves to slow down traffic and create traffic jams.
Many people will no doubt object to the idea of paying to drive on highways paid for with public dollars, but we need to generate the money needed to maintain these roads somehow, and a system like this that imposes at least a share of the cost on the people who actually uses the roads seems fairer than using general tax revenue. There plenty of ways that something like this could be implemented badly, of course, but done correctly Interstate Highway tolling could be done with minimal disruption to travel and at a fairly reasonable cost. At the very least, it's an idea worth exploring.