Cable News Is Basically Now Just The Donald Trump Show
Even taking the fact that he is the Republican frontrunner into account, Donald Trump is getting a disproportionate amount of attention from the political media.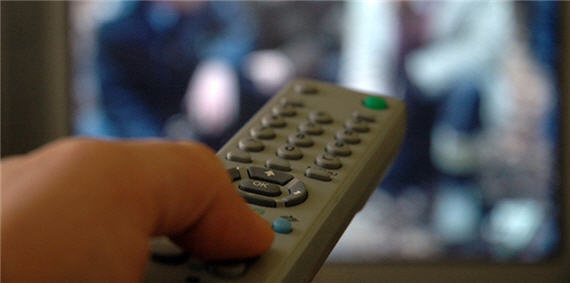 Not surprisingly, the first two and a half months of cable news coverage of the Presidential campaign has been all about Donald Trump:
Cable news can't get enough of Donald Trump.

Since announcing his run for president in June, the real-estate developer and reality-TV star has dominated coverage of the 2016 race, much to the chagrin of other candidates.

CNN has been especially hooked on tracking Mr. Trump and is expecting record ratings and advertising revenue for its telecast of the second Republican candidate debate on Wednesday evening.

From June 16, the day he announced he was running, through Sept. 14, Mr. Trump has been the subject of at least 2,159 CNN reports, according to Zignal Labs, a San Francisco-based firm that monitors social, online and traditional media.

That is almost double the amount of time CNN has spent on former Florida governor Jeb Bush, who was leading the field prior to Mr. Trump's rise. Mr. Bush has been mentioned in 1,087 stories during the same time. Next up is Ted Cruz with 416 mentions. No other candidates managed to crack 400 mentions on the Time Warner Inc.-owned news channel.

Mr. Trump has gotten outsize coverage at the other cable news channels, 21st Century Fox's Fox News, and Comcast Corp.'s MSNBC, but not to the same extent as CNN, according to Zignal's data. (21st Century Fox and Wall Street Journal owner News Corpwere part of the same company until mid-2013.)

(…)

The thirst for Mr. Trump was on full display Monday night. CNN cut into Anderson Cooper's prime-time show to broadcast over 40 minutes of the candidate's rally at an arena in Dallas, where he delivered more or less his standard "stump" speech. CNN interrupted only for commercials from Microsoft, Dr. Scholls and others. MSNBC also carried Monday's Dallas speech, cutting into "All In with Chris Hayes" under a "Breaking News" banner.

"The effect of the Trump coverage has been to rob this utterly fascinating, very broad and qualified field of candidates of the serious attention they deserve," said Frank Sesno, a former CNN Washington bureau chief who is now director of the School of Media and Public Affairs at George Washington University.

There is little doubt that Mr. Trump—who hurls insults and proudly eschews "political correctness"—is good for ratings and revenue. CNN has been battling ratings declines, but the "Summer of Trump" has paid off. From June through August CNN was up 8% in prime-time viewers compared with the same period last year, according to Nielsen. Fox News grew 9% while MSNBC gained 10%. Higher ratings mean the networks can charge more for ad time.

CNN's spotlight on Mr. Trump is even more glaring in terms of minutes. According to the Media Research Center, during the last two weeks of August, Mr. Trump received 580 minutes of air time during the evening on CNN, compared with 88 minutes for Mr. Bush.

Mr. Trump, who complained about his treatment by Fox News anchor Megyn Kelly during its debate last month, has been discussed or covered on Fox 1,540 times since announcing his candidacy while Mr. Bush has received 1,012 mentions. MSNBC has featured Mr. Trump in 1,426 stories and Mr. Bush in 1,257 features or news items.
This chart demonstrates quite clearly just how much more coverage Trump is getting compared to the rest of the candidates: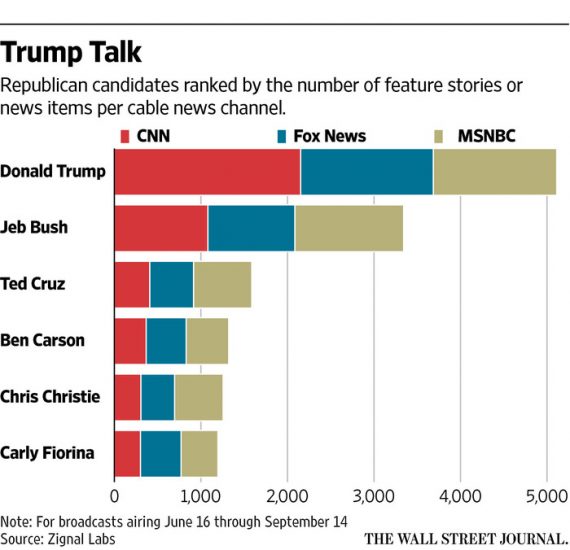 In addition to Monday night's Trump speech in Dallas, which was covered live by all three cable news networks, each of whom then spent the balance of the rest of the evening talking about said Trump speech, there have been other numerous examples of the media essentially turning into The Donald Trump Show. Just a bit under a month ago, for example, Trump gave a speech at the 40,000-seat Ladd-Peebles Stadium in Mobile, Alabama. Despite the fact that Trump did not fill the stadium, and despite the fact that it was a Friday night near the end of summer, all three networks carried the speech live. In addition to those standout examples, of course, there are the numerous times when the cable and broadcast networks have allowed Trump to phone in for interviews rather than showing up in the studio, appearing by satellite, or pre-taping a sit-down interview with a reporter. That is a privilege granted to pretty much no other politician unless its a situation where technical difficulties make appearing in person or by video impossible, but it's one that is granted regularly to Trump, who has generally only appeared in sit-down interviews conducted on his own terms in one of his own buildings. When it comes to scheduling The Donald on television, Trump sets the parameters and, with the notable exception of Chris Wallace on Fox News Sunday, the media happily plays along.
I've seen plenty of discussion about the media's obsession with Trump and what explains it. Many conservatives who are opposed to Trump, for example, see it as an example of some effort on the part of the media to demonize the right by associating them with someone like Trump. The reality, though, is much simpler than that. First of all, the simple fact of the matters is that Donald Trump is the frontrunner for the Republican Presidential Nomination at the moment and that naturally means that he's going to be getting the most attention of anyone in the race. He's leading in the polls nationally, as well as in early primary states like Iowa, New Hampshire, and South Carolina. If you look back at the history of other recent Presidential campaigns, it almost always ends up being the person who's at the head of the pack that gets the most attention, and it's no surprise that the same thing is happening this time around. Additionally, for better or worse Trump is a celebrity beyond politics whose presence in the race draws interest from people who aren't even necessarily interested in politics. The Fox News debate last month drew in 24 million viewers, a record for a primary debate, and it's hard to believe that most of those people were tuning to see Ted Cruz, Rand Paul, or John Kasich. It's probable that tonight's debate on CNN will draw similar numbers, which is why CNN increased the ad rates for today's debate coverage. In other words, the media covers Trump a lot because that's what they viewers are tuning in to see, and in the end it's all about ratings. Finally, one of the main reasons that Trump is getting so much coverage is because of is penchant to say outrageous things that end up becoming fodder for yet more discussion. Given the amount of air time that these networks need to fill, it's not surprising that they're spending a lot of time talking about the latest outrageous thing that Donald Trump has said.
So, yes, cable news is spending a lot of time talking about Donald Trump but that's to be expected under the circumstances, and it's probably going to continue for the foreseeable future.