Blaming Dallas For Kennedy's Assassination
Don't blame Dallas, or 60s era Texas conservatism, for what happened in Dallas 50 years ago,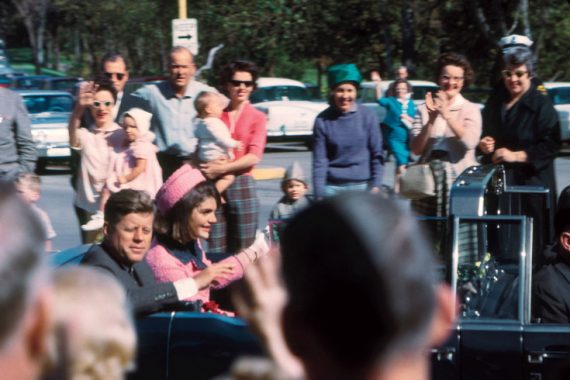 With the 50th anniversary of the assassination of President John F. Kennedy approaching on Friday, the media has been awash in all of the expected  retrospectives, documentaries, and discussions of the legacy of both the assassination and the Kennedy Presidency itself. Not surprisingly, the coverage is full of the same kind of mixture of pathos and hagiography that coverage of America's 35th President that we've seen for years, in no small part because a large part of the coverage is coming from journalists and political commentators who were part of the generation that grew up with the Kennedy Administration and the myth of Camelot that came to be created after President Kennedy's life with tragic cut short. There's also been plenty of "what if" speculation about how the world might have been different had Kennedy not died that day in November 1963, indeed that topic has been the subject of two recent books by Stephen King and Jeff Greenfield. And, of course, there has once again been a rehashing of all the old conspiracy theories about the assassination, theories which clearly will remain part of the historical record. I wasn't alive in 1963, but I do have some interest in it as a an historical matter, so I have paid attention to some of this coverage, although I must say with perhaps not the same sense of emotion that those who were alive feel for the day.
There's much that can be said about the accuracy of much of the Kennedy hagiography, but perhaps the oddest piece I've seen today appears in today's New York Times where a University of Oxford Graduate Student named James McAuley seeks to blame the City of Dallas for Kennedy's death:
FOR 50 years, Dallas has done its best to avoid coming to terms with the one event that made it famous: the assassination of John F. Kennedy on Nov. 22, 1963. That's because, for the self-styled "Big D," grappling with the assassination means reckoning with its own legacy as the "city of hate," the city that willed the death of the president.

It will miss yet another opportunity this year. On Nov. 22 the city, anticipating an international spotlight, will host an official commemoration ceremony. Dallas being Dallas, it will be quite the show: a jet flyover, a performance from the Naval Academy Men's Glee Club and remarks from the historian David McCullough on Kennedy's legacy.

But once again, spectacle is likely to trump substance: not one word will be said at this event about what exactly the city was in 1963, when the president arrived in what he called, just moments before his death, "nut country."

Dallas — with no river, port or natural resources of its own — has always fashioned itself as a city with no reason for being, a city that triumphed against all odds, a city that validates the sheer power of individual will and the particular ideology that champions it above all else. "Dallas," the journalist Holland McCombs observed in Fortune in 1949, "doesn't owe a damn thing to accident, nature or inevitability. It is what it is … because the men of Dallas damn well planned it that way."

Those "men of Dallas" — men like my grandfather, oil men and corporate executives, self-made but self-segregated in a white-collar enclave in a decidedly blue-collar state — often loathed the federal government at least as much as, if not more than, they did the Soviet Union or Communist China. The country musician Jimmy Dale Gilmore said it best in his song about the city: "Dallas is a rich man with a death wish in his eye … a rich man who tends to believe in his own lies."

For those men, Kennedy was a veritable enemy of the state, which is why a group of them would commission and circulate "Wanted for Treason" pamphlets before the president's arrival and fund the presciently black-rimmed "Welcome Mr. Kennedy" advertisement that ran in The Dallas Morning News on the morning of Nov. 22. It's no surprise that four separate confidants warned the president not to come to Dallas: an incident was well within the realm of imaDallgination.

(…)

This year Dallas has a chance to grapple with the painful legacy of 1963 in public and out loud. Unfortunately, that's unlikely to happen, although the city did quietly host a symposium on whether it really deserved to be labeled "the city of hate" earlier this month.

But when the national cameras start rolling on Nov. 22, Dealey Plaza, the abandoned, almost spectral site of the assassination and now of the commemoration, will have been retouched in a fresh coat of literal and figurative white paint. Cosmetics seem to be all we can expect.

"This is not a group psychology lesson," Mike Rawlings, the mayor, told me over lunch recently. "We can do what we can do. I guess I could bring up all the relatives of the people that said bad things. But why would you do that?"

To which, of course, there is nothing to say.
Rod Dreher responds:
The city that "willed the death of the president"? What the hell does that mean? That the city of Dallas used its eerie mental powers to direct a radical weirdo to shoot JFK, like Uri Geller bending a spoon? It is a disgusting calumny. Yes, Dallas was home to more than a few far-right wingers who said and believed and did reprehensible things back then. But one thing they did not do was murder President Kennedy. That was accomplished by Lee Harvey Oswald, who was a communist and a crackpot. I agree with James McAuley that many of the things the 1960s-era right-wing radicals of Dallas stood for were terrible, but to object to it by pinning the assassination on those people and that city is false and low-down.rev

This graduate student expects the city to blame itself for something it didn't do. I lived in Dallas from 2003 to 2010, and was shocked to learn of the kinds of things that were common in the Dallas of the 1950s and 1960s, in large part because the city today is so very, very different — and for the most part, very much better. A Texas-born liberal and Harvard graduate is embarrassed that his socially prominent Dallas grandparents were reactionaries. Wow. Dog bites man. I can't imagine what McAuley reasonably wants from the people of Dallas in 2013. If Kennedy's murderer had been a far-right radical, McAuley would have a point. But — again! — Oswald was a communist. It's wrong to blame Dallas for what Dallas did not do.
Dreher, of course, is absolutely correct here. Dallas an its political climate are no more responsible for John F. Kennedy's death than Buffalo is responsible for William McKinley's, Memphis for Martin Luther King Jr.'s, Los Angeles for Robert F. Kennedy's, or Union Station in D.C. for James A. Garfield's. In each case, they just happened to be the place where an important historical figure was murdered by people for motives that had next to nothing to do with the location itself. Why does Dallas deserve any more blame for President Kennedy's death. Yes, it's true that Kennedy was in Dallas that day because of the sense that he was in political trouble in a state that would be very important to the re-election effort in 1964. However, that's no more relevant to the facts of the Kennedy assassination than the fact that Martin Luther King Jr. was in Memphis in connection with a strike by African-American sanitation workers and was followed there by his assassin James Earl Ray, who happened to be staying in Atlanta in the weeks before he killed King. As Dreher notes, perhaps the political climate in Dallas in 1963 would be relevant to the history of the JFK Assassination had the assassin come from these right wing circles that McAuley writes about. That wasn't Lee Harvey Oswald, though. Oswald was an avowed Communist who had previously defected to the Soviet Union and then spent time handing out leaflets for the "Fair Play For Cuba" committee. Add into all of that the fact that Oswald obviously had some mental health issues and the idea that his actions had anything to do with the political climate in Dallas just look more and more absurd.
McAuley acknowledges that Dallas in 2013 is a far different place than it was in 1963, but he still wants to make the city shoulder at least some of the blame for what happened that day in November. I suspect that there are many who might agree with him, especially given the fact that Dallas is now part of the largest Republican dominated state in the country. A state that has given us everyone from George W. Bush to Rick Perry to Ted Cruz. So, I suspect there may be more than a little of Texas bashing going on here. Otherwise, I look forward to his piece next June explaining why Los Angeles still hasn't lived down the legacy of the assassination of JFK's brother. Something tells me he won't be writing that one that, though.
Note: The photograph above comes from several taken on November 22,  1963 by Dallas jewelry wholesaler H. Warner King and revealed to the public for the first time in Time Magazine just this past week. This particular photo was taken just moments before Kennedy was shot.