California Adopts Automatic Voter Registration
California has become the second state to provide for automatic voter registration for all eligible voters when they obtain or renew a driver's license.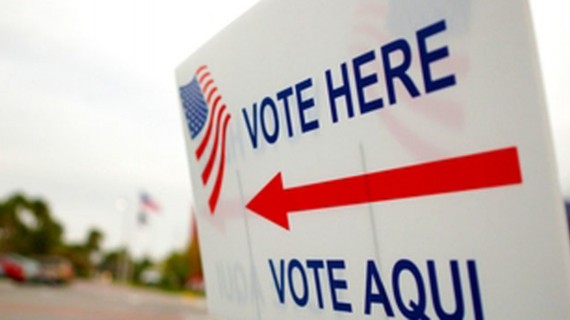 Vote
In a move that could spur other states to act, California has become the second state in the nation that will automatically register everyone who is eligible to vote when they obtain a driver's license:
LOS ANGELES — After a record low turnout in last year's election, Gov.Jerry Brown of California signed legislation on Saturday designed to increase electoral participation by automatically registering eligible state voters when they obtain a driver's license.The law, which allows Californians to opt out of registering at the Department of Motor Vehicles, was the most prominent of more than a dozen bills relating to elections that Mr. Brown signed on Saturday. It puts California at the forefront of efforts across the country to increase electoral participation at a time when many states have added new hurdles, like voter identification laws.

The new law will "help improve elections and expand voter rights and access in California," the governor's office said in a statement.

Less than a third of the eligible population voted in November, when Mr. Brown easily won re-election. The 42 percent turnout of registered voters was a record low for a statewide general election; in addition, 6.6 million people who are eligible to vote are not registered, according to the California secretary of state, Alex Padilla, who pushed for the "motor voter" law as a way to boost participation.

Mr. Padilla said that, over time, the law could help add about six million people to the rolls in California.

"There will be a huge influx of new voters, and that's good for our democracy," Mr. Padilla said. "We want to serve as a contrast to what we see happening in other states, where they are making it more difficult to register or actually cast a ballot. I think that's flat out un-American, and we can show a different, better way with the automatic registration system."

California is the second state to adopt an automatic voter registration system, following Oregon, which passed a similar measure earlier this year.

"I hope doing this in California, as big and diverse as we are, will demonstrate to the rest of the country that it can be done," Mr. Padilla added.

Already, Californians have the option to register when getting a driver's license at the Department of Motor Vehicles. But it requires them to fill out additional paperwork — a hurdle high enough to stop many — and, in practice, voter advocates have said drivers are not always offered the additional form.

The new law will automatically register everyone who obtains or renews a driver's license and who is legally eligible to vote unless he or she specifically opts out.
California's move follows in the footsteps of a similar law passed in Oregon in March which also provides for automatic voter registration for everyone who is eligible to vote when they option a license, or when they renew an already existing license and are not already registered to vote. The registration is not mandatory because people have the right to decline at the time of their transaction with the DMV, but given the fact that most studies have shown that people are less likely to opt-out of something that automatically registers them such as this typically don't result in many people opting out whereas a system that requires people to opt-in, which is essentially what voter registration as we currently understand it actually is. To the extent that one wishes to increase voter registration, then, this would seem to be an ideal way to get it done, especially since spurring people to act to do even something as seemingly simply as registering to vote is usually quite difficult.
As I noted when I wrote about the Oregon program earlier this year, there are some obvious concerns regarding an automatic voter registration program like this that the law would need to deal with. Specifically, of course, there's the fact that not everyone who is eligible to receive a driver's license is eligible to vote, either because they are under the age of eighteen or because they are not citizens of the United States. If that information is not properly noted in the appropriate records, then it's possible that people who are not eligible to vote will end up being registered and end up casting votes in elections when they really aren't legally eligible to do so. As Jazz Shaw at Hot Air notes, this is an especially valid concern in the light of the fact that California has recently allowed undocumented immigrants to receive driver's licenses, a program that has proven to be hugely popular and resulted in a significant increase in the number of licenses issued by California since January. The new law, however, does task the Secretary of State with the job of reviewing the information provided by the DMV to ensure that people who are not properly eligible to vote are not registered, and assuming that the records that the agency provides are complete enough in their notation of citizenship status this may not be as difficult a task as it seems from a distance. How the system is implemented, of course, is the important question and that's something we can't know until the new law has been in effect. In the meantime, though, this seems like something that states that are willing to take this route should be able to should be allowed to experiment with.
The ultimate goal of programs such as this new law in California and Oregon, of course, is to increase voter turnout on Election Day. As we've found, though, that's far easier said than done. In the United States, turnout has followed the somewhat predictable pattern of being much higher in Presidential election years than it is in years where there are midterm Congressional elections or off-year elections that may only implicate state and local seats. In the past, Presidential election year turnout was 60% or better, but the fact that many of these numbers were registered in an era when significant numbers of Americans were prevented from event registering to vote it's not at all clear how reliable the numbers actually are. However, there is some evidence that increasing the number of people eligible to vote doesn't necessarily mean more people will vote. In the 1972 Presidential election, the first election after the national voting age was lowered to eighteen, turnout dropped to 55% and continued dropping, hitting low points in both 1996 and 2000 The notable exceptions to that have been the elections in 1992 and 2008, when turnout spiked temporarily arguably thanks to the fact that there were candidates running, Bill Clinton and Barack Obama, who specifically appealed to the youth vote. For the most part, though, the fact that people over 18 have been eligible to vote since 1971 has not resulted in increased voter turnout outside of those two exceptions. Given that, it's unclear that these automatic registration schemes will actually get people to the polls to vote, but it's an idea worth trying.