California May Be About To Eliminate Most Exemptions For Mandatory Vaccination
A proposed California law would require all students who attend public school to be vaccinated, with limited exemptions for medical reasons.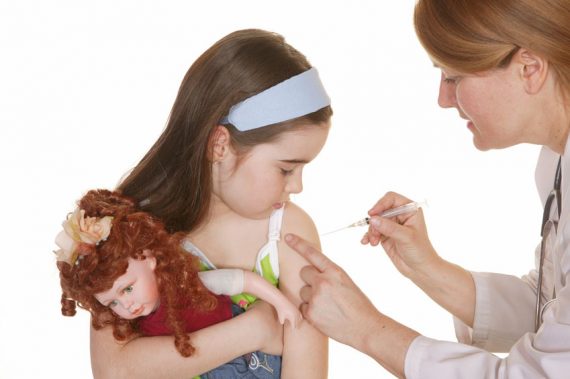 California is on the verge of going further than nearly any other state by removing almost all exemptions to mandatory vaccination laws:
SACRAMENTO, Calif. — Schoolchildren in California would be required to be vaccinated unless there is a medical reason not to do so under a sweeping bill approved by the State Assembly on Thursday. The measure would end exemptions for personal or religious reasons, routinely requested by parents opposed to vaccines.

The legislation would make California the largest state by far with such requirements for childhood vaccinations as it joins West Virginia and Mississippi, which have had similar laws for years.

Public health officials hope other states will follow California's lead, though similar measures in some legislatures have been defeated this year.

We hope and expect we will be a model to get us back to where we should be, which is that cases of measles and other preventable diseases do not need to be something we live with," said State Senator Richard Pan, a pediatrician who wrote the bill.

Despite overwhelming evidence that vaccines are an essential public health measure, the number of unvaccinated children in California has been rising, partly because personal or religious exemptions have been easy to obtain. Parents who decline vaccines for their children and take heart from the fact that most other children are protected have helped create pockets in particular schools and communities where the overall immunity level is dangerously low, doctors say.

"We cannot accept this as the new normal," Mr. Pan said, adding that the legislation "ensures we will protect all children."

The measure has been one of the most closely watched and divisive in the State Capitol this year, with weeks of emotional debates and hundreds of families who oppose vaccines filling the halls, together with their children.

The State Senate approved the bill this year, but will need to vote again to include subsequent amendments

The disagreement here has been intensely personal, with parents on opposing sides coming to the Capitol with babies in tow, holding them in slings while offering emotional testimony to lawmakers. And during an hourlong debate in the Assembly on Thursday, nearly every legislator who rose to speak invoked his or her experience as a parent.

The debate has been unusually mordant. Robert F. Kennedy Jr. traveled through the state this spring, screening a documentary purporting to show the dangers of vaccinations for children. After he likened mandatory vaccines to the Holocaust, he later apologized. And this month, a Nation of Islam leader denounced inoculation requirements, comparing such a mandate to the infamous Tuskegee syphilis experiments.

Mr. Pan said he has received repeated threats, so worrisome that he had additional security for several events.

(…)

Under the bill, families who do not want their children to receive vaccines for a nonmedical reason would have to home-school their children. Children who are currently in school without vaccines could remain, though they would be expected to show proof of vaccination when they enter kindergarten and seventh grade.

Some vaccine opponents predict a rise in home-schooling as a result of the measure.

Gov. Jerry Brown has not taken a public position on the bill but is widely expected to sign it. "The governor believes that vaccinations are profoundly important and a major public health benefit, and any bill that reaches his desk will be closely considered," Evan Westrup, a spokesman for Mr. Brown, said in a statement.

Opponents have promised several legal challenges, including a claim that the legislation would violate children's right to a free education, which is enshrined in the state Constitution. They have already begun several recall campaigns against legislators who pushed for the bill, including Mr. Pan.

Carl Krawitt, whose 7-year-old son, Rhett, is in remission from leukemia and was medically prohibited from receiving vaccines, argued that it was children like his son whose rights were being violated by those who refuse to vaccinate; unvaccinated children could pass along potentially deadly diseases to Rhett.

"The social impact of not having children vaccinated is truly life-threatening for some," Mr. Krawitt said. "We can take personal freedoms to such an extreme," he said, adding that he was not surprised that the measure had engendered so much controversy.
Current law in California and many other states gives parents more options to exempt their children from vaccination requirements for a broader array of reasons and don't provide local jurisdictions with the same authority to bar students from attending school if they have not been vaccinated. One thing this has meant, of course, is that the number of unvaccinated children has increased as the scientifically discredited anti-vaccination movement has gained favor among parents. Indeed, the somewhat surprising thing about recent outbreaks of diseases that can be prevented with vaccinations in recent years such as Whopping Cough and Measles has been that the families that are tending to skip vaccinations consist of educated, middle class Americans rather than poor people with little access to health care, which has usually been where vaccination programs have broken down. Presumably, much of this can be blamed on the fact that anti-vaccination views have become, for lack of a better word, "trendy" thanks to the fact that Hollywood stars such as Jenny McCarthy have become vocal advocates for the movement. This is despite the fact that vaccination has been perhaps the most successful public health initiative in recent memory, and was recently credited with wiping out Rubella, also known as German Measles, in the Western Hemisphere.
Obviously, there are some personal liberty concerns at play here, however the Courts have often recognized that state and local authorities do have significant authority to restrict that liberty in the name of public health. More than a century ago, for example, the Supreme Court ruled that a Massachusetts town was within its authority to require a man to receive a smallpox vaccination. In no small part, the Court's ruling was based upon what it saw as a de minimis violation of personal liberty compared to the extreme risk to public health that would be posed by an unvaccinated person being exposed to Smallpox and spreading the disease to other unvaccinated members of the community, such as the young, sick, and elderly. More recently, a Federal District Court Judge in New York upheld a policy of the New York City School Board that provided that children who were not vaccinated could be barred from school during the time that there was an outbreak of a disease they were not vaccinated against. The proposed California law is broader, but the fact that it still allows for some exemptions for religious reasons, and of course medical reasons, will likely be enough to allow it to survive what seems as though will be the inevitable Court challenges.
As a matter of policy, the California law is admittedly a bit heavy-handed, but at the same time it's worth remembering that there are important public health issues at stake here. It was just a few months ago that California public health officials and officials in other states found themselves dealing with a Measles outbreak that has been traced to Disneyland and its large crowds of people. While one cannot say for sure how or why the outbreak began there, the larger the popular of unvaccinated people, the more likely it is that a disease like this will spread and pose a threat to the young, elderly, and people with compromised immune system. Considering the fact that it was just 15 years ago that Measles was largely considered to have been eradicated in the United States, the fact that we are dealing with outbreaks like this again at the same time that pseudo-scientific nonsense about the "dangers" of vaccines continues to spread online is the kind of correlation that makes you think that it probably isn't a coincidence. The bill being considered in California provides appropriate exemption for valid medical and religious reasons, and it seems to do a fairly good job of balancing personal liberty and public health. If it does end up passing, it could well be the model for legislation across the nation, and that wouldn't be a bad thing.