Can Lindsey Graham Win?
The NYT paints the longshot senator as a happy warrior trying to win the White House by doing it his way.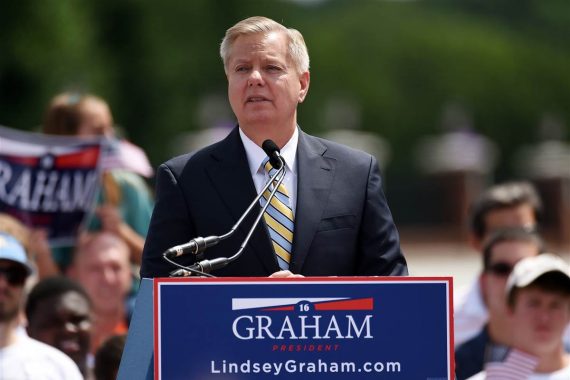 In an interesting profile piece ("Lindsey Graham's Old-School Campaign Amid Field of Memes"), the NYT paints the longshot senator as a happy warrior trying to win the White House by doing it his way. After several paragraphs recounting campaign trail anecdotes, they get to the point.
Former Gov. Jeb Bush of Florida said he would run for president only if he could do it "joyfully." Mr. Graham is actually doing so, taking the lessons he learned while riding alongside his friend and mentor, Senator John McCain, Republican of Arizona, on his Straight Talk Express in 2008. As his sidekick and comrade, Mr. Graham internalized Mr. McCain's school of retail politics — from the shake-every-hand town hall to the nothing-to-lose ethos born from barely registering in most national polls.

"You know what I like most about running for president? It's almost like running for sheriff," said Mr. Graham, who turns 60 on Thursday. "It's just fun."

In recent weeks, however, Mr. Graham has found himself thrust into the more somber role of consoler-in-chief, after a young white man was charged in the killing of nine black parishioners during a Bible study in Charleston, S.C. Mr. Graham canceled his campaign events and raced home, helping push his state's political leadership to call for removing the Confederate battle flag — a symbol of racial hatred for many — from the grounds of the State House.

And with Congress back in session this week, he has continued his role as an outspoken critic of the public outlines of a possible nuclear deal with Iran. On Wednesday, he gave his first major foreign policy speech, outlining his national security agenda, at the Atlantic Council in Washington.

But generally, Mr. Graham offers a departure from Washington's self-serious culture, a thoughtful man who also happens to be engaged in the jovial pursuit of politics.

[…]

As for now, Mr. Graham has the advantages of a perpetual underdog. He is struggling to crack the top 10 in national polls, a position that would ensure a spot on the early primary debate stage. And, in some ways, he is liberated from many of the unappealing trappings of a presidential campaign: He has no obvious base to pander to, no establishment middle ground to lurch toward, no billionaire donor to placate.

Instead, Lindsey can just be Lindsey: the anti-abortion, pro-military, hawkish Republican who also happens to believe in climate change and a comprehensive approach to immigration, and who asks voters to sacrifice when it comes to overhauling entitlement programs.

"I think his motivation is to make national security issues at the forefront of this campaign, and those are certainly issues that he cares deeply about and knows a lot about," said Senator Susan Collins, Republican of Maine. (Mr. Graham sits on the Senate Armed Services Committee.)

While Mr. Graham's candidacy may seem far-fetched, many Republicans privately commend his candor, saying his policy positions are rooted in hard truths their party needs to hear.

Mr. Graham, for instance, mocks his Republican rivals for their answers when asked about climate change. "Everybody says, 'Well, I'm no scientist,'" Mr. Graham said. "O.K., well, why don't you believe 90 percent of the people who are? Why do you only believe the one guy who tells you what you think people want to hear?"

On immigration, Mr. Graham helped write the bipartisan overhaul measure that offered a path to citizenship for the 11 million unauthorized immigrants already in the country, which passed the Senate with broad support in 2013. And, unlike Senator Marco Rubio of Florida, a Republican and 2016 candidate for president who also helped write the bill, Mr. Graham has not backed away from it.

Mr. Graham also has outlined the most detailed plan of any of the candidates for combating violent extremism at home and abroad.

His path to victory, he says, is simple enough: exceed expectations in Iowa; finish in the top tier in New Hampshire; and then win his home state, South Carolina.
While he's a long shot to break out of an absurdly large field, Graham's approach is the right one. Candidates simply can't survive the grueling marathon of a presidential race by pretending to be something they're not. I've long found Graham to be likable and decent and he's got a wealth of experience that would be an asset in the White House. And, certainly, being a favorite son in the key primary state of South Carolina can't hurt.
His biggest selling point, in his mind, is that he's ready "to be commander in chief on Day 1." He's certainly more qualified in that regard than most recent presidents, possessing genuine expertise on military and foreign affairs and the credibility that comes from being a retired Air Force Reserve colonel, albeit in a service support role. Alas, it's also the area in which we most disagree. He seems to believe that no problem in the world is too big to solve so long as the United States is willing to lead and that "leadership" almost always comes in the form of military power. Alas, that seems to be the view of most of the legitimate contenders in the field, including presumptive Democratic nominee Hillary Clinton.