Lindsey Graham Says He's Thinking About Running For President
It has nothing to do with winning, but it does have a lot to do with the foreign policy debate inside the Republican Party.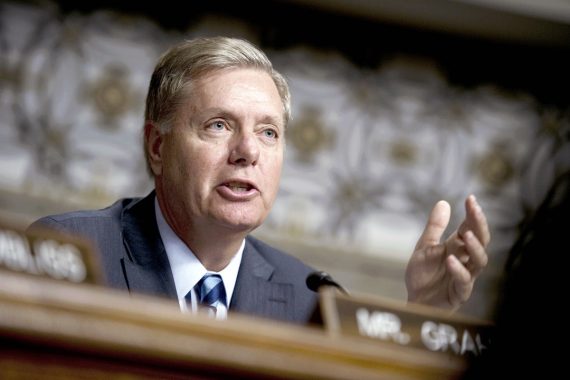 Fresh off a decisive primary victory over a Tea Party backed challenge that failed miserably, and no doubt motivated by the public attention that the war against ISIS is bringing to foreign policy, South Carolina Senator Lindsey Graham says he's thinking about running for President:
In a recent, hour-long interview, Lindsey Graham said if he is reelected to the Senate in November, he will begin exploring a bid for the presidency.

Graham has long been one of the most active and outspoken hawks in Congress. He has been a voluble critic of the Obama administration on a wide variety of national security issues—Guantánamo Bay, Benghazi, Iraq, Syria, Afghanistan, Russia, Iran, and others. Unlike many of his colleagues, Graham often first seeks to engage the administration privately as it debates policy with the hope that he can help shape the outcome rather than just criticize it after the fact.

But Graham no longer trusts Obama enough to engage him on these matters.

In our interview, Graham repeatedly spoke of the challenges that will face the next president because of the mistakes made under Obama. And he suggested that he might just be the one to fix them.

"If I get through my general election, if nobody steps up in the presidential mix, if nobody's out there talking​—​me and McCain have been talking​—​I may just jump in to get to make these arguments," Graham said.

I asked Graham about Rubio. Hasn't he been making many of the arguments you'd be likely to make? Graham wasn't impressed. "He's a good guy, but after doing immigration with him—we don't need another young guy not quite ready," said Graham. "He's no Obama by any means, but he's so afraid of the right, and I've let that go."

McCain likes what he sees in the emerging GOP field, but acknowledges that he's told Graham to think about running. "I've strongly encouraged him to give it a look. I think Lindsey has vast and deep experience on these issues that very few others have. I happen to like a lot of these guys—I like Jeb Bush, Chris Christie. Ted Cruz has gone out of his way to tell people how much he agrees with me on national security." And Rubio?

"He's articulate, intelligent, and has all the right instincts. He doesn't have the background that Lindsey does, but he's probably as articulate as anyone in our party. I've watched him carefully on the Foreign Relations Committee—he's excellent. Very impressive."
Daniel Larison wants nothing to do with it, and calls Graham the embodiment of everything wrong with the GOP:
Graham is kidding himself if he thinks he could be the nominee, so I'm not sure what the point of this would be. The likely 2016 field will already be filled with reliably hawkish candidates. Graham distinguishes himself from that field in that he has never encountered a foreign intervention that he didn't like and by being wildly out of step with most Republicans on immigration. Those will make him an easy target and useful foil for all of the others, who will be able to point at the second "amigo" and say something like, "I want to keep America secure, but I don't want to bomb every a new country every five minutes as Sen. Graham does." A Graham bid is the closest one can get to re-running a McCain campaign, and Republicans are even less interested in doing that than they are in giving Romney another chance. Worse for the party, he is the embodiment of everything that is wrong with the party, especially when it comes to the issues of foreign policy and immigration. He is the walking reminder of why most Americans shouldn't trust Republicans to conduct foreign policy and why most conservatives don't trust their party leaders.
Scott Schackleford, meanwhile, isn't quite sure of the logic of a Graham candidacy:
So Graham could run as the next McCain, but without the charisma, or an alternative to Rubio, but without the youthful appeal or energy (or charisma). But who can resist the charms of a presidential candidate who believes that ISIS is coming to kill us all, each and every one of us? Who can better instill the belief in American Exceptionalism than the guy who keeps screaming about monsters under the bed?
Lindsey Graham is a name that seems quite odd in a discussion of potential Presidential candidates for a whole host of reasons. First of all, of course, there's the fact that he's never been considered a candidate of Presidential timber even though he's been in Congress for two decades and has, for better or worse, become a prominent voice on issues like foreign policy and immigration in the Republican Party and the nation as a whole. While that fact alone has never necessarily stopped someone from running for President in the past, the fact that Graham himself has never before expressed any kind of Presidential ambition makes the very idea of him throwing his hat into the ring this time around seem kind of silly. Additionally, the fact that Graham's relationship with the most vocal wing of the GOP is, shall we say, not very good. Thanks in no small part to his support for immigration reform dating back to before the 2008 Presidential election, he initially was one of the primary targets of Tea Party and other conservative groups in the 2014 primaries. Soon, though, it became clear that the challenge was going to face an uphill battle thanks in no small part to the fact that the strongest candidates stayed out of the race. In the end, Graham won the primary easily, avoiding a runoff and setting himself up for a General Election that he will win without question. No doubt, though, there is still significant bad blood between him and the right wing of the GOP that would manifest itself in a Presidential race. Finally, there's the fact Graham just doesn't come across as a good Presidential candidate. He obviously knows South Carolina well enough to keep getting elected there, but it's a far cry from there to being a credible player on the national stage. Despite the fact that he appears on Sunday morning shows and cable news networks nearly as much as his alter ego John McCain, that just isn't Lindsey Graham.
The important point to keep in mind about a potential Graham candidacy, though, is that it really doesn't have anything to do with actually winning the nomination. Graham is obviously a smart enough politician to know that he has no shot at that, but if he does run he wouldn't be running to win the nomination. Like many candidates before and since, a Graham bid in 2016 would be, at least in his mind, about advancing issues and attempting to push the agenda of the primary battle in a certain direction. As the Weekly Standard article makes clear, that issue would be foreign policy and Graham's desire to push the GOP in a more aggressive direction. Given the fact that he and other Republicans have spent the better part of a year pushing back against the ideas of people like Senator Rand Paul, who has gained much attention and support for advocating a less aggressive foreign policy. In light of the rise of ISIS, which has led to increased support for military action among Americans in general and Republicans in particular, it's not altogether an irrational strategy on Graham's part. In that sense, then a Graham candidacy would be as much about trying to undermine Rand Paul and the alleged dangers posed by his foreign policy, and given the increasingly belligerant rhetoric coming from other potential Republican candidates, one suspects that Graham would not be alone in making those arguments.