Lindsey Graham Begins His Long Shot Bid For The Presidency
Lindsey Graham is the latest entrant into the Presidential race, but it's hard to see how he gets out of the bottom of the polls.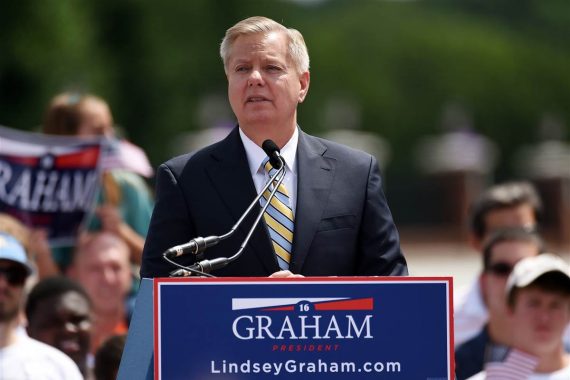 Yesterday, South Carolina Senator Lindsey Graham became the latest entrant into the Presidential race:
CENTRAL, S.C. — Senator Lindsey Graham of South Carolina returned Monday to the neighborhood where he was raised to announce that he is running for president, injecting a hawkish foreign policy voice into a crowded field of Republican contenders.

Mr. Graham entered the race a year after his political career appeared briefly to be on the ropes, when Tea Party conservatives portrayed him as a moderate and tried to force him out of the Senate.

After fending off that challenge with ease, Mr. Graham, 59, has said his fear that the world is "exploding in terror and violence" inspired him to run for the White House. He will try to convince voters

In previous election cycles, that might not have been the case for someone with Mr. Graham's credentials. A former Air Force lawyer and judge, Mr. Graham has made multiple trips to Iraq and Afghanistan, burnishing his reputation as an authority on international affairs. With his years of experience, he may be seen as an elder statesman who can cast a light on Mr. Rubio's scant record, or scold Senator Rand Paul for his isolationist policies.

"I have more experience with our national security than any other candidate — that includes you, Hillary," Mr. Graham said to the cheering crowd.

that a platform of pragmatism at home and "security through strength" abroad is the formula to give Republicans the best chance to beat Hillary Rodham Clinton if she becomes the Democratic nominee.

"I want to be president to protect our nation that we all love so much from all threats foreign and domestic," he told about 200 supporters assembled in his hometown. "So get ready. I know I'm ready."

Mr. Graham brings a long legislative record, having been first elected to the Senate in 2002 after serving eight years in the House of Representatives. He joins the nominating contest as an underdog who has struggled in early polls next to rivals who include former Gov. Jeb Bush of Florida, Senators Marco Rubio of Florida and Ted Cruz of Texas, and Gov. Scott Walker of Wisconsin.

"I think that no one here in South Carolina has any illusions that Lindsey Graham is on a fast track or even near the front part of the pack in that crowded group," said Robert Wislinski, a political strategist in the state.

Dressed in a dark suit with a gold and blue tie, Mr. Graham mixed personal anecdotes — of growing up living and working in a pool hall and taking care of his sister after the deaths of his parents — with thundering promises to confront radical Islam with military force.

Part of Mr. Graham's challenge will be differentiating himself from the foreign policies of former President George W. Bush and Senator John McCain of Arizona, his close friend, who failed to win the presidency in 2008. So far, Mr. Graham has suggested sending more American troops to Iraq and supporting regional forces to the Middle East to blunt the threat of Islamic State militants.

"I'm afraid some Americans have grown tired of fighting them," Mr. Graham said. "I have bad news to share with you: The radical Islamists are not tired of fighting you."

On domestic policy, Mr. Graham has left himself vulnerable to criticism from within his party.

Open to making deals with Democrats to move bills forward, he is often criticized for sounding like a Democrat on climate change, spending and immigration. Speaking about Social Security on Monday, Mr. Graham suggested that the rich should be willing to pay a little more to help those in need.

In 2013, he worked with a bipartisan group of senators on legislation that would have created a path to citizenship for millions of immigrants. The plan failed, but Mr. Graham has made the case that Republicans are in danger of further losing Hispanic support because of opposition to immigration reform.

Strategists say that fund-raising will be an obstacle for Mr. Graham but that if his candidacy gains traction he could benefit from South Carolina's status as a the second state to hold a primary.
As I've said before, Graham's candidacy is among the most inexplicable in an election cycle that is already filled with candidates who are running for President for completely inexplicable reasons. Unlike, say, George Pataki or John Kaisch, Graham has never before even hinted that he harbored Presidential ambitions of any kind and he's never been mentioned as a potential Presidential candidate in the past. In addition to that, Graham has a fairly bad reputation among the hardcore Republican base thanks to his position on issues such as immigration reform, the Federal Budget, and other issues that the Tea Party considers to be important. When he was up for election in 2014, he was initially considered one of the Tea Party's highest priority targets in the primary. However, thanks to the fact that some of the more prominent conservative Republicans in South Carolina declined to run against him and the fact that the opposition he did have was splintered between five candidates, Graham was able to easily win the Republican primary and re-election in a year when the Tea Party was also trying to take out Senators like Mitch McConnell, Thad Cochran, John Cornyn, and Pat Roberts.Given all of that, it seems unlikely that Graham will get a warm reception among Republican primary voters outside of his home state and, at least at the moment, he isn't even polling high enough to be included in the first set of Republican debates.
As far as the polls are concerned, Graham is basically a non-entity outside of his home state. He doesn't even show up in the national polls or in any of the polling in Iowa, New Hampshire, or Florida, although to be fair this is likely because his name has not been included in any polling outside of his home state before now. In South Carolina, Graham currently averages 10.5%, which puts him behind both Jeb Bush and Scott Walker but still suggests that he could play the role of a kingmaker in the Palmetto State if those numbers hold up through next year. Given his liabilities with the hardcore base of the party, it seems difficult to see how Graham will manage to become anything other than an also-ran candidate anywhere outside of South Carolina. This is why Graham is likely to focus most of his campaign on foreign policy, and indeed many have suggested that Graham is mainly running to be an advocate for his foreign policy positions and to be a foil for Kentucky Senator Rand Paul. As Harry Enten points out, though, Graham's foreign policy views are essentially the same as virtually every other Republican candidate for President. So, it's unclear exactly how he'd be able to differentiate himself from people like Ted Cruz, Marco Rubio, Scott Walker, Rick Perry, or any of the other candidates who have similar foreign policy views to his but also don't have the same negative baggage with the Republican base.
There's always a possibility I'll be wrong about this, but I'll honestly be surprised if Graham is able to consistently poll above 5% in any poll outside of his home state. If that happens, then his entire campaign will basically be a waste of time.