Lindsey Graham Warns Republicans To Back Trump On Emergency Declaration
Lindsey Graham is telling his fellow Republicans that they better back the President if he decides to declare a national emergency to get funding for his border wall.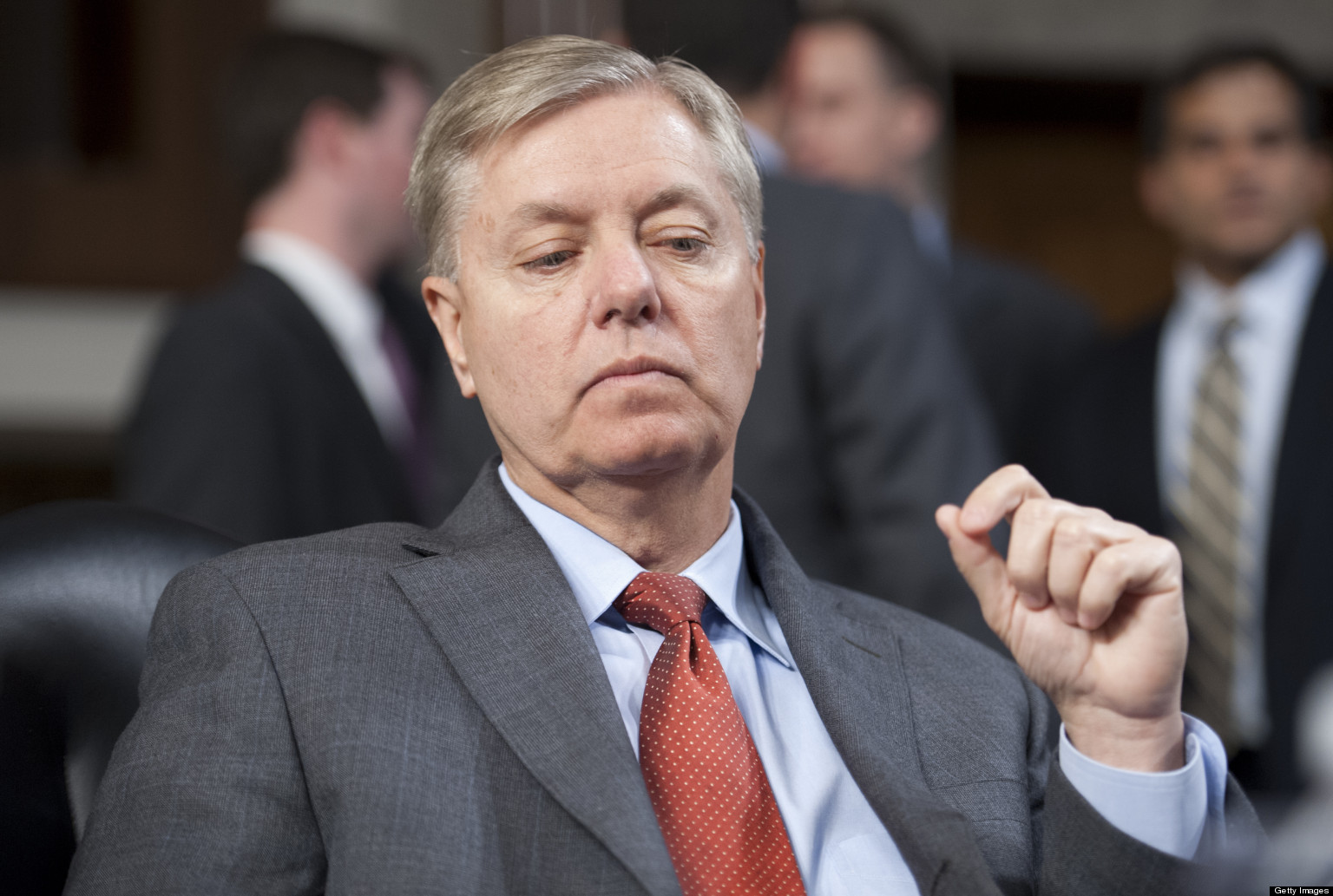 Lindsey Graham is warning his fellow Republicans that they better back the President on the border wall and the potentially imminent declaration of a "national emergency": 
Senator Lindsey Graham, one of Donald Trump's closest allies on Capitol Hill, warned his fellow Republicans to back the president if he declares an emergency to build a wall on the southern border.

"To every Republican, if you don't stand behind this president, we're not going to stand behind you, when it comes to the wall," Graham said in a speech in Greenville, South Carolina, of the political fight with Democrats over a border barrier. "This is the defining moment of his presidency. It's not just about a wall, it's about him being treated different than every other president."

Graham said he doesn't expect Congress to come up with a deal that would provide money for a wall in spending negotiations to avert another government shutdown after Feb. 15. He said he fears a "war within the Republican Party over the wall."

"This is about more than a barrier. This is about us as a party," he said.

Trump has mused for weeks about invoking emergency authority to build the wall, potentially by shifting Defense Department or disaster aid spending. But he's also gotten increasing pushback from other members of his party.

Senator John Cornyn of Texas said he and other GOP leaders have conveyed their misgivings to Trump "many times." Among their concerns are setting a precedent for a Democratic president in the future to declare an emergency on other issues.

"The whole idea that a president — whether it's President Trump or President Warren or President Sanders — can declare and emergency and then somehow usurp the separation of powers and get into the business of appropriating money for specific projects without Congress getting involved is a serious constitutional question," Cornyn said Monday. "Which is why I think he would be sued immediately."

Graham said he understands some of his Republican colleagues have concerns about what precedent it would set, but that's "no excuse not to have this president's back now, because we're not doing anything exotic here."

Graham expects the president will order the military to build the wall using money in national security accounts. He said the last three presidents sent troops to the border and Graham suggested that building a wall isn't much different.
Graham's warning comes as President Trump has speculated more and more openly about the idea of using the power granted by the National Emergencies Act to declare a "national emergency" at the southern border and then, pursuant to that authority, use funds allocated for the Department of Defense as well as military personnel such as, one assumes, the Army Corps of Engineers, to build the wall and contract with federal contractors who would assist in the project. Republicans in Congress, and especially in the Senate have openly expressed skepticism at this idea and suggested that they may back a plan to try to prevent the President from utilizing such powers. Additionally, Senate Majority Leader Mitch McConnell has reportedly warned the President against the idea, warning that it could trigger a rebellion among already restive Senate Republicans, who could end up joining the Democrats in utilizing the Congressional review provisions of the Emergencies Act to attempt to block the President's emergency declaration. Of course, even if such a resolution passes both chambers of Congress, the President could veto it and it would be then up to Republicans in both the House and Senate to determine whether or not they want to attempt to override the veto.
Given his past statements about the President, one might wonder exactly what has happened to Lindsey Graham.
During the race for the Republican nomination in 2016, Graham was among the harshest critics of the President, and it seemed like he was on course to become a harsh critic of the Presidents in the Senate notwithstanding the fact that he's a Republican. After Trump attacked the late Senator John McCain, who was a close friend of Graham's in the Senate, Graham called Trump "a jackass," a move that led Trump to give out Graham's cell phone number on live television during a campaign rally. Later in the campaign, Graham said that Trump's stance on immigration and his support for a border wall were "building a wall" between the Republican Party and Latino voters that would harm Republicans in the long run. In early December 2015, Graham attacked Trump's position on the war against ISIS, saying that Trump's course of action, if followed through, would 'empower the enemy.'  In response to then-candidate Trump's proposed ban on travel from Muslim countries, Graham said of Trump; "He's a race-baiting, xenophobic religious bigot. He doesn't represent my party. He doesn't represent the values that the men and women who wear the uniform are fighting for… He's the ISIL man of the year."  Even at the end of December 2015, when Graham finally dropped out of the race for President, he made his disdain for his fellow candidate clear when he said:
"I never went down the demagoguery trail," he said Monday morning, in a shot at Trump. "I didn't get into this campaign to run other people down, and to bring out the worst in who we are as a party or a country. I think what makes America great is our tolerance for each other and the fact that we respect people who are different. That's so different than our enemies."
Since Trump has become President, though, and most especially in the months since John McCain passed away, Graham has fallen in line behind the Trump Administration and, with the exception of his opposition to the President's decision to withdraw U.S. forces from Syria, has become one of the President's most loyal supporters on Capitol Hill. This has been especially true during the ongoing showdown over government spending, immigration, and the border wall. Some have speculated that Graham is angling for an appointment to Trump's Cabinet, potentially as Secretary of Defense. While that's one possible explanation,  Another, less likely, theory that some have openly speculated about is the idea that Graham is being blackmailed somehow regarding personal information. One of the more prevalent theories has been regarding Graham's sexuality, with some openly suggesting that the fact that he's a lifelong bachelor is evidence that he's gay. There have also been rumors about this that have circulated in Washington in the past. There is, however, no evidence to suggest that this is the case. Others have suggested that the same Russian-backed sources that tried to help the Trump campaign in 2016 have some information about Graham that he would prefer to remain private. Again, there's no evidence to support this claim.
Instead of these explanations, I would argue that there's a far simpler explanation for Graham's recent pro-Trump conversion.
The most likely explanation is that this is part of a pattern that Graham has followed in the past regarding protecting his political position at home in South Carolina, especially among the state's Republican base which tends to be very conservative and has often viewed Graham with suspicion. In this regard its worth noting that President Trump won South Carolina in 2016 by more than 300,000 votes and 14 percentage points and that the Palmetto State is one of a handful of states where his job approval is actually positive. Graham, I would argue, is responding to this by moving to the right in an effort to block a serious challenge from the right in the primary, which is realistically the only way that he could lose his seat in 2020. He did the same thing during the run-up to the 2014 campaign and, as a result, was able to dissuade a strong Tea Party-backed candidate from rising up against him. This time, surviving in a Republican primary means supporting the President enthusiastically, so that's exactly what Graham is going. It's cynical and purely political, of course, but it's also quite easy to understand.
As for Graham's warning to his fellow Republicans, it's unclear if it will have any impact on the attitude of rebellious Republicans on Capitol Hill. The five-week shutdown was a severe political loss for the President and Republicans generally and they are unlikely not exactly willing to replay that game, and polling is also showing that the idea of declaring a national emergency is also highly unpopular among most Americans. What Graham's "warning" does show us, though, is that the President's supporters are quite concerned that he could be losing support on Capitol Hill, and the more that erodes the harder it will be for him to maintain his seemingly unwavering position on the border wall.