Can Republicans Beat Obama?
All of the plausible Republican contenders for 2012 have significant downsides.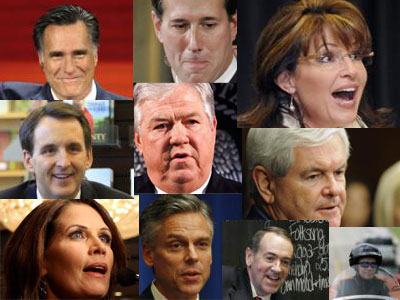 Given the weak economy and his doubling down on Afghanistan and questionable civil liberties practices, President Obama would seem vulnerable to defeat in 2012. But you can't beat somebody with nobody.
John Ellis of the Business Insider Politix blog asks, "Can Any One Of These People Beat President Obama?" His rundown is worth a read in full but I'll just highlight the "Downside" for each of the Republican candidates he considers.
Mitt Romney: He's a Mormon, he was the driving force behind Romneycare (the forerunner to President Obama's national health care insurance plan, which is wildly unpopular with GOP primary voters) and he's from Massachusetts (which is sort of like being from China as far as GOP primary voters are concerned).

Tim Pawlenty: Reputation as a lightweight.

Sarah Palin: Reputation as a lightweight, weak organization, second-tier staff, not smart enough.

Newt Gingrich: Personal "issues," lack of discipline, never stops talking, yesterday's news.

Mike Huckabee: Undisciplined at times, weak fund-raiser, second-tier organization, mixed messaging.

Mitch Daniels: Looks like the President's barber, message depressing, cross-wise with social conservatives, unclear where he stands on national security issues.

Haley Barbour: Former lobbyist, no real message, not one original thought on national security issues, Iowa and New Hampshire not his kind of states.

Jon Huntsman: Moderate, Mormon, Obama appointee, no base, no message (yet).

Michele Bachmann: Not smart enough, no national experience, no organization, disliked by colleagues, boiler-plate message.

Rick Santorum: Campaign narrowly focused on social issues, no original policy ideas, weak organization, lack of presidential campaign experience, not an Iowa kind of guy.
If we leave out the candidates widely perceived as dumb, scuzzy, or creepy, then, we're left with: Romney, Huckabee, Daniels, and Huntsman.  Daniels and Huntsman are virtual unknowns.  And it's almost inconceivable that Huntsman can overcome the Obama connection and get the support of Republican primary voters.
I continue to think that Romney's the odds-on favorite to win the nomination. It's his "turn," and he's smart, disciplined, funded, and organized in a way none of the others can match. And I'm not convinced that Huckabee and Palin, the other plausible front-runners, are actually running. The RomneyCare/ObamaCare issue will hurt him in the primaries but not enough to overcome the weaknesses of the other candidates. And it'll be a virtual non-issue in a general election contest with Obama.
Indeed, of all the candidates listed, Romney's the only one whose downside applies entirely to winning the nomination. The "Mormon issue" is more problematic on paper but probably not in reality. Like any other prejudice, it's easier to hold it generically than specifically. Of the ten folks mentioned, he's the only one who can plausibly beat Obama in 2012. And that's no slam dunk.