Canadian Post Office To Stop Delivering Mail To A Lot Of Canadian Homes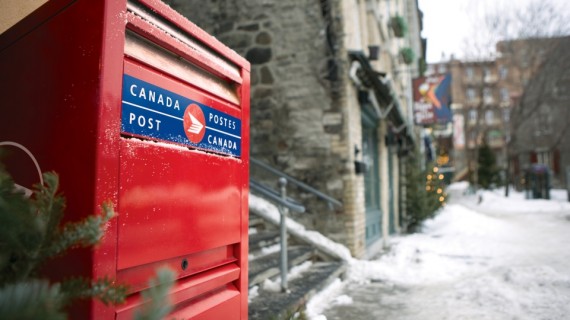 The Canadian Post Office is putting in place reforms that will dramatically change the way many of our neighbor to the north receive their mail:
WATERLOO, Ontario — Canada's postal service said Wednesday that it would cease home delivery over the next five years, and substantially increase postal rates.

Though Canada would become the first Group of 7 country to end all residential mail delivery in cities and older suburbs, Canada Post shares many problems with postal services in the United States and elsewhere, including rapidly declining mail volumes and high wage and pension costs. Along with the service cuts, the government-owned service said it would eliminate 8,000 jobs, mostly through attrition.

"A leaner work force will create a more flexible and competitive Canada Post," the post office announced in the summary of a five-point plan. "Canada Post has a mandate to fund its operations with revenues from the sale of its products and services, rather than become a burden on taxpayers."

In place of home delivery, Canadians who live in cities would have to pick up their mail and parcels at so-called community mailboxes, which would be established in neighborhoods across the nation. (Apartment-dwellers would continue to pick up their mail in their buildings.)

While the service argued that the communal boxes had "advantages for busy Canadians," the announcement was swiftly and widely criticized by opposition politicians and labor leaders, who noted that the price of a stamp bought in a booklet would increase, to 85 cents from 63 cents.

Justin Trudeau, the Liberal Party leader, criticized the post office for taking such a major step without any advance notice or discussion with customers.

The leader of the Canadian Union of Postal Workers, Denis Lemelin, called the cutbacks and the rise in postage rates "shortsighted and foolish."

"We are sure we are not alone in disagreeing with Canada Post's plan," Mr. Lemelin said in a statement on the union's website. "C.U.P.W. will stand with those people who resist the elimination of door-to-door delivery."

Reactions on social media were blunter, pointing out the difficulties that the end of delivery would bring for older and disabled people and suggesting that Canada Post had condemned itself to irrelevancy.

"Canada Post to stop delivering mail to save costs?" Paul Nixey, a communications consultant in Vancouver, British Columbia, asked on Twitter. "Isn't that a bit like Starbucks no longer serving coffee because it's expensive?"

Whatever the economic merits of the decision, Dwayne Winseck, a communications professor at Carleton University in Ottawa, said the end of postal delivery was a pivotal moment in Canadian history.

"The whole notion of a universal correspondence service is a pretty important one," he said. "It's quite a comedown for a national postal system." While online shopping has increased the number of parcels Canada Post handles, that has been more than offset by the loss of delivering letters, cards, bills and other kinds of mail that now arrive over the Internet. Over all, the number of pieces of mail handled by Canada Post dropped by 23.6 percent from 2008 to 2012.
Some of these reforms, especially the wider use of so-called "community mail boxes" is something that has been mentioned as a potential reform here in the United States to allow the USPS to deal with its own revenue problems and the fact that revenues are only likely to continue to decline as mail volume declines. Indeed, many newer suburban communities have already built these community mail-boxes for residents although obviously the vast majority of Americans still receive their mail delivered to a box of some type located on their property. The advantages of community mail boxes, though, are self-evident in that they make it far easier for postal workers to complete delivery to a large number of customers in a short period of time. Obviously, there will be some up front costs associated with the transition to this type of delivery system, but in the long run it seems likely to save Canada Post substantial time and money. Perhaps it will serve as a model for similar reforms in the United States.
As an aside, it turns out the the USPS and Canada Post share a common history:
The postal system was founded in 1753 by Benjamin Franklin when both Canada and the thirteen colonies were under British rule.
Like all Americans, I was aware of Franklin's role in creating what became the US Postal Service. I had not realized that what he helped create had also been put in place in Canada before the Thirteen Colonies and what was then British North America were separated by the Revolutionary War.