Capitol Police Officer Killed in Attack
A loon wolf terrorist who followed Louis Farrakhan was responsible.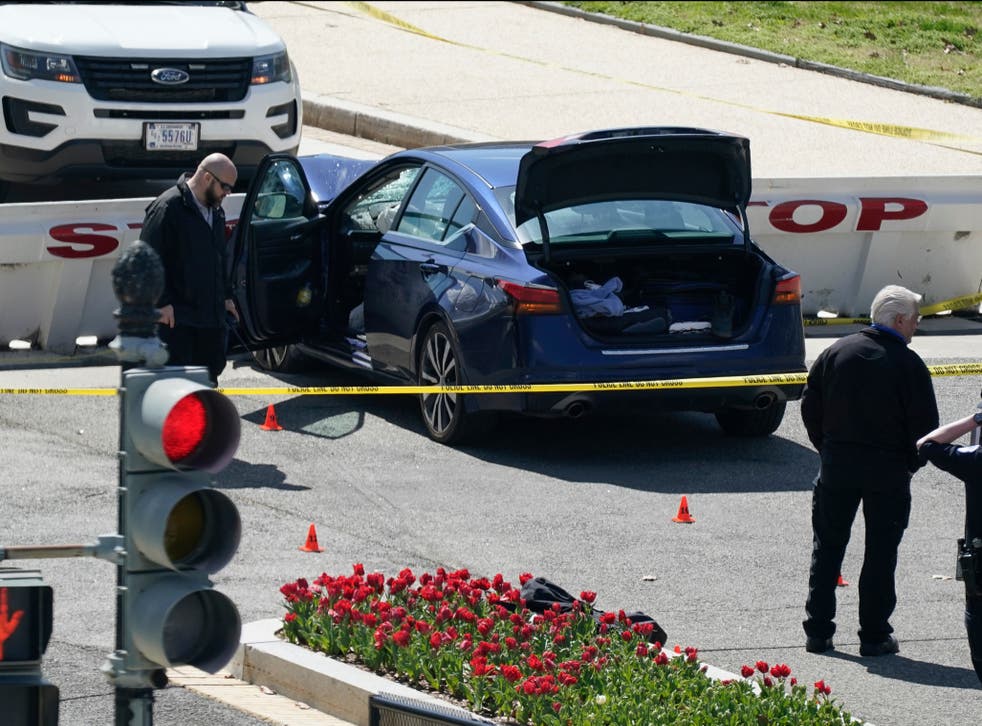 Less than three months after hundreds of people associated with then-President Trump stormed the US Capitol, a man rammed his truck through a Capitol Police barrier, killing one officer and injuring another. While most of us naturally assumed this attack was related, it appears to be a one-off incident.
CNN ("Capitol Police officer killed, another injured after suspect rams car into police barrier outside building"):
One US Capitol Police officer has died and another is injured after a suspect rammed a vehicle into a police barricade outside the Capitol building Friday afternoon, the department's acting chief Yogananda Pittman told reporters during a press briefing roughly two hours after initial reports of the attack first surfaced.

The officer was identified by Pittman later Friday as Officer William "Billy" Evans, an 18-year veteran of the force and a member of its "First Responders Unit."

"It is with profound sadness that I share the news of the passing of Officer William 'Billy' Evans this afternoon from injuries he sustained following an attack at the North Barricade by a lone assailant," she said in a statement not long after telling reporters the name of the officer would not be released until his family was notified.

During the press briefing, Pittman said the suspect in the attack, who brandished a knife after ramming his vehicle into a police barricade on Constitution Avenue and was subsequently shot by officers, had also died.

Federal and local law enforcement sources told CNN that the suspect has been identified as Noah Green. One federal source told CNN he was 25 years old.

An investigation into the attack is ongoing, Pittman said, but the immediate danger appears to have subsided. USCP lifted an hours-long lockdown of the Capitol Friday afternoon after law enforcement determined the "external security threat" had been cleared.

But while the suspect was quickly neutralized, the deadly incident undoubtedly serves as a stark reminder of the violent insurrection that occurred less than three months ago and the persistent security concerns that have been top of mind for many on Capitol Hill in the time since, despite a recent ramping down of some additional protective measures.
I got a news alert on my phone just before a meeting yesterday and by the time it was over the incident had been contained. But, if I had to be money, I would have assumed it was some right-winger. But, no.
Pittman said Friday that the suspect, Green, was not known to USCP before Friday's attack. A review of Green's social media shows he posted in the weeks prior that he had lost his job and suffered medical ailments, and said he believed the federal government was targeting him with "mind control."

Less than two hours before he was shot and killed, Green posted a number of Instagram stories on an account that appears to belong to him, including links to ​other Instagram videos of Nation of Islam leader Minister Louis Farrakhan speaking."

The U.S. Government is the #1 enemy of Black people!" a caption on one video read. In another post on the Instagram account, Green wrote last week that he believed Farrakhan had saved him "after the terrible afflictions I have suffered presumably by the CIA and FBI, government agencies of the United States of America."
The New York Times ("Suspect in Capitol attack appears to have been a follower of Louis Farrakhan.") has a bit more on the perpetrator:
On Facebook, Mr. Green had posted speeches and articles written by Mr. Farrakhan and Elijah Muhammad, who led the Nation of Islam from 1934 to 1975, that discussed the decline of America. Two law enforcement officials confirmed that the Facebook page, which was taken down on Friday, had belonged to Mr. Green.

Mr. Green posted on Facebook about his personal struggles, especially during the pandemic.

"To be honest, these past few years have been tough, and these past few months have been tougher," he wrote. "I have been tried with some of the biggest, unimaginable tests in my life. I am currently now unemployed, after I left my job, partly due to afflictions."

He also spoke on Facebook about the "end times" and the anti-Christ. On March 17, he posted a photo of a donation he had made to the Norfolk, Va., chapter of the Nation of Islam, along with a video of a Farrakhan speech titled "The Divine Destruction of America."

Later that day, he encouraged his friends to join him in studying the teachings of Mr. Farrakhan and Mr. Muhammad.

Mr. Green was born in West Virginia, attended high school in Virginia, then enrolled in Glenville State College where he played football before transferring to Christopher Newport University in Newport News, Va. He played defensive back on the Christopher Newport football team and graduated in 2019 with a degree in finance.

In December 2020, he petitioned to change his name to Noah Zaeem Muhammad but failed to appear at his hearing in Indianapolis last Tuesday.
While Fox News and the ADL will surely use this to rehearse their brief against Farrakhan, who is a truly vile figure, and the seeming political motivation will have some trotting out the "terrorism" label, this strikes me as most likely to be a case of what Max Abrams has dubbed "loon wolf terrorism." Whether he was "radicalized" by Farrakhan's extremist and eliminationist rhetoric, the perpetrator here as clearly unwell and in rather desperate need of treatment.
Officer Evans' family, friends, and colleagues of course deserve our sympathy here for their tragic and senseless loss. But Green's loved ones have to be in a very different kind of pain. The man is a recent graduate of a good university with a difficult degree that he earned while also playing football. On paper, then, he seemed to have a very bright future ahead of him.