Rahm Emanuel's Odd Idea Of "Chicago Values"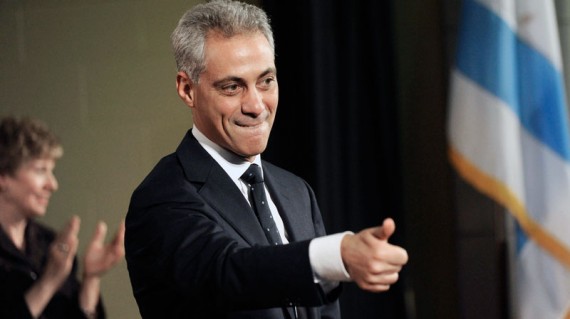 At a press event yesterday, Chicago Mayor Rahm Emanuel spoke out against Chick-fil-A over its President's comments about same-sex marriage:
"Chick-fil-A's values are not Chicago values. They're not respectful of our residents, our neighbors and our family members. And if you're gonna be part of the Chicago community, you should reflect Chicago values," Emanuel said Wednesday.

"What the CEO has said as it relates to gay marriage and gay couples is not what I believe, but more importantly, it's not what the people of Chicago believe. We just passed legislation as it relates to civil union and my goal and my hope … is that we now move on recognizing gay marriage. I do not believe that the CEO's comments … reflects who we are as a city."
The same day that story ran, the Chicago Sun-Times also reported that Emanuel was "welcoming" the assistance of Louis Farakhan and the Nation of Islam in combating the recent uptick in violence in the city:
 Ignoring Nation of Islam leader Louis Farrakhan's history of anti-Semitic remarks, Mayor Rahm Emanuel on Wednesday welcomed the army of men dispatched to the streets by Farrakhan to stop the violence in Chicago neighborhoods

(…)

For the last two Mondays, black men in dress suits and bow ties fanned out across violence-plagued Chicago neighborhoods — first Auburn-Gresham, then South Shore — to form a human wall of protection against any sudden outbreak of gunfire.

The army of men, know as the Fruit of Islam, were led by Farrakhan, who ordered the show of force in response to last month's brutal murder of seven-year-old Heaven Sutton.

Emanuel's decision to steer clear of Farrakhan's history of anti-Semitic remarks is a far cry from the 1994 controversy that followed former Mayor Richard M. Daley's private meeting with Farrkakhan.

During the meeting, Daley prodded Farrakhan to work out his differences with Jewish leaders in talks arranged by the Commission on Human Relations. Daley even hinted that if those conversations did not take place, the Nation of Islam would have trouble winning the city approval needed for its planned development along the 79th Street commercial strip.

Jewish leaders refused to engage in the dialogue. They were so concerned about the mayor's private meeting with Farrakhan they demanded an audience of their own to clear the air. Daley used that meeting to deny ever suggesting the give-and-take.

"There's been a rather longstanding pattern where Minister Farrakhan has talked about wanting dialogue. There have even been a couple of instances where members of the Jewish community have met with him," Michael Kotzin, director of the Jewish Community Relations Council, said at the time.

"Invariably, he's been unchanged after that. They have felt betrayed by things he said to them. Been there. Don't want to be there again and be put in that kind of box. All that happens is that he gains from those kinds of meetings a kind of credibility, legitimacy and stature. That's all that would come of it."
Farakhan's history of anti-semitism is so well-known that it barely needs to be repeated, and it's interesting that Emanuel is willing to ignore all of that and yet considers a private business that employees thousands of people and provides a product that people want to be so anathema that he's willing to endorse a plainly unconstitutional effort to ban them.
So let me get this straight. Under Emanuel's version of "Chicago values" a private company headed by a man who did nothing but express his religious beliefs is unacceptable but an anti-semitic race hustler who heads an organization that has a long history of intimidating outsiders is totally acceptable. Something doesn't compute there, Rahm.