Captain James Kirk To Take Command Of Newest Navy Destroyer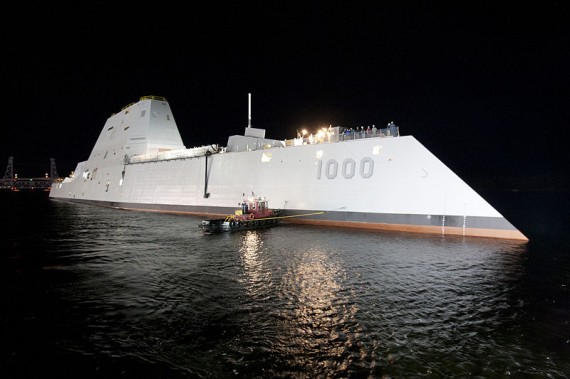 The USS Zumwalt, one of the first of an new class of advanced destroyers, will be commanded by someone with a familiar name:
The commander of the U.S. Navy's sleek new guided-missile destroyer, which launched late last week in Maine, has a name to match its space-age look: Captain Kirk.

Captain James Kirk, the prospective commanding officer of USS Zumwalt, will lead the 610-foot vessel, the Navy's largest destroyer and first of three new Zumwalt-class ships "designed for littoral operations and land attack," the Navy said.

Kirk, a native of Bethesda, Md., was commissioned at the U.S. Naval Academy in 1990 and has served in a variety posts as a "surface warfare officer," according to his online bio. "Ashore, Captain Kirk has served as Executive Assistant to the Navy's Chief of Legislative Affairs and as an Action Officer on the Joint Staff."

Kirk obtained a master's degrees in national security studies at the U.S. Naval War College and U.S. Army War College, where he undoubtedly heard more than his share of "Star Trek" jokes.

The ship, which was moved from dry dock in Bath, Maine, to a pier on the Kennebec River on Friday, is loaded with new technologies, including "radar reflecting angles, a striking inward-sloping tumblehome hull" and advanced gun system.
No word on when they'll be adding the shields, transporters, and photon torpedoes.