Cash For Clunkers Was A Boondoggle From The Start
It was clear from the start that "Cash For Clunkers" was a bad idea.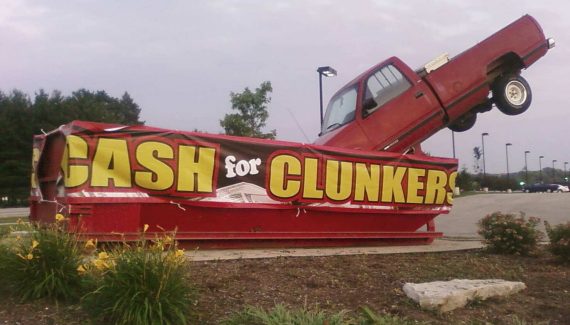 Steve Verdon's post this afternoon about a new study of the impact of the much-vaunted "Cash for Clunkers" program reminded me of the fact that, back when this program was still in effect, and just after it ended, it was already pretty evidence that the program didn't accomplish the goals it supposedly had, and that instead of stimulating auto sales, it mostly caused people who were already going to buy a car to do so before the program expired so they could get the government rebate. In other words, it was clear from the state that this program was a failure.
In the beginning, it seemed like the program was a huge success as this July 2009 Washington Post report demonstrates:
The government's "cash for clunkers" program, aimed at boosting stagnant auto sales, is almost out of money, putting its future in question, according to sources familiar with the effort.

Passed by Congress in late June to help the flagging U.S. auto industry and launched just a week ago, the $1 billion program gives vouchers worth up to $4,500 to consumers who trade in gas-guzzling cars for more fuel-efficient models. The highly publicized effort was scheduled to run until Nov. 1, or until money ran out. It was not expected to run out of cash so quickly.

The effort, formally known as the Car Allowance Rebate System, or CARS, appeared headed for a temporary shutdown at midnight Thursday. Federal transportation officials became increasingly concerned that the program's popularity with consumers could drain its budget by week's end, according to sources familiar with the discussions who spoke on the condition of anonymity.
As it turned out, though, what was happening was that people were cashing in on the rebate by cutting back their spending in other areas. In July 2009, for example, overall retail sales actually fell even though automobile sales increased, a strong indication that Cash for Clunkers was doing nothing to stimulate the economy at the time. Auto sales were up for both July and August 2009, but when the program ended at the end of September, they fell like a rock:
DETROIT — After two frenzied months during the government's cash-for-clunkers program, new-vehicle sales in the United States fell in September back to the levels seen earlier this year, automakers said Thursday.

General Motors said it sales declined 45 percent, and Chrysler reported a 42 percent drop from September a year ago.

Sales were down 20 percent at Honda, 13 percent at Toyota and 7 percent at Nissan.

"Floor traffic was lousy all month," Mark LaNeve, G.M.'s vice president for United States sales, said. "Every brand, every region of the country. It was a real post-clunker hangover. It was disappointing. I expected the month to be a bit stronger, but it just wasn't."

The Ford Motor Company said its sales declined 5 percent from September 2008. For the entire third quarter, though, sales by Ford's three domestic brands rose 5 percent, marking its first quarterly increase in four years.

Ford said sales of its F-series pickup truck rose for the second consecutive month, a positive indication about the housing market and broader economy, as the F-series is frequently purchased by building contractors and other businesses.

The best news for the month came from Hyundai, which has been gaining momentum throughout the recession. Hyundai said its sales rose 27 percent in September.

Total industry sales are expected to be 23 percent less than a year ago, according to a forecast by the Web site Edmunds.com.
In the months that followed, several studies of the impact of the program came out, and the evidence was pretty clear that the program was a boondoggle. Even while the program was still in effect, a study by the well-respected industry analysts at Edmunds found that all the program was doing was causing purchasing decisions to be time shifted in response to the subsidy:
According to Edmunds, about 200,000 old low mileage cars would normally be traded in, every 3 months, in exchange for more efficient higher mileage cars, without this program.

The highest rebate is $4,500, and the lowest is $3,500. If everyone qualified for $4,500 per vehicle, about 222,000 vehicles would have just taken advantage of the government's money. At $3,500, 286,000 vehicles will have been sold.

I assume that, given all the raving, the government will eventually get around to assigning more money. It will take at least 2 or 3 months for the legislation to work its way through Congress. Meanwhile, if all buyers have qualified for the higher $4,500 rebate, the "cash for clunkers" program will mean a marginal increase in car sales of 22,000 this quarter. $1 billion divided by 22,000 means a net cost to the government of $45,354 per car.

If all buyers only qualify for the $3,500 rebate, it means a marginal increase in sales of about 86,000, or a net cost to the taxpayers of $11,628 per vehicle. In all likelihood, however, there will probably be a mix of vehicles qualifying for various rebates between $3,500 and $4,500. Based upon that assumption, Edmunds.com estimates that the average cost to the taxpayer will be about $20,000 per vehicle.
Further details can be found at the Edmunds study mentioned in the article.
Even most of the marginally extra sales really represent people who were going to buy a new car eventually anyway. They are just buying a bit sooner than they expected. Old clunkers don't last forever, and they are almost all eventually replaced. The government is shifting tomorrow's demand to today, stealing from tomorrow to pay for today, but at great cost to the taxpayer.
By October, it was clear that the program had not achieved either of its objectives:
Cash for clunkers had two objectives: help the environment by increasing fuel efficiency, and boost car sales to help Detroit and the economy. It achieved neither. According to Hudson Institute economist Irwin Stelzer, at best "the reduction in gasoline consumption will cut our oil consumption by 0.2 percent per year, or less than a single day's gasoline use." Burton Abrams and George Parsons of the University of Delaware added up the total benefits from reduced gas consumption, environmental improvements and the benefit to car buyers and companies, minus the overall cost of cash for clunkers, and found a net cost of roughly $2,000 per vehicle. Rather than stimulating the economy, the program made the nation as a whole $1.4 billion poorer.

The basic fallacy of cash for clunkers is that you can somehow create wealth by destroying existing assets that are still productive, in this case cars that still work. Under the program, auto dealers were required to destroy the car engines of trade-ins with a sodium silicate solution, then smash them and send them to the junk yard. As the journalist Henry Hazlitt wrote in his classic, "Economics in One Lesson," you can't raise living standards by breaking windows so some people can get jobs repairing them.

In the category of all-time dumb ideas, cash for clunkers rivals the New Deal brainstorm to slaughter pigs to raise pork prices. The people who really belong in the junk yard are the wizards in Washington who peddled this economic malarkey.
Later on we learned that the actual cost of the program to taxpayers came out to something closer to $24,00 per vehicle, and that it had the unintended consequence of harming charities who accept donations of used vehicles as a fundraising method, and people who actually wanted to buy used cars.
Sure, the program temporarily stimulated car sales, but it's pretty clear that all it really did was give consumers the incentive to purchase a new car earlier than they might have been planning. We saw a similar impact on housing prices from the New Home Buyer Tax Credit that was in effect at roughly the same time; home sales went up while the credit was in effect, then dropped like a stone as soon as it wasn't.  That's not economic stimulus, it's a time-shifted purchase, and as we saw from the retail sales numbers noted above, it had a negative impact on consumer spending in other parts of the economy. What was wrong with "Cash for Clunkers" isn't that they ran out of money — although that certainly should cause people to doubt the government's ability to make economic forecasts of any kind — or that it wasn't in effect long enough, but that it was a fundamentally flawed program to begin with. The study that has come out now really shouldn't surprised anyone..