CDC Green Lights Vaccinated Folks
Great news---with a rather huge caveat.
After months of slow-walking guideline changes, loosening them far after scientific evidence pointed that risk of contracting COVID in a given situation was quite low, the Centers for Disease Control and Prevention surprised most observers yesterday afternoon by saying that fully vaccinated people should feel free to pursue virtually all activities, indoors or out, without masking or social distancing.
The risk chart has been updated accordingly: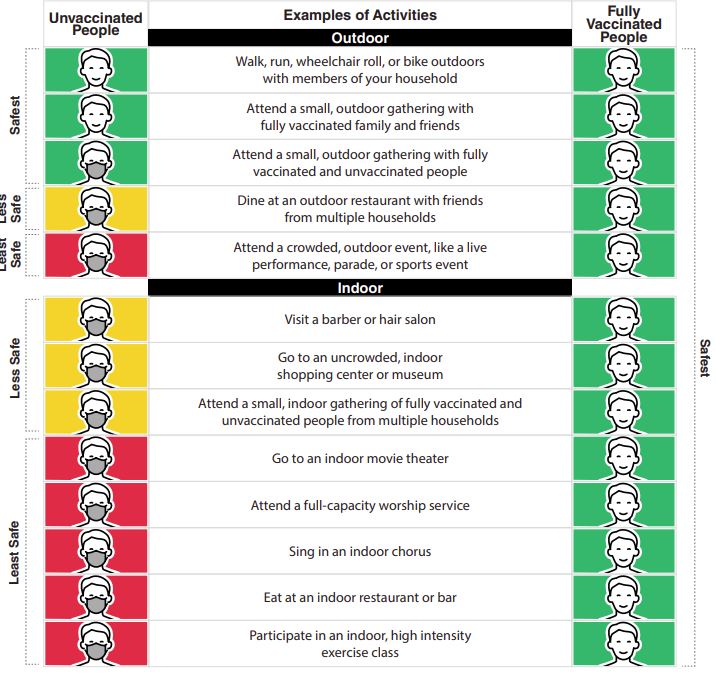 If you've been fully vaccinated:
You can resume activities that you did prior to the pandemic.
You can resume activities without wearing a mask or staying 6 feet apart, except where required by federal, state, local, tribal, or territorial laws, rules, and regulations, including local business and workplace guidance.
If you travel in the United States, you do not need to get tested before or after travel or self-quarantine after travel.
You need to pay close attention to the situation at your international destination before traveling outside the United States.

You do NOT need to get tested before leaving the United States unless your destination requires it.
You still need to show a negative test result or documentation of recovery from COVID-19 before boarding an international flight to the United States.
You should still get tested 3-5 days after international travel.
You do NOT need to self-quarantine after arriving in the United States.

If you've been around someone who has COVID-19, you do not need to stay away from others or get tested unless you have symptoms.

However, if you live or work in a correctional or detention facility or a homeless shelter and are around someone who has COVID-19, you should still get tested, even if you don't have symptoms.
The remaining restrictions are minor, indeed:
You will still need to follow guidance at your workplace and local businesses.
If you travel, you should still take steps to protect yourself and others. You will still be required to wear a mask on planes, buses, trains, and other forms of public transportation traveling into, within, or out of the United States, and in U.S. transportation hubs such as airports and stations. Fully vaccinated international travelers arriving in the United States are still required to get tested within 3 days of their flight (or show documentation of recovery from COVID-19 in the past 3 months) and should still get tested 3-5 days after their trip.
You should still watch out for symptoms of COVID-19, especially if you've been around someone who is sick. If you have symptoms of COVID-19, you should get tested and stay home and away from others.
People who have a condition or are taking medications that weaken the immune system, should talk to their healthcare provider to discuss their activities. They may need to keep taking all precautions to prevent COVID-19.
As David Leonhardt notes, it's about time:
The Centers for Disease Control and Prevention is finally catching up to the science.

For months, research about Covid-19 has pointed to two encouraging patterns. First, the underlying virus that causes Covid rarely spreads outdoors. Second — and even more important — fully vaccinated people are at virtually no risk of serious disease and only a minuscule risk of spreading the virus to others.

But the C.D.C., which has long been a cautious agency, has been unwilling to highlight these facts. It has instead focused on tiny risks — risks that are smaller than those from, say, taking a car trip. The C.D.C.'s intricate list of recommended Covid behavior has baffled many Americans and frightened others, making the guidance less helpful than it might have been.

Yesterday, the agency effectively acknowledged it had fallen behind the scientific evidence: Even though that evidence has not changed in months, the C.D.C. overhauled its guidelines. It said fully vaccinated people could stop wearing masks in most settings, including crowded indoor gatherings.

The change sends a message: Vaccination means the end of the Covid crisis, for individuals and ultimately for society.

If you're vaccinated, you can safely get together with family and friends, mask-free. You can nuzzle your grandparents or your grandchildren. You can eat in restaurants, go to the movies and attend religious services. You can travel. If you're vaccinated, Covid joins a long list of small risks that we have long accepted without upending our lives, like riding in a car, taking a swim or exposing ourselves to the common cold.
I've been arguing for quite a while now that this was overdue and that the hyper-cautious tone was not only confusing but, more importantly, failing to incentivize vaccination. But I've also been arguing for vaccine passports or some other easy way for the vaccinated to prove that they are in fact vaccinated. That hasn't happened yet, aside from New York state and some other localities.
The obvious question, then, is: What about the children?
Right now, my wife and I are fully vaccinated and the three over-16s in the house have had their first shot and should get their second within the week. So, by the end of May, all of them well be "fully vaccinated" as well. My 12-year-old should be able to get her first dose any day now. But, right now, my 9-year-old is ineligible for vaccination.
Unless stores, restaurants, and whatnot are going to check to see who's fully vaccinated—and they're not—this effectively makes things worse for the kids. Now, I can take them places knowing everyone will be masked. But, now, everyone is going to be maskless, vaccinated or not. Aside from the immuno-compromised, who are at high risk and can't get the vaccine, adults who are unvaccinated are mostly people who simply choose not to do so. And now they'll have permission to go around infecting those who can't get vaccinated.