Chaos On The Cain Train?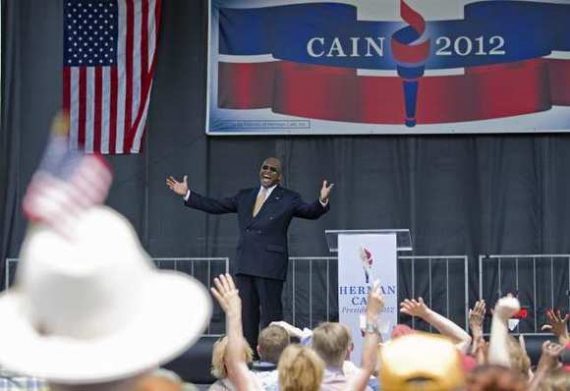 The New York Times interviews several former staffers for Herman Cain's campaign, and they tell a story of a campaign that seems more like a massive exercise in ego-stroking than anything serious:
If Herman Cain feels his management skills are up to any challenge, some of his former staff members think he should have started with the disorder in his own campaign.

Mr. Cain has hardly shown up in New Hampshire and Iowa, they said, spending the bulk of his time on a book tour through the South. He occasionally mishandled potential big donors or ignored real voters. His campaign churned through the small staff; last week, his campaign announced the appointment of the veteran campaigner Steve Grubbs, his third Iowa leader in four months.

Even bumper stickers have been hard to come by.

And then there was that e-mail to the staff about traveling in a car with Mr. Cain: "Do not speak to him unless you are spoken to," the memo said.

"I found it odd," said a former staff member who liked to prep Mr. Cain for appearances while driving. The aide, who spoke on the condition of anonymity, quit not long afterward, citing the e-mail as one of the deciding factors.

Mr. Cain's campaign has generated much promise since it began over the summer. A former business executive rises improbably from anonymity to the top of the polls, using the strength of his speechmaking, folksy charm and catchy policy plans.

But Mr. Cain's campaign may have undermined itself with questionable decisions and a series of missteps, which have led to the impression that the candidate lacks focus and preparation.

Mr. Cain has made several contradictory, and sometimes befuddling, remarks on abortion and foreign policy, which have forced him to spend days clarifying and defending himself.

This week, an online video became an instant punch line, so untraditional that Mr. Cain faced questions about whether the video was a parody, given its low production values and a sequence in which Mr. Cain's campaign manager takes a long drag on his cigarette and the candidate grins.

All presidential candidates make mistakes — including experienced candidates like Mitt Romney — and campaigns are chaotic and unruly by nature. For its part, the campaign acknowledges that it has been hard to keep up with Mr. Cain's explosive growth in popularity. "We're working overtime to make it all happen," said J. D. Gordon, a spokesman.

But interviews with Mr. Cain's former staff members, volunteers and supporters give a glimpse of a candidate who appeared to show ambivalence toward basic campaign management, which led to problems in hiring, scheduling, fund-raising and messaging.

Together, these problems are at odds with a central theme of his candidacy. Because Mr. Cain does not have a legislative or political track record, his campaign rests heavily on the contention that he would bring proven, executive-level expertise from the business world to the White House.

Several former workers interviewed for this article said they were directed by the campaign not to speak with reporters. (Two said they had signed nondisclosure agreements, a rare demand within political campaigns, and they had been reminded, they said, by the campaign not to speak with the news media.)

Mr. Cain, a former chief executive of Godfather's Pizza, has announced that he will increase the number of staff members in Iowa and New Hampshire as well the number of his appearances in the early voting states. Mr. Cain now has a total of six paid staff members working in Iowa and New Hampshire, with 44 more workers across the country.

Some former aides said they had longed to see the problem-solving side of Mr. Cain, or to see Mr. Cain at all. Over the spring and summer, he did not spend much time with workers. He did not plan conference calls or staff meetings and was given to changing his mind about appearances, sometimes with little notice, a tendency that angered his field workers.

"It was frustrating because we couldn't get him here as much as I was led to believe he was going to be here," said Kevin Hall, who worked for Mr. Cain in Iowa in June.

"Everything we tried to do was like pulling teeth to get accomplished," said a former staff member in Iowa, who asked for anonymity. "I've never been involved in a job that was as frustrating as this one. We couldn't get an answer on anything. Everything was fly by the seat of your pants."
The usual caveats apply when hearing of reports from disgruntled former staffers, of course. Nonetheless, these internal peeks at this  odd campaign seem consistent with what we see from the outside, and they raise the question of just how good an executive Cain really is.