Charlie Crist Endorses Obama, Condemns Party That Rejected Him
The former Republican governor of Florida says his former party is so extreme that it holds positions he held two years ago.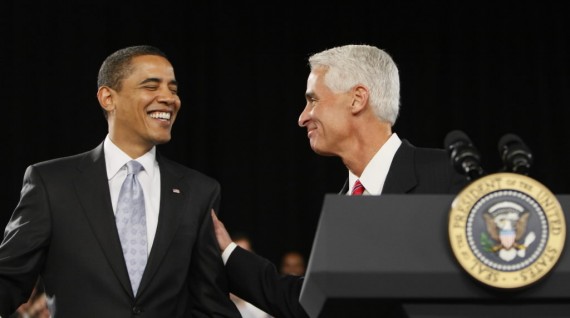 Charlie Crist, whose quarter century as a Republican politician included a term as governor of Florida, is endorsing Democrat Barack Obama for re-election.
An an op-ed for today's Tampa Bay Times, he writes,
I've studied, admired and gotten to know a lot of leaders in my life. Across Florida, in Washington and around the country, I've watched the failure of those who favor extreme rhetoric over sensible compromise, and I've seen how those who never lose sight of solutions sow the greatest successes.

As America prepares to pick our president for the next four years — and as Florida prepares once again to play a decisive role — I'm confident that President Barack Obama is the right leader for our state and the nation. I applaud and share his vision of a future built by a strong and confident middle class in an economy that gives us the opportunity to reap prosperity through hard work and personal responsibility. It is a vision of the future proven right by our history.

We often remind ourselves to learn the lessons of the past, lest we risk repeating its mistakes. Yet nearly as often, our short-term memory fails us. Many have already forgotten how deep and daunting our shared crisis was in the winter of 2009, as President Obama was inaugurated. It was no ordinary challenge, and the president served as the nation's calm through a historically turbulent storm.

The president's response was swift, smart and farsighted. He kept his compass pointed due north and relentlessly focused on saving jobs, creating more and helping the many who felt trapped beneath the house of cards that had collapsed upon them.
That's a rather tepid rationale. Later, he explains,
As Republicans gather in Tampa to nominate Mitt Romney, Americans can expect to hear tales of how President Obama has failed to work with their party or turn the economy around.

But an element of their party has pitched so far to the extreme right on issues important to women, immigrants, seniors and students that they've proven incapable of governing for the people. Look no further than the inclusion of the Akin amendment in the Republican Party platform, which bans abortion, even for rape victims.

The truth is that the party has failed to demonstrate the kind of leadership or seriousness voters deserve.
The problem with that is that, as recently as his failed run for the Republican nomination for US Senate in 2010, Charlie Crist supported these policies:
Crist supported capital punishment[24] and gun rights. In 2008 he signed a provision that prevents employers from prohibiting employees' bringing firearms to the workplace, as long as the weapons are secure and individuals maintain a concealed carry license.[25][26]

His position on abortion issues is not clear-cut.[27] In 1998 Crist ran for Senate as a pro-choice candidate,[27] and has stated that he opposes overturning Roe vs. Wade.[27][28] Crist has said that he opposes a mandatory 24-hour waiting period before a woman can undergo an abortion.[27] In the 2010 Senate campaign, Crist first presented himself a pro-life Republican[29] but after he lost the Republican nomination and became an unaffiliated candidate, had all pro-life statements removed from his website.[30] On June 11, 2010 Crist vetoed a bill which would have removed taxpayer funding for abortion,[31] as well as require a woman to have an ultrasound before having an abortion.[32]

Crist supported efforts to ban same-sex marriage in Florida, and supported the current ban on adoption by homosexual prospective parents – saying that a "traditional family provides the best environment for children."[33][34] His position led gay rights groups to protest the passage of the Florida Amendment 2 (now Article 1 Section 27 of the Florida Constitution) ban on same-sex marriage during his wedding in 2008.[35][36] He shifted in June 2010, when he stated that he no longer supported Florida's ban on same-sex adoption: "A better way and approach would be to let judges make that decision on a case-by-case basis."[37]
Note that Crist's evolution on the issues mysteriously coincided with his decision in May 2010 to leave the Republican Party, which happened to coincide with him trailing Marco Rubio by 20 points in the polls. Crist addresses this tangentially in the op-ed:
Pundits looking to reduce something as big as a statewide election to a single photograph have blamed the result of my 2010 campaign for U.S. Senate on my greeting of President Obama. I didn't stand with our president because of what it could mean politically; I did it because uniting to recover from the worst financial crisis of our lifetimes was more important than party affiliation. I stood with our nation's leader because it was right for my state.
On that much, I take him at his word. I was dumbfounded that Florida Republicans so resoundingly rejected Crist, who by all accounts served the state ably as Education Commissioner, Attorney General, and Governor. But 2010 was a Tea Party wave election and Marco Rubio was an especially charismatic standard bearer of that movement. Still, one understands Crist's bitterness.
People evolve. I'm not as conservative as I was a decade ago and the Republican Party is more conservative than it was even four years ago. And it's certainly possible that Crist was always more moderate than his public stances on the social issues indicated; certainly, he was a moderate on other issues, including the environment. But this endorsement looks to be motivated by personal bitterness rather than any principled evolution.
It's also especially odd that Mitt Romney is mentioned only as a passive actor, as if the United States had a parliamentary system. Romney hasn't been in Washington the last four years; it's odd to endorse his opponent on the grounds that Congressional Republicans have been obstructionist.