Chart Of The Day: Death Of Newspapers Edition
Mark Perry uses this chart to illustrate something quite astounding about the newspaper business: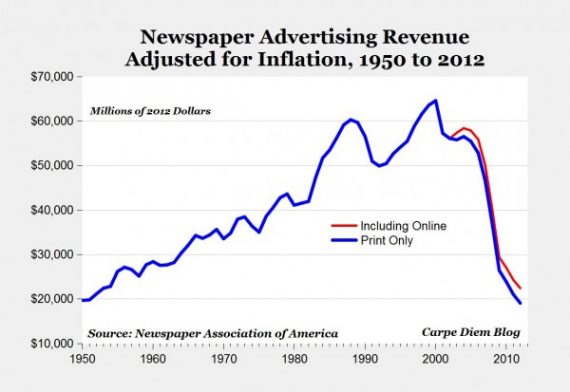 Perry comments:
The blue line in the chart above displays total annual print newspaper advertising revenue(for the categories national, retail and classified) based on actual annual data from 1950 to 2011, and estimated annual revenue for 2012 using quarterly data through the second quarter of this year, from the Newspaper Association of America (NAA).  The advertising revenues have been adjusted for inflation, and appear in the chart as millions of constant 2012 dollars.  Estimated print advertising revenues of $19.0 billion in 2012 will be the lowest annual amount spent on print newspaper advertising since the NAA started tracking ad revenue in 1950.

The decline in print newspaper advertising to a 62-year low is amazing by itself, but the sharp decline in recent years is pretty stunning.  This year's ad revenues of $19 billion will be less than half of the $46 billion spent just five years ago in 2007, and a little more than one-third of the $56.5 billion spent in 2004.

Here's another perspective: It took 50 years to go from about $20 billion in annual newspaper print ad revenue in 1950 (adjusted for inflation) to $63.5 billion in 2000, and then only 12 years to go from $63.5 billion back to less than $20 billion in 2012.
The red line shows what's happening when you include online ad revenue. As you can see, it's done absolutely nothing to stop the slide, and the more newspapers are forced to move online, the more they are going to have to find a revenue model that doesn't depend so much on advertising.
H/T: Andrew Sullivan