Chart Of The Day: How The Filibuster Broke The Senate
Via Ezra Klein, here's an instructive chart on filibuster use in the U.S. Senate over the past 90 years: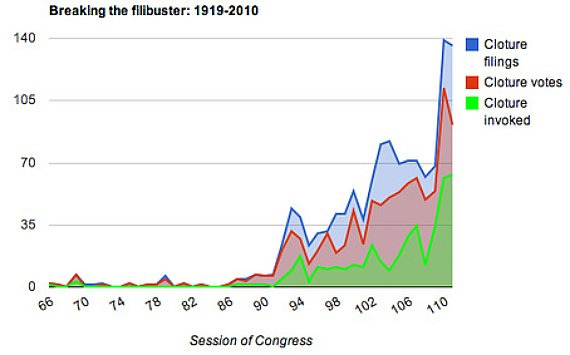 A few cavets:
The filibuster rules have changed a few times during the period covered by this chart. It used to be the case that 67 votes were needed to break a filibuster, then the number was reduced to 65, and then to the current level of 60 in the 1970s
We don't really see an uptick in the use of the filibuster until the early 90s. Quite honestly, that isn't a reflection of something wrong with filibusters so much as it's a reflection of an the end of a sense of bipartisanship in the Senate, on both sides of the aisle. Eliminating the filibuster (which isn't going to happen) will do nothing to address the root causes of the problem.