Chart Of The Day: Yes, We Can Afford To Cut Defense Spending
Ezra Klein passes along this chart: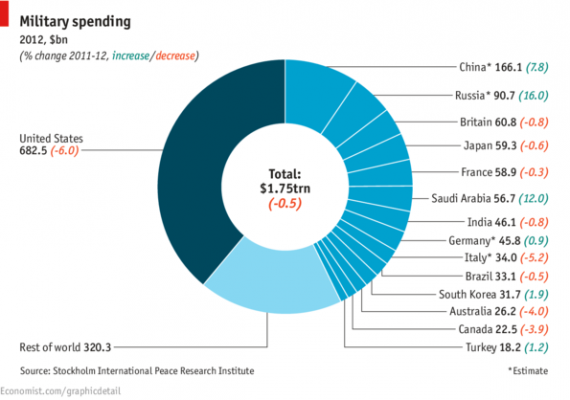 And comments:
This graph, which comes from the Economist's Daily Chart blog, includes our war spending in our overall defense budget. Defense wonks can argue whether that's proper. I think it is. But let's rip out some of that spending. Even if we cut current defense expenditures by 30 percent, all at once, we'd still be spending more than the next five biggest spenders combined.

Even that understates our advantage, though, as at least three of those spenders — Britain, France, and Japan — are firm allies, and any country considering a serious challenge to U.S. or western interests will have to properly consider their defense budget not just in terms of our defense budget, but in terms of our defense budget plus the defense systems of those who will probably be on our side
None of this is surprising, of course, as it's merely an update version of charts we've seen in the past comparing military spending among different nations. It's a point that bears repeating in the fact of continued claims from the defense lobby and conservatives that we cannot afford to trust a penny of the Pentagon budget.